Since 2015, AppsFlyer, a top mobile attribution platform, has released its Performance Index. The 15th Edition of the Index has seen Mintegral's best performance yet – rising to become a Top 3 ad network globally for all categories on both Android and iOS, only behind Meta & Google.
The Performance Index offers mobile marketers an industry benchmark report analyzing over 27 billion app installs, across 19,000 mobile apps and ranking the world's top advertising platforms by traffic volume and quality across Android and iOS, and gaming/non-gaming app categories.
Covering H1 2022, the Index has exposed some of the challenges presented to the industry, from the effects of Apple's privacy updates, to shrinking marketing budgets due to a global economic downturn. Amid these circumstances, Mintegral has continued to grow at an unprecedented rate, highlighted best by being featured in the SKAN Index for the first time, reaching the Top 5, and our growth across all categories.
Global Retention Rankings
Mintegral continues to be a top global media source on the Retention Index – rising to 3rd globally in both all categories index and gaming index across Android and iOS.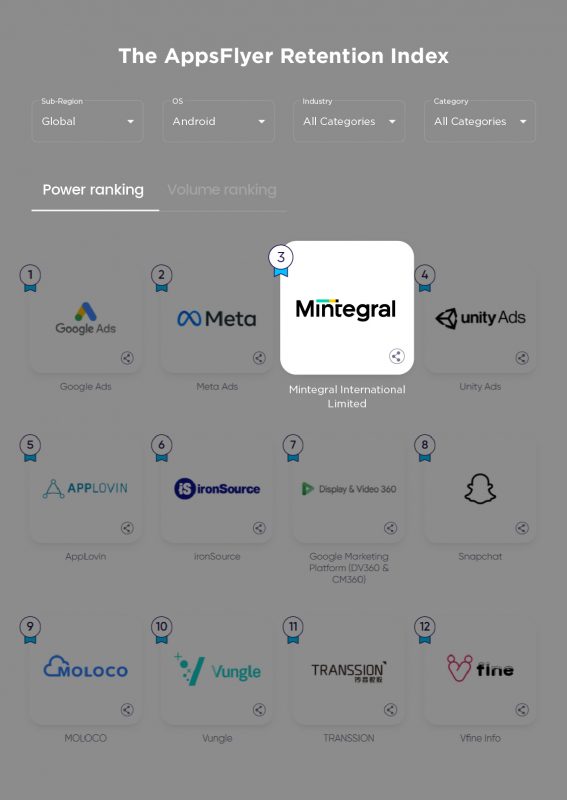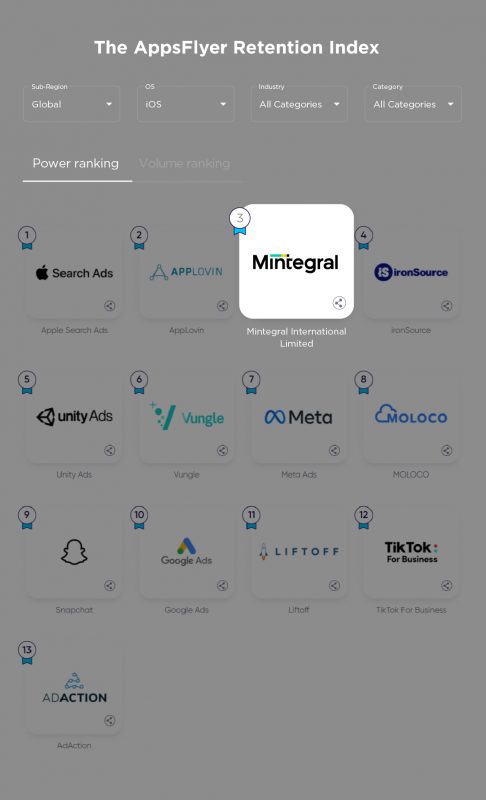 The Retention Index indicates a media source's traffic quality, and we remain particularly strong among gaming categories such as hypercasual, casual, and midcore.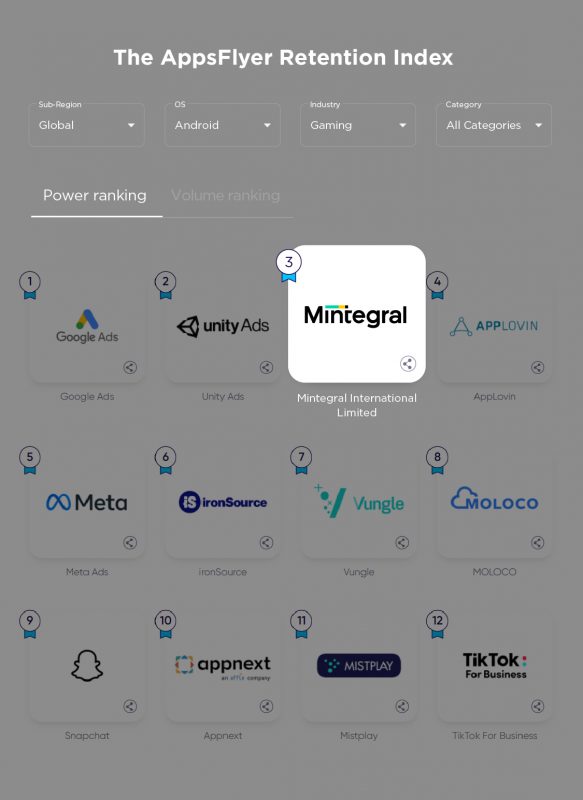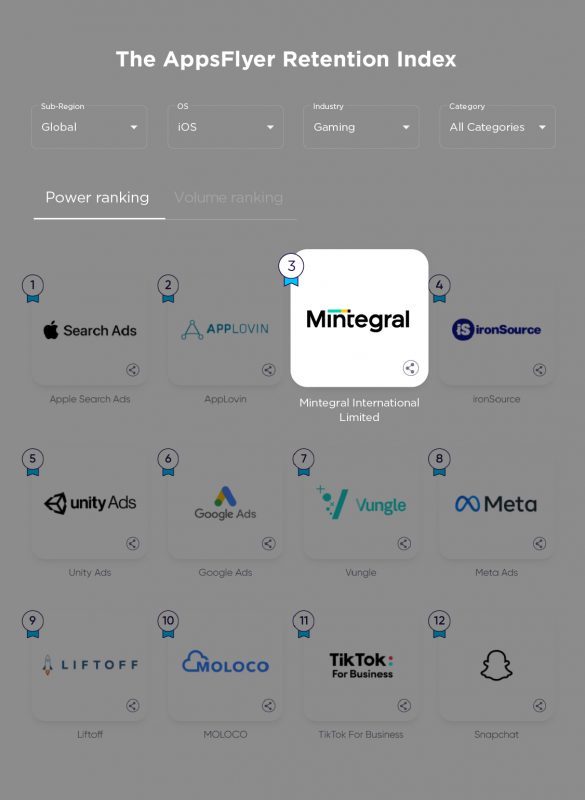 Mintegral is well-known for our hypercasual prowess and the Index shows 48 placements across all continents with both power and volume rankings in the Top 3 globally.
We took home the top Android spot for mid-core gaming across Latin America, Eastern & Western Europe, China, and the Middle East. Our mid-core offering also remained strong in North America, ranking 2nd on both operating systems.
SKAN Index Rankings
Introduced after the release of Apple's App Tracking Transparency (ATT) framework, the SKAN Index is paramount for marketers to analyze which media sources are flourishing under Apple's SKAdNetwork.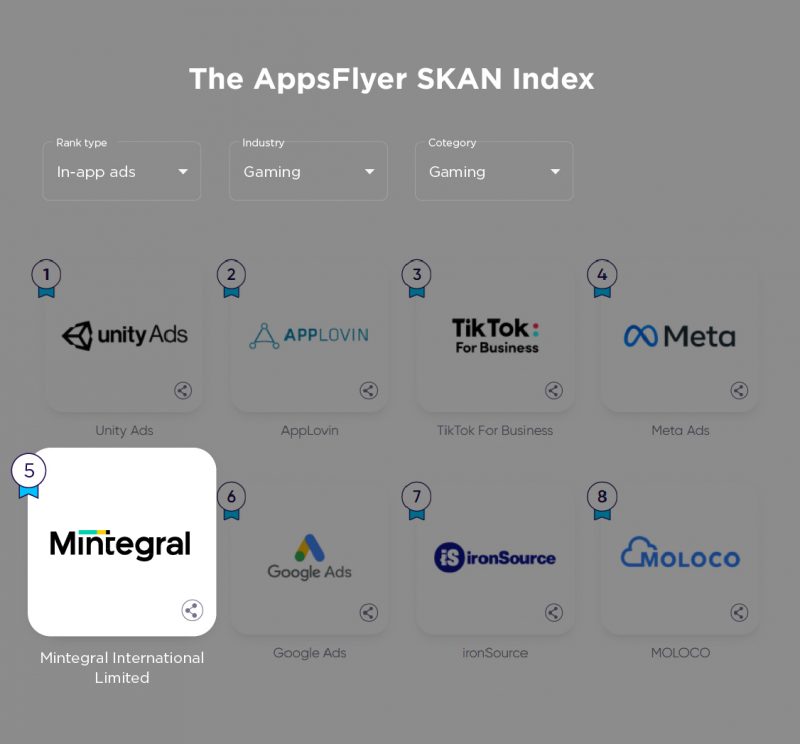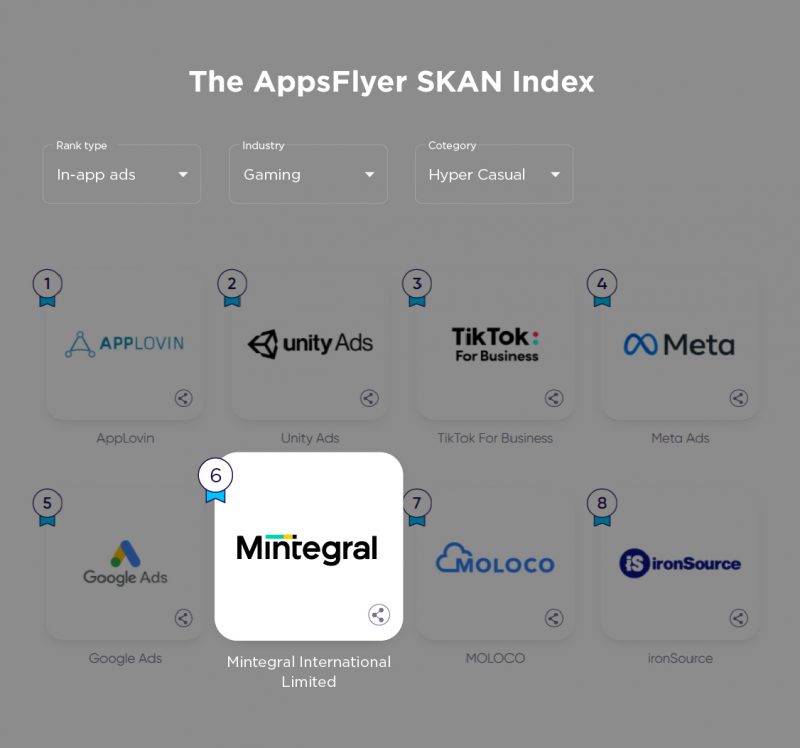 Mintegral is happy to announce it has placed on the SKAN Index for the first time, reaching the Top 5 for in-app ads across all gaming categories, the Top 6 for in-app ads on Hypercasual, and the Top 10 for in-app purchases on hypercasual.
"Mintegral has remained committed to our mission of providing sustainable growth to our app partners. Becoming a Top 3 media source on the AppsFlyer Performance Index highlights the significant innovation and value we deliver to the mobile ecosystem." – Erick Fang, Mobvista CPO.