Apple does not have a great record in advertising. Its iAd platform was launched to much fanfare in 2010 but never really gained traction and was dropped two years ago.
It offered immersive mobile advertising experiences that looked great in conference presentations but it was quickly written off as too expensive for advertisers. It also had low take up among developers who were not attracted to Apple's revenue share model.
However, the rumours that it is to have another attempt at taking on the likes of Google were reinforced at this month's WWCD – Apple's annual showcase event.
No concrete plans were laid out, but it looks like there may be announcements in the near future that its App Store search service is going to be extended to other sites. This follows a leak in the Wall Street Journal that suggests the likes of Pinterest and Snap were being sounded out for a service that would include App Store results on their own search results services.
Searching for apps
Allowing paid search from within other sites is an intuitive move. As apps become ever more popular that would place participating sites firmly in a mobile-first environment. Rather than just suggest a mobile web page that answers a person's query on a site, VentureBeat suggests the new-look search service would look to be the starting point of a deeper relationship between a customer and a brand.
A person looking for recipes on Pinterest, for example, might refine their query to Mexican salad ideas. They could then be offered apps that specialise in that cuisine, perhaps from a chef renowned dishes from the region. Another user of Snap looking for travel inspiration might be steered towards a leading online travel agent's app as they transition from looking to booking.
Rolling out App Store search
American brands have had the ability to promote their apps on the App Store since October 2016. The UK, Australia, Canada, New Zealand, Switzerland and Mexico markets were added soon afterwards. At June's WWDC, the annual event where Apple reveals its roadmap for the future, it was revealed more countries will soon have the apps search facility. From this summer, the promotional tool will be offered in Japan, France, Italy, Spain, South Korea and Germany.
In a very similar way to how brands run PPC search campaign on Google, the service is used by app developers to place a price on how much they are willing to pay for a consumer to download their app. Brands set up a set of app keywords they wish to advertise next to and their campaign can be set up with the press of a button.
But adding this feature to third-party sites, as the Wall Street Journal predicts, would be an aggressive move by Apple. Not only to increase its own advertising offering but also as a competitive move against Google, which currently dominates paid search.
Apple's nice guy positioning
This could explain why Apple spent time at this year's WWDC to talk about how it is effectively the good cop of the internet when it comes to user privacy. It was among the first tech companies to allows its browser, Safari, to reject cookies by default.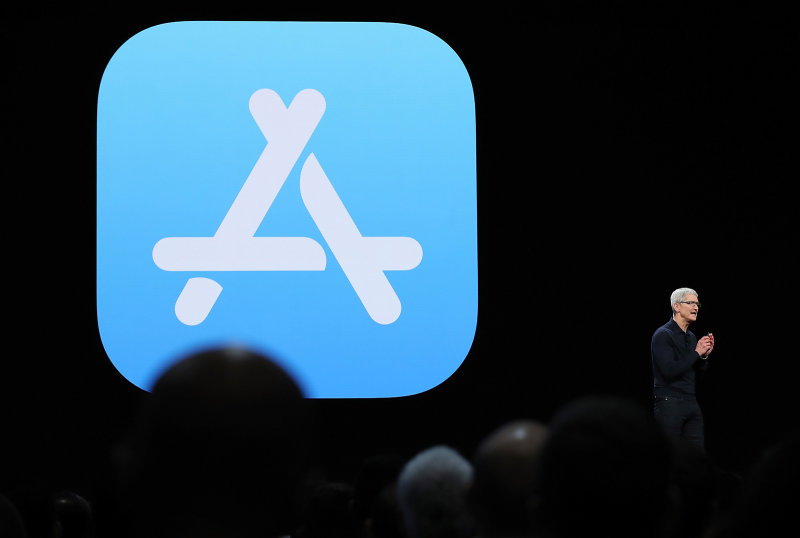 Tim Cook, Apple's CEO, vows to take this stance further by showcasing additional Safari features that will allow users to bar third-party sites tracking their movement and gleaning more data about them even after they have moved to another web site. This tracking, most notably carried out by Facebook, has proven a controversial practice that Apple is clearly reacting against and positioning itself as the customer's friend, taking on the growing data-gathering tentacles of its rival tech giants.
In fact, it recently warned app developers that they were not to harvest and sell on customers' address book data. It was this type of data malpractice that saw the app behind the Cambridge Analytica scandal scrape all manner of information relating to users' friends.
Clearly, Apple is positioning itself as the consumer's friend in digital marketing and this manoeuvring is taking place just as it is expected to dip its toes into advertising again.
For its extended App Store search programme it does not need cookies or piles of user data, of course, just the keywords a user is searching for and how much its bidding developers are willing to pay for them to download their app.
Apple is showing every sign of being about to re-enter the advertising game.