India is on course to become one of the most important markets in the world for mobile advertisers.
According to a report from Quartz India earlier this year, the market is set to grow at a rapid pace.
It reported that the number of smartphones in the country will double by 2022, meaning that 829 million Indian consumers will boast high end smartphones.
And with mobile data becoming cheaper and more accessible, it also reported a likely 490% increase in data consumption as these broadened consumers access to richer content formats.
Already, advertisers have appreciated the opportunity. WARC reported earlier this year that the majority of India's leading marketing and advertising executives have increased ad spend in the country 'exponentially' already.
It's clear, therefore, that a genuine market opportunity is opening up for both advertisers and publishers. But with growth and opportunity comes problems. And, in the mobile advertising space, that unfortunately means ad fraud is on the agenda.
Globally, ad fraud is estimated to put advertisers out of pocket to the tune of $16.4 billion according to the Mobile Marketing Association. The fight against ad fraud is a 'daily, hourly fight' according to DigiDay.
And India, unfortunately, is something of a hub for ad fraudsters. TechARC estimates that the market accounts for nearly ten percent of all ad fraud globally, meaning advertisers may fear to tread in a market that should tick all the boxes for ambitious digital campaigners.
That's why it's important for us to come together and resolve the problems afflicting the Indian market.
Therefore, we supported a three date Act on Ad Fraud roadshow from the Mobile Marketing Association. It toured across the country to highlight the issue, discuss the main problems that ad fraud causes and propose ways to solve them.
What did we learn from the roadshow? And what should advertisers across the world take on board when thinking about ad fraud and India?
Here's our summary of the three main talking points and what they mean for your business.
The brand safety backstop
Before considering the technical side of ad fraud (and how to fight back), it's really important that businesses collectively do what they can to make any battles against fraudsters as easy as possible. And a robust approach to brand safety supported by a company's senior management is a crucial starting point for success.
Defined by the Trustworthy Accountability Group as "the controls that companies in the digital advertising supply chain employ to protect brands against negative impacts to the brand's consumer reputation," we learned that brand safety matters because it underpins a company's entire approach to mobile advertising.
As MarketingLand has neatly summarised, putting it first encourages businesses to think holistically about how they're protecting themselves.
It means that companies consider where a brand will look suitable (e.g. gambling adverts should be nowhere near children's games). But it also encourages advertisers to think about the best way, the best formats and the best avenues through which to present users with a mobile advert in a way that won't compromise the central brand.
In a growing market like India, this provides a valuable backstop for businesses. Provided senior management buys into and reinforces the brand safety-first approach, advertisers will move into the market more cautiously and with trusted partners first.
This denies networks peddling shadier practices in opaque environments traffic, helping cut the fraud problem off at source.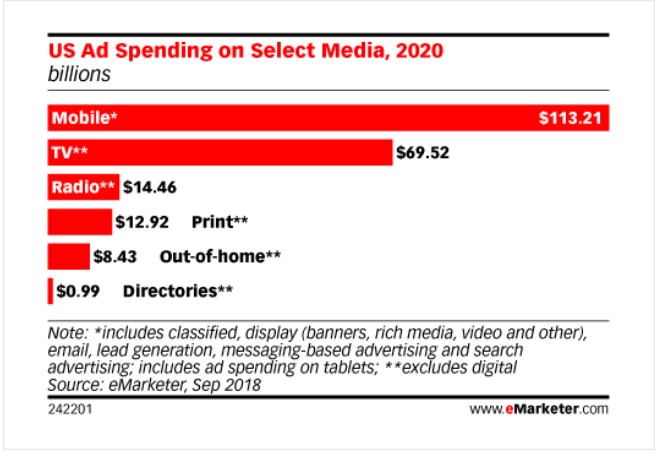 (source: emarketer.com)
 Keeping trust in the performance
The success of performance advertising in the digital marketing mix can be found in its name. The ability of performance networks to deliver precise actions to advertisers, measure reach and report effectively in real time explains why mobile advertising is set to eclipse all forms of advertising combined by 2020.
Ad fraud is therefore particularly pernicious for performance advertising because it undermines trust. While malicious tactics produce different outcomes (or affect different metrics), approaches such as click fraud, ad stacking and fraudulent bot traffic all undermine the sanctity of performance metrics.
And overall, the aim is the same for fraudsters piggy backing on performance. They're aiming to skim cash from advertisers in real time, get the money and run before the gap in performance is discovered.
This has the risk to profoundly undermine trust in performance across the world. Therefore, the main solution to the problem in India is – mostly – to follow global best practices to avoid problems.
For the most part, this means that advertisers in India need to ensure that they and their partners engage in strong ad fraud prevention measures.
It means ensuring that your business is doing all it can to fight back against fraud from the outset. Planning security early, knowing what fraud looks like from a data perspective and working with third party verification partners will help you spot and mitigate fraud.
But it also means engaging a tight circle of trusted partners, rather than working with any network. Forbes' Agency Council suggests the way to maintain your trust in performance is to trust the partners that already deliver it for you in a fraudulent way.
And when you're entering a new or rapidly growing market such as India, it's better to play it safe with what you know than risk it on a new partner.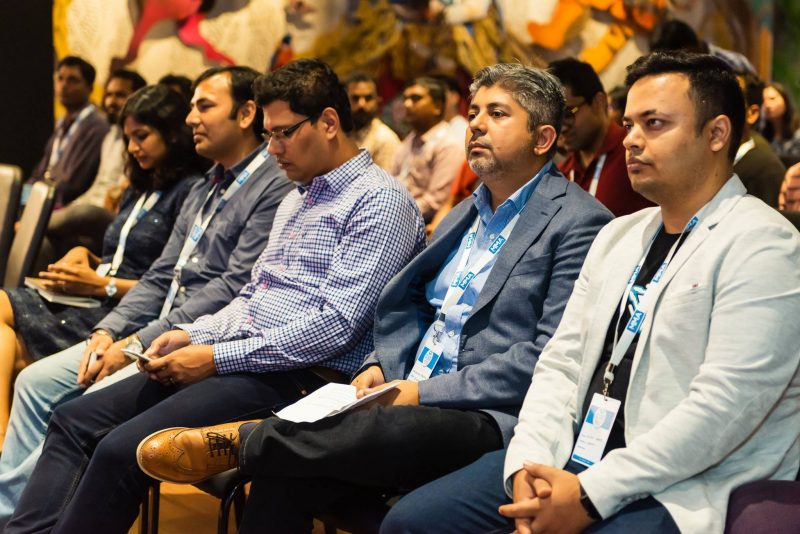 Accountability matters
Finally, the fight against ad fraud will only be won in India and beyond with a drive to ensure that the mobile advertising industry as a whole accepts the importance of accountability.
Ad fraud will, almost certainly, always happen in some way, shape or form. It is notorious for the pace by which it evolves and the lengths that fraudsters will go to in an effort to make their ill-gotten gains.
But what this means in practice is that the industry must work together at all points of the advertising supply chain to fight against it. If platforms, advertisers and publishers agree that fraud is a common problem that requires a joint solution, there's a chance that it can be quashed significantly.
There are already signs of that happening. The move to ads.txt last year reduced ad fraud by nearly 10 per cent after its implementation. Attribution providers like AppsFlyer have emphasised in publications like ExchangeWire how they can work with app businesses to form a frontline against fraud. And agencies can play their role too by ensuring that campaign performance is measured against demonstrable returns rather than 'vanity metrics' that fraudsters can game.
In short, the fight against fraud cannot be won alone. Instead, the industry must accept everyone is accountable for it and to ensure that it works together to root the problem out wherever possible.
Conclusion
The Indian market has a uniquely large problem with advertising fraud. A glut of new users, boasting increasingly powerful devices and larger data packages are theoretically coming on the market.
But with growth reportedly exponential and market data still uncertain, the gap in knowledge between what advertisers know about the size of the market and its actual presence presents a big opportunity for fraudsters to game.
Rather than approaching the problem as that of an individual geographic issue however, advertisers are best off dealing with the problem of ad fraud in India by ensuring they set the standards and work in the same way as they do so globally.
Implementing a brand safe approach from the outset, working with trusted partners, interrogating the metrics of performance campaigns, knowing what fraud looks like and joining in with efforts to fight it are the most effective way to battle fraud at source.
And while the problems in India may be shared globally, its current challenges with ad fraud simply underline how important it is for advertisers to do all the above consistently.