As it considers plans for a subscription fee for its News service, Apple is pushing hard on developers to build in regular renewal fees for their apps.
The Apple rumour mill is going into overdrive but, for once, it is not about the specifications of new phones, watches and laptops.
Instead, the headlines are surrounding a seismic shift in the way the tech giant approaches its App Store. In short, it would appear small, one-off payments are to be discouraged. Instead, Apple is working hard on getting developers to sign up to a new philosophy, and approach to the market, which would see app users paying monthly or annual subscriptions to carry on using apps.
When one considers iPhone sales revenues increased by 3% last year but services leapt 23% in the same period, it is clear that the shift to making Apple a services-driven company is well underway. Rather than just sell the hardware, Apple wants more of a cut from what people use those iPhones and iPads for.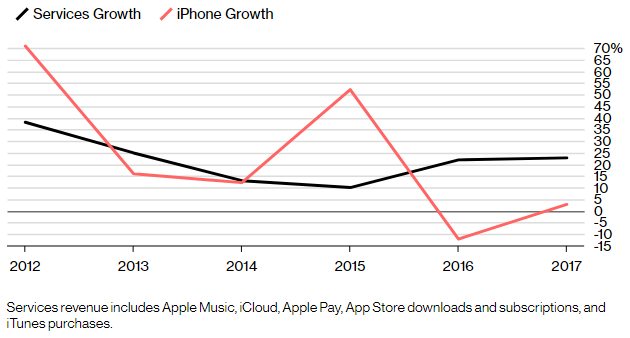 Getting developers on board
Indeed, the subscription drive appears to have started in earnest back in the Spring of 2017, according to Business Insider, via a secret meeting in New York with developers. In a development that is only now starting to be reported on, Apple's new subscription-based strategy was presented as a win-win.
Developing apps is a notoriously risky business. Those riding high in the download charts can expect a lot of visibility, leading to a healthy stream of downloads. As for the rest, though, the majority make little money, if any. Success, when it happens, can be short-lived.
Apple shares its developers' fate because its revenues from app downloads are, by definition, directly linked to downloads. It takes its 30% cut when an app is bought, or more accurately licensed, but then future revenue opportunities are limited.
If it can persuade developers to move their customers to a regular payment, Apple stands to make extra revenue, and so do the developers. In fact, it has emerged that Apple is halving its 30% cut of a first download to 15% for subsequent subscription renewals.  
At around 300m App Store global users, app subscribers outnumber Netflix customers more than two to one, and so Business Insider positions the latest move as Apple being in the process of "quietly" building what could potentially be the world's largest subscription business. Get it right, and the business sites believes Apple could turn its App Store into a cash cow, producing $55bn worth of revenue per year.
News subscriptions on the radar
It is not just apps where Apple is looking to subscriptions to boost revenue. The rumour mill, backed up by reports from the likes of Bloomberg, is suggesting the company's News app is about to launch a subscription offering.
In the Spring, Apple bought Texture, a service which offers users access to 200 magazines for $9.99 per month. Since then, insiders have confided to Bloomberg, Apple has been using the technology to build a similar offering into Apple news. While some content will almost certainly remain free, those taking out a monthly subscription will be able to gain access to many more subscription-only titles.
Apple News users can currently add titles they subscribe to so articles appear in their curated feed. Under the new plan, though, a single payment would provide access to multiple magazines and newspapers. It would be the equivalent of Apple Music for news.
There is no indication yet how this revenue would be split with publishers, nor a clear date when the service will launch. Bloomberg's insiders estimate that a launch could happen later this year or in the first quarter of 2019.
Not all plain sailing
The moves to shift apps to regular payments and to tap into magazine and newspaper subscriptions comes at a time of unease. Not only are there fears that app subscriptions could be accompanied by price hikes, there is a growing resentment among some developers at the 30% revenue slice Apple takes from downloads instigated on its App Store.
Of course, developers baulking at losing nearly a third of their revenue to Apple is not a new development. However, as prices for downloads rise and subscription fees are introduced, experts are predicting that anger over "Apple Store Tax" will only intensify.
David Murphy, founder of Mobile Marketing magazine probably sums up the feeling of many in the mobile app industry in not being surprised that the first company to ever hit a trillion dollar market capitalisation, is working on ways to keep on boosting revenue.
"Every business in the world dreams of recurring revenues," he says.
"So for Apple, a company that certainly knows how to make money, a move to a subscription model where it keeps making money month on month, year on year, is not only not a surprise, it's a perfectly logical development.
"Even more so when you consider the closed ecosystem it has created and the loyalty of the Apple fan base, who stick with the company even when they do things like replacing the headphone jack with a lightning socket so you can't charge your phone and listen to music at the same time, without buying another bit of kit."
Will news be the biggest challenge?
Quite where the drive to make more money from revenues will take Apple will remain to be seen, as will whether it does launch a subscription-based news service. While one can imagine consumers will pay subscriptions for apps that are renewed and improved, it is arguable the tougher challenge will be to get people to pay for news content.
Apple will have to convince those who already subscribe to their favourite news outlets to pay an additional fee or somehow convince subscription-based titles they could join up to the new service and not cannibalise sales.
There would also be a major challenge in persuading those who insist on getting news for free, from ad-supported sites, to pay a monthly fee for a wider selection of resources.