ChinaJoy celebrated its 16th year with another fantastic event. The conference – which took place in August 2018 – drew over 340,000 people, with all of them desperate to hear about what's coming to China's video game market in the coming year.
But what were the big takeaways for businesses attending the conference? We've summarised the three biggest things we learned from ChinaJoy 2018 to give you a taste of what happened in Shanghai.
China's mobile MMORPG market is on the up
A large part of the Chinese games market has been built on the back of enormously successful PC massively multiplayer online role playing games (MMORPG).
Games such as Perfect World, Fantasy Westward Journey and Age of Wulin are a just a handful of enormous games that have racked up significant player bases in the territory on PC. They also account for roughly three quarters of Chinese PC video game revenues, according to Niko Partners.
So it's unsurprising that the Chinese mobile gaming market is increasingly becoming awash with MMORPGs. And China's biggest games companies are approaching this market in two different ways.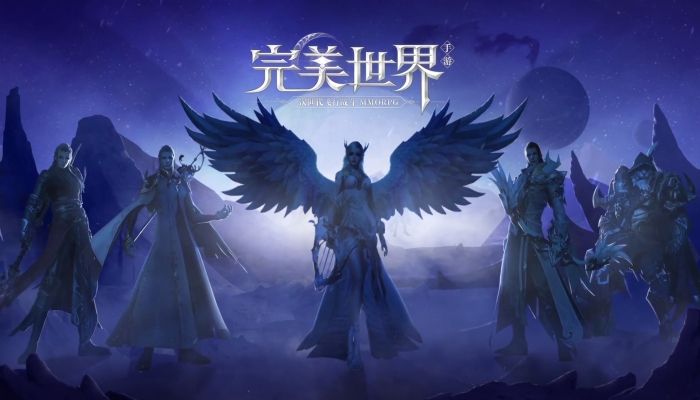 Perfect World is coming to mobile soon for the first time ever
On the one hand, a number of companies are following Runescape's example and attempting to cross the divide between PC and mobile directly.
Perfect World recently released its MMORPG on mobile and had it on display on the show floor, while CCP spoke about its partnership plans with NetEase ahead of ChinaJoy to Games Industry Biz.
On the other hand, a number of developers and publishers trying to crack mobile devices directly. For example, NetDragon announced a game called Vow of Heroes at ChinaJoy and made clear that it was a smartphone only experience – showing that dedicated MMOs are releasing onto the platform.
In short, MMORPG's continue to be popular within China's gaming market. But it remains to be seen whether moves to mobile are about expansion or shoring up businesses against losses.
Niko Partners also reported that MMORPG revenues are in decline on PC, as FPSes and MOBAs increasingly dominate player attention.
This suggests that the mobile MMO may be as much a tactical business play as it is an effort to expand the options of the player base.
Console companies continue to try to crack China
It's fair to say that console gaming is a niche pursuit in China. According to ChinaJoy's internal research, only 0.7% of the Chinese gaming market is accounted for by console gamers.
Historically, there are a number of reasons why that's the case. First, China had a blanket ban on games consoles that wasn't lifted until July 2015 – a significant dampener on the market. Second, consoles remain comparatively costly to Chinese consumers (especially when they're used to sporting high-end mobile handsets at a comparatively low cost). And third, the sustained dominance of PC and mobile in the country has made consoles appear redundant to the country's gaming mix.
But at this year's event, console companies were again well represented. Both Microsoft and Sony attended, bringing along significant display floor exhibitions. And in the case of the latter, they announced a number of games targeting the Chinese market including Dancing Beauty and investigation game AD 2047.
There's a good reason why manufacturers are still going after the market. If the market grew by even a few percentage points, it would represent a significant revenue stream for platform holders and developers alike.
However, it remains a longer-term bet for the console businesses than a definite winner. And unless the manufacturers can develop a clear use case for consoles over PC or mobile, that bet may never come in.
Virtual reality has real potential for growth in China
But what could be a possible hook for console companies in China? The answer could be piggy-backing on a technology that is succeeding in the territory: VR.
China's VR market is, by most accounts, well placed to become the biggest in the world. ABI Researchestimates that there will be over 20m VR headsets in China by 2022 due in part to a plethora of low-cost headsets in the market. This could help power the market to global prominence, with DigiCapital predicting that one in every five dollars will soon be spent in the local market.
So it wasn't a big surprise to see VR having a significant presence across platforms and across the ChinaJoy show floor.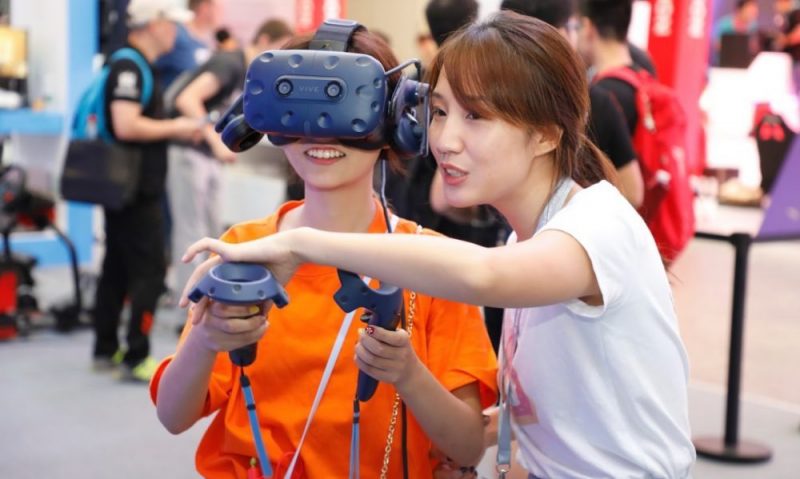 Image from ChinaJoy's website
One of the most interesting things about both Dancing Beauty and AD2047 is that both titles are PSVR compatible. While the platform has proven popular in the West, Sony's decision to make its headline "China first" titles VR compatible could be part of a strategy to position the PS4 as a lower entry point to top end VR experiences.
However, Sony isn't the only company doubling down on VR. HTC debuted its VR headset at ChinaJoy, letting consumers go hands-on with the headset. Netease announced that it plans to launch a multiplayer open world VR game on HTC's store next year. McClaren even launched a VR driven esports offering at the conference.
This shows the potential for VR in the China market and makes it a territory to watch for anyone who has invested significantly in the technology in the past few years.