China is a country of big numbers. There are approximately 800 million smartphone users in China. It is now the world's largest games market accounting for over 25 percent of global gaming revenue or some $40 billion in 2018 alone. And this makes it easy to understand why developers are keen to enter the market.
But while China is a highly coveted market, it is also hard to enter. Games and entertainment content is strictly regulated; social media operates completely differently; the country has its own multi-tiered consumer ecosystem where different parts of the country access significantly different content. 
Amidst these challenges, businesses often fail to ask the most important question of all: what do Chinese consumers think about all this? We partnered up with Newzoo to interview 1007 Chinese players aged between 10 and 50 across tier 1 and tier 2 cities to find out who they are, how they play, what they play and why they like to.
Who plays games in China?
According to our data sample, there are approximately 700m smartphone users in China. Of those users, 153 million are classed as active players – who play mobile games more than once a month.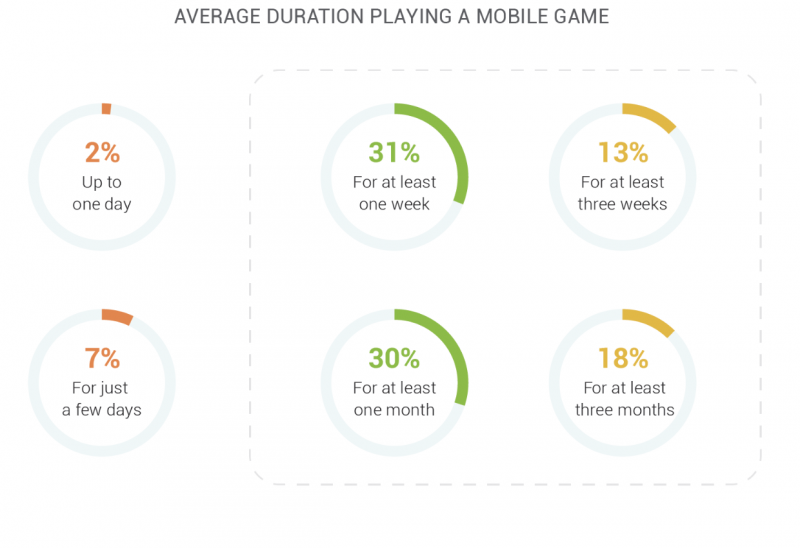 And of those users, a narrow majority are male. Across players who play games fewer than five days a week, the split in gender is 52/48 male vs female. But that grows to 60/40 amongst players playing more than five days a week.
The largest category of players in China by age is the 21-35 age group. Across both genders, the group accounts for just over half – 51% – of the mobile gaming population. The next biggest group is 10-10 year olds (29% of the market) and then the 36-50 year old category (which accounts for roughly 20%).
Interestingly, most of China's players are workers too. 74% of players were full time employed, with five per cent self employed and three per cent working part time. The only other significant category was students – who accounted for 16% of the market – showing that Chinese players do (for the most part) have a source of regular income.
How do Chinese players interact with games?
More than half (52%) of respondents said they play mobile games for more than an hour every day. The majority (63%) of gamers play for either 30 minutes to an hour per day, or between one and two hours per day. Only 15% said they played for 30 minutes or less, and 7% for 3 hours or more.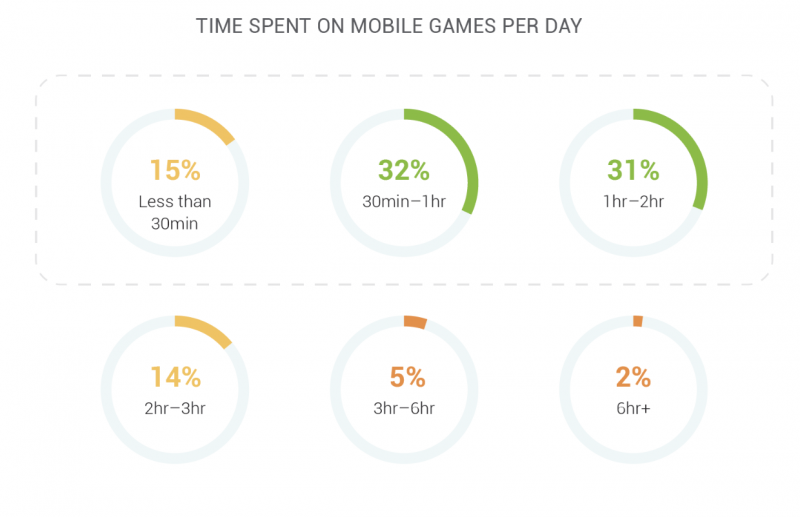 Interestingly, 92% of Chinese players stick with a game for more than a week, 30% keep with it for a least a month and 18% play three months or more. Furthermore, 87% said that they had played fewer than five games in a month – suggesting impressive loyalty amongst the player base. 
Importantly, Chinese players fit mobile games into their day in much the same way that players in the rest of the world do.
25% of our respondents said they played mobile games during their lunch break, making it the most popular time of day to play. However, while 34% of mobile gamers aged 45-50 cited playing during lunch breaks, only 19% of 21-25-year-olds said the same. This suggests that age will affect when players jump onto their devices for a game, especially when that age is linked to the availability of breaks.
What games do Chinese players play?
The two most popular mobile game genres in China are puzzle games and MOBAs. Puzzle games were the first choice of 52% of female gamers, whilst 45% of male gamers prefer MOBAs to anything else. Battle Royale titles are also exceedingly popular, with PUBG, Knives Out and Rules of Survival establishing the genre as a solid third place in the Chinese market.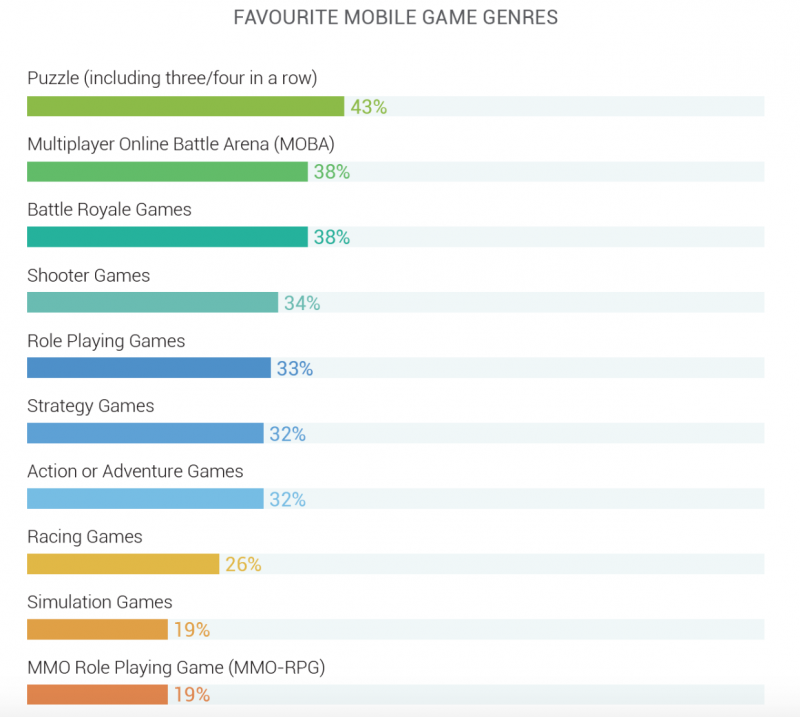 Chinese players prefer games released by local publishers over international rivals. When asked to express a preference, 86% of people said they preferred games from Tencent and NetEase to well-known Western publishers such as Supercell and King. 
However, this may simply be caused by brand familiarity enforced indirectly through regulatory oversight. FIFA, for example, is indistinguishable from EA in the West but is published by Tencent in the West. It is unlikely, but a change in the regulatory environment could shift the needle.
They also, as expected, prefer games with domestic themes and characters: underlining the importance of localisation to succeeding in the market.
Why do Chinese players play games (and what drives spend)? 
Chinese mobile gamers clearly really like interacting with other players. When we asked about what motivated them to play mobile games, 36% of people said their main motivator was interacting with and competing against friends or other players.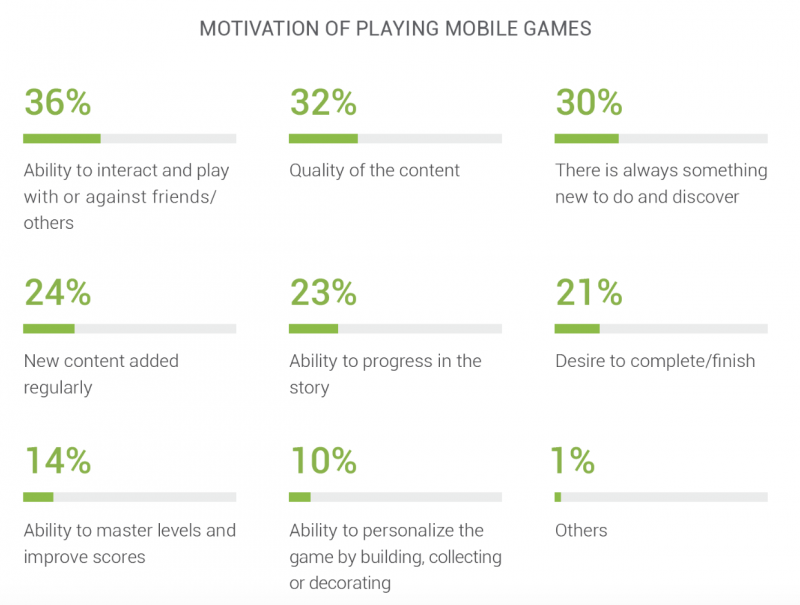 However, there were a number of other reasons why gamers played. 32% cited the quality of the game itself, 30% because there is always something new to do or discover, 24% because new content regularly appeared and 23% to progress. This suggests players like service games because it gives them new ways to enjoy and experience their favourite games.
Finally, most Chinese players spend on mobile games. A surprisingly low number – 15% of respondents said they spend nothing at all on mobile games. While the majority spend less than ¥40, 45% of 26-30-year-olds regularly spend more than ¥70 ($10). At the extreme end, three per cent said they spent more than ¥330, or almost $50 a month. But most players spend less than ¥40 ($5.80) per month.
Importantly, Chinese players are happy to spend in these titles. 44% said they preferred F2P games with In-App purchases, and 17% said they preferred games that were totally ad-funded, and 24% chose premium or pay-to-play mobile games
And when it came to ad funded games, Chinese players had a clear preference for adverts that were interactive or immersive. Rewarded adverts were the most preferred option, with 27% preferring them. But native in game ads were favoured by 22% and playable ads by 18%, with just four per cent liking a standard banner.
Conclusion
Chinese players are arguably some of the best in the world for the mobile gaming market to tap into. They play games more regularly on their mobile phones than users in the US or UK; they play games for longer and are retained effectively. The preference is for free to play titles, but 85% of players in the market do spend money on in-app purchases.
This means that China is a fertile market for the mobile free to play industry. However, the challenges we referred to at the start of the piece have not gone away. If companies want to access these users, they must find the right partner or supporter in the region to allow them to enter the sector.
Find out more about Chinese mobile game consumers – including which app stores they use and which app store assets most inform their purchasing decision – by reading it in https://www.mintegral.com/en/ebook/mobile-gamers-in-china/