The GameAnalytics H1 2019 Mobile Benchmarks report came out recently and it's their biggest one to date, covering 1.2 billion MAUs across close to 100,000 games. With such a massive sample size, it's safe to say their findings are a pretty clear representation of the mobile gaming industry. Here are 5 key takeaways from this report.
eCPM shows significant growth in China
The eCPM for hyper-casual games in China has grown tremendously in 2019, with median values now close to $4.00, which is almost as high as those of the USA. The Chinese market, which has traditionally been seen as a mid-core market, has seen some big shifts this year, moving more and more towards the hyper-casual genre.
To improve your eCPM we suggest you check out our previous blog called 6 Ways to Boost Your eCPM and if you want to know the difference between CPM and eCPM we suggest you read this article first.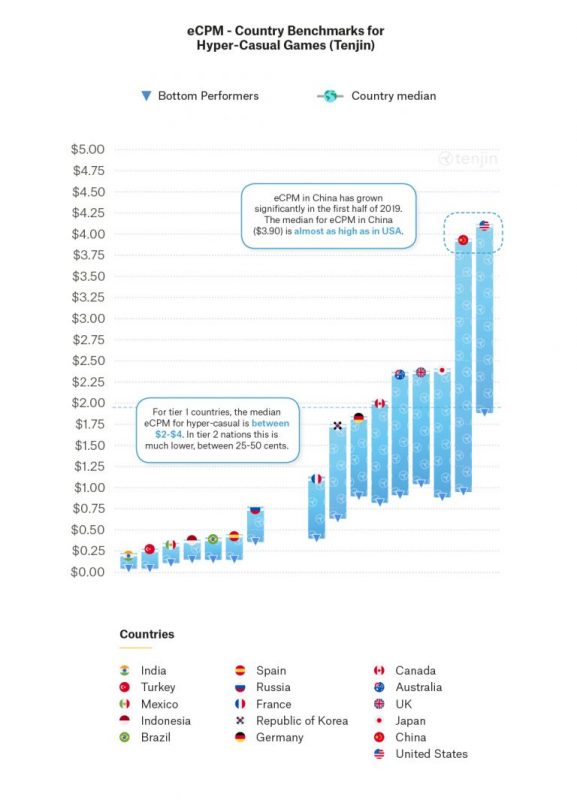 Image source: GameAnalytics H1 2019 Mobile Benchmarks Report
Mid-core games dominate IAP revenue segment
Speaking of mid-core games, the GameAnalytics report shows that this genre is the market leader when it comes to IAP-based revenue. Compared to casual games, the mid-core genre's median ARPPU is 3-5 times higher. 
RPG, a category that is quite popular in China, along with strategy games, is seeing higher numbers than all other genres, up to 5-7 times better or up to $25. Trivia and Word-based games are at the polar opposite of this scale with a median ARPPUs hovering around $5. For context, the top 25% of games in most genres have ARPPUs of $12 and above.
Looking at other revenue-based metrics, GameAnalytics found that ARPPU is down 15% YoY, which suggests that more developers are focusing on ad-based monetization rather than IAP.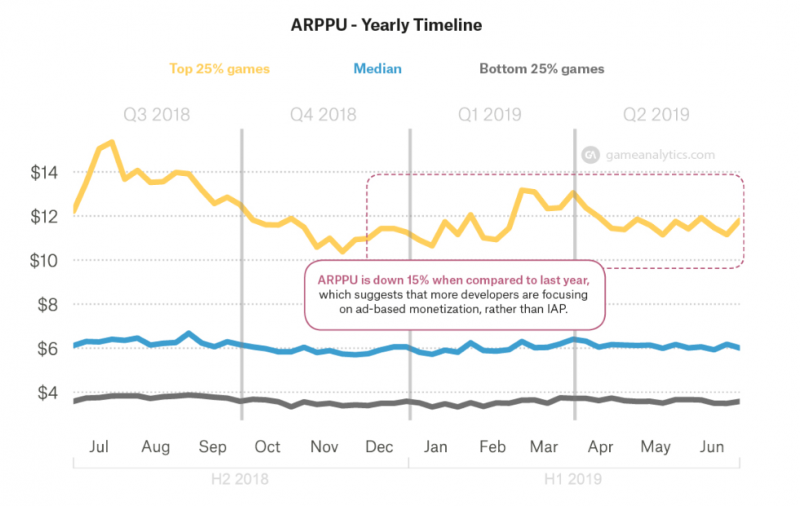 Image source: GameAnalytics H1 2019 Mobile Benchmarks Report
Average session times are lower, quicker games preferred
The average session length (ASL) went down by approximately 1 minute YoY according to the report. For most genres, an ASL of 7 minutes and above is strong, which could be an indicator that users are slowly moving to quicker, more casual games.
The top-performing genres in terms of session length are Casino, Card, Multiplayer and RPG, scoring as high as 22 minutes, or over 5 times more than the median values of slightly more than 4 minutes. Developers looking to increase ASL should look at ways to reward their most loyal players for investing so much time into their titles.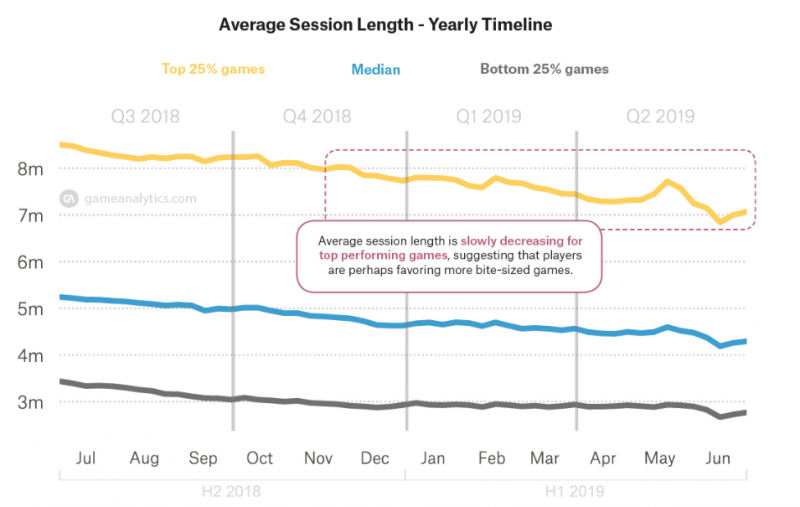 Image source: GameAnalytics H1 2019 Mobile Benchmarks Report
D1 at 35% and D7 at 11% is good news
Whether we're talking classic, casual or hyper-casual games, a Day 1 retention rate (RD1) of 35% is something developers should aim for. This is particularly the case in the casual category, where casual game publishers usually look at games with RD1 of 35% and above, even though the median rate is around 25%. 
Classic genres like Trivia and Word scored highest here, with RD1s as high as 43%, followed by Arcade and Puzzle, then RPG and Strategy. In China, the market that has over 60% of the mobile playing population of the world, RD1 of 40% and RD7 of 10% and above indicate a strong mobile title. If you're looking to launch your title on the Chinese market then we can help you get there.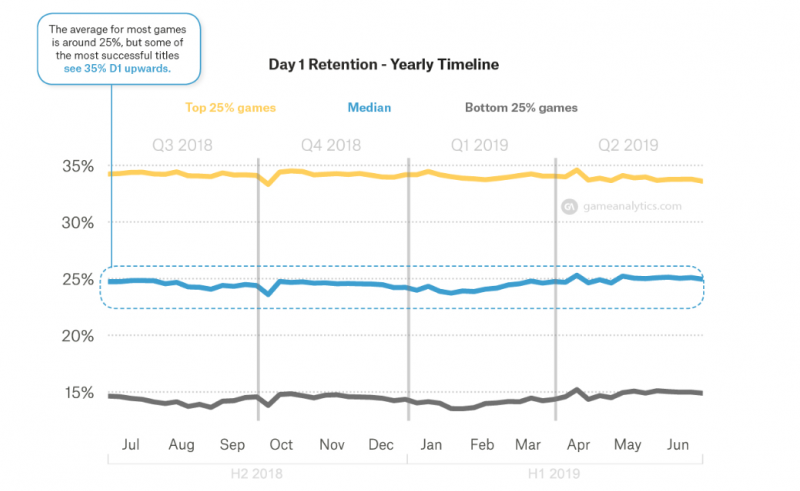 Image source: GameAnalytics H1 2019 Mobile Benchmarks Report
Best performing games only have 4% D28 retention rates
Day 28 retention (RD28) has seen a slight decrease compared to last year, according to the report. Games with RD28 of 4% and above are doing well, but depending on the genre, this can vary quite a bit. The top-performing genres in each category are Puzzle (casual), Word (classic), and Strategy (mid-core); top-performing games there enjoy RD28 of around 8%, 10% and 5% respectively.
When it comes to boosting Day 28 retention rates, developers should focus on the endgame. If players are bored of what the game has to offer, then things like daily challenges or leaderboards can keep them coming back.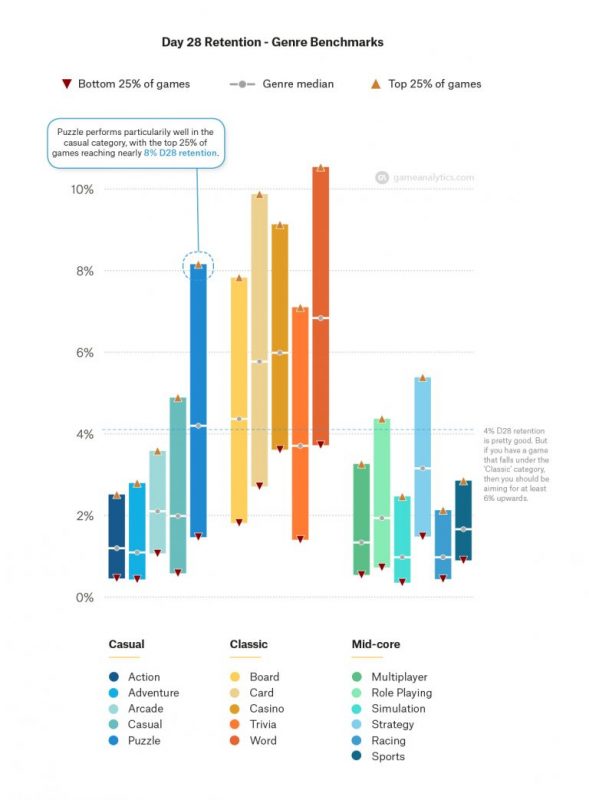 Image source: GameAnalytics H1 2019 Mobile Benchmarks Report
Conclusion
With eCPM showing significant growth in China, the world's largest mobile market, it's becoming more and more apparent that developers looking to take their apps to the next level need to look East. As session times decrease, casual and hyper-casual games get more attention from users, especially in China.
Games with D1, D7 and D28 retention rates of 35%, 11% and 4% respectively, are generally top performers across most genres. As conversion is dropping, it seems developers are focusing more on ad-based revenue versus IAP, which can be particularly lucrative in China if we consider how much eCPM has grown there over the last year.
Entering the Chinese mobile market might seem intimidating, but we can help with that. Our Xplore China section has more information on how developers can achieve their potential in China – if you're interested, then don't hesitate to contact us.