Google's latest and biggest mobile SEO change for years is happening – this is what you need to do
Page download speeds have steered desktop search results but now Google is prioritising stripped down mobile sites that can be downloaded quicker than rivals.
It is one of the biggest changes to happen in mobile digital marketing for years, yet many may not have noticed until it was pointed out. This July, Google delivered on a promise made in January to make mobile web site speed an important factor in search results.
This has been the case in desktop SEO since 2010. Slow-loading pages give web surfers a frustrating experience and so have been routinely demoted down the search page listings. Now that same approach has been extended to mobile web browsing.
To be fair to Google, unlike many of its search algorithm tweaks which take SEO consultants by surprise, this "Speed Update" was flagged up six months in advance. However, it is fair to say, the general background buzz from mobile marketers was that many were not as prepared as perhaps they should have been.
From July, if a mobile website is as relevant as a rival for a mobile search query, but it is slower, the rival will win out. Mobile marketers need to be aware, this can come down to fractions of a second. Time really does count.
It will be slightly reassuring that Google is still maintaining speed is a factor, but it is not the only factor. Hence, in a straight race between similar sites, speed will win the day but if one site is far more relevant than others, a small difference in speed will not keep it from appearing at the top of the organic search results.
How to optimise your website for speed
The best way to prepare a mobile site for the new search regime is to strip down each page until only its bare essentials remain. Lower resolution pictures, fewer tags are obvious starting points, as is ensuring a site is hosted on the very latest, fastest server with the best connection to the mobile internet so Time To First Byte (TTTF) speed is accelerated.
Preparations will prompt many marketers to shift to Accelerated Mobile Pages (AMP). This is Google's tool for steering mobile traffic to a stripped-down version of a web site. In tests, the search giant claims download speeds were improved by between 15% to 85%.
There's a run-down of how AMP does this in a tutorial video here, but essentially it an open source tool to strip down html and Cascading Style Sheets (CSS). The tool builds pages so they "lazy load", meaning the lower portion of a page does not appear until it is scrolled down to.
In particular this means pictures only appear if the user scrolls the page down to their lower position. This frees up the top portion of a page to be delivered a lot quicker, helping a page rank better in mobile SEO than a rival site that is not optimised.
The good news is that Google recently clarified that when a site is stripped down and running on the fastest servers, mobile marketers can relax a little. Making an already fast site even faster, if it were possible, does not have anywhere near the same effect as making a slow site fast.
Next steps
It is a good idea to conduct some Google searches for keywords that are important to your business to see how well you are competing. If you have noticed your site is slipping down the rankings in mobile SEO, speed could well be a factor
It is worthwhile conducting a mobile site speed test at the beginning of the process to see how fast pages are loading. You can also do this for rivals to see how they compare. If they are faster, then you really have no option other than to slim down pages, perhaps through Google's AMP.
There are several sites that offer mobile website speed tests but many marketers may find it makes sense to choose the free service offered by Google's PageSpeed Tools. Type in a URL and a report soon comes back ranking how well the site performs on "page speed" and "optimization".
This, for example, is how the PageSpeed Tools page ranks the website for UK newspaper theguardian.com. They clearly still have some work to do!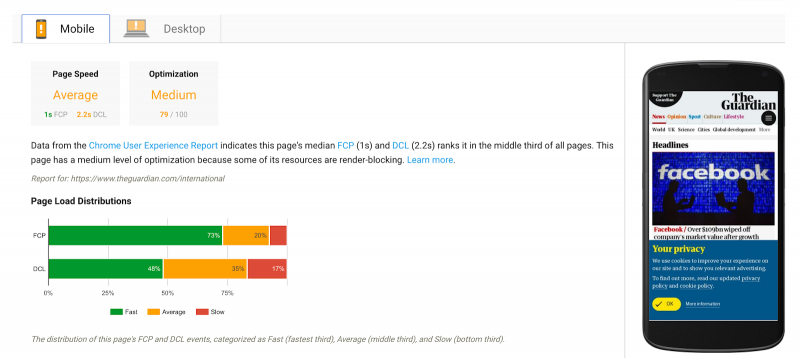 However, at rival newspaper The Times, the picture looks a lot more encouraging.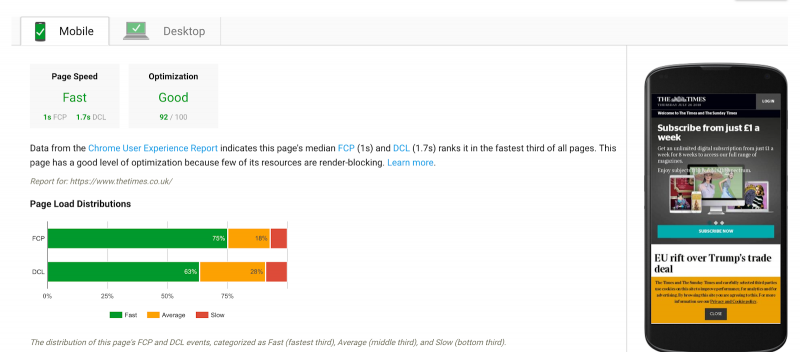 Running competitor analysis tests is now a must for mobile marketing professionals because the speed at which a site renders content, is nearly as important as the content itself now. If these two newspapers were in a head to head fight for a top position in a mobile search, it is entirely possible The Times would be favoured, all other considerations being equal.
It is the same with any other mobile site. If your brand has not done all it can to get mobile pages to download faster than rivals, it can only expect to see itself fall down Google's mobile SEO listings.