We've recently released our Xplore China 2019 edition of How To Market Your App In China report.
Written in collaboration with Mintegral and NativeX, the report features key information about the current landscape of the Chinese mobile market, as well as providing practical advice on how to enter it successfully.
As the report outlines, China's internet population surpassed the 800 million mark at the start of the year, with 98 per cent of those (approximately 788 million) using their smartphone as their main point of access to the web.
China's mobile-first population also likes their apps. App Annie research shows that, in 2018, China accounted for nearly half of the world's app downloads. They also highlight that China accounted for close to 40 per cent of worldwide consumer spend on apps in 2018.

Credit: App Annie
With the average Chinese consumer also spending 4.2 hours a day using mobile apps (making them the most active users in the world), it's little wonder developers and publishers in the West have their eyes on the world's biggest and most engaged mobile market. A market that is, amazingly, still a long way from reaching its full potential.
It's little wonder then that so many Western and international developers are looking to enter the market and reap the rewards.
It's not as easy as that though; there are some serious challenges that app developers have to navigate include tough regulations, a fractured Android market, technical issues, cultural challenges and more.
That's where How To Market Your App In China 2019 comes in. It's been created to help you see the market in a clearer light, provide monetisation approaches, outline marketing strategies and more.
Knowing the Chinese mobile market
Before you do anything, though, you need to get to know the Chinese market.
The data in our 2019 report paints a strong picture of the consumers you'll be looking to attract, their mobile habits, the apps they currently use and other essential information.
For instance, Chinese mobile users have, on average, more than 50 apps installed on their smartphones, with nearly 30 of them in active use. Did you know, too, that the most downloaded mobile game in China is PUBG, but the most popular game by monthly active users is Anipop?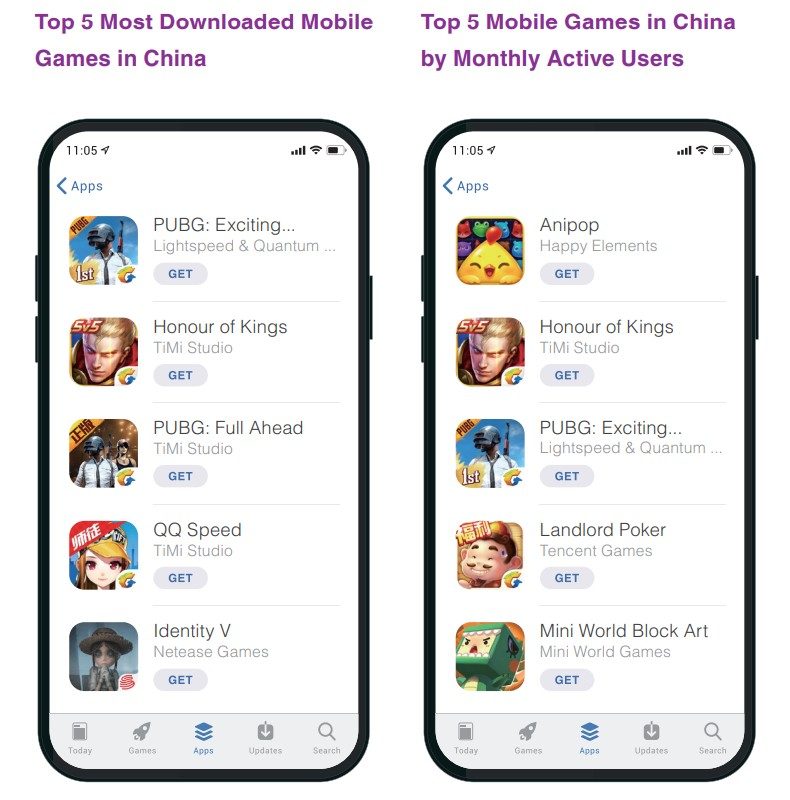 These trends can be crucial in identifying China's wider app-usage habits. Chinese mobile users are also fond of their video-streaming apps. Two of the most popular by consumer spend include Tencent Video and Youku – consumer spend grew by 745% and 770% respectively between 2016-18.
Tencent is just one of the mobile powerhouses that Western app developers and publishers need to consider when making their moves in the market.
Tencent is one of a small number of large companies that dominate China's social media landscape. Baidu and Alibaba are the other two – together referred to as BAT, they account for 69 per cent of internet advertising revenue in China.
Those platforms will likely confuse Western marketers who are used to Facebook, Twitter and Google (all of which are censored in China). So, what approach should app creators take to market themselves to Chinese audiences?
How to target China's enormous mobile market
There are numerous ways to market your app in China, and the more detail you put into your strategic approach, the more successful you should be.
The How To Market Your App In China 2019 will help you in that regard, with key information about the four most important distribution channels, user demographics and the advertising solutions you could use to get in front of specific audiences.
ByteDance is one of those channels alongside BAT; ByteDance is better known in the West as the company behind Douyin, otherwise known as TikTok.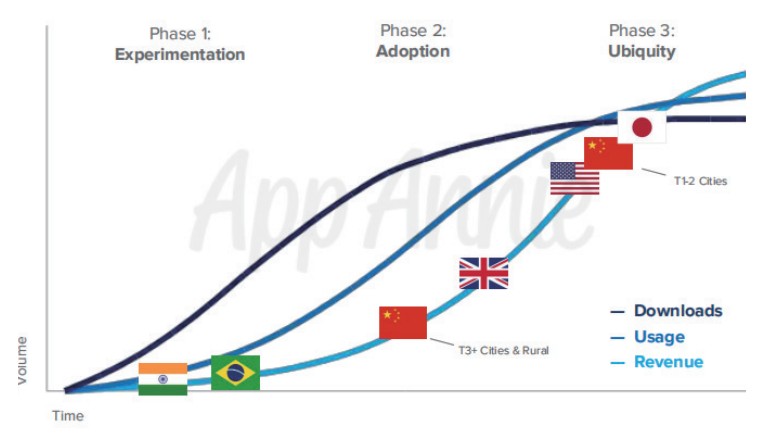 Half of Douyin's users in China are from Tier 1 and 2 cities, with its core users born after 1995. 60 per cent of its users are female; ByteDance has also built its own marketing brand called Ocean Engine which rounds up traffic from six apps.
It provides its services in Chinese only; it could be the best way to attract a younger more-affluent female demographic with full-screen mobile ads on Douyin as part of a wider China mobile marketing strategy.
Each channel has its own unique ways and demographics to advertise to China's mobile users. Tencent can provide native ads with large images or three-image carousels, while Alibaba's UC Browser goes even further by offering native video ads.
Monetising your ads in China
Our report also outlines the essential six-step process for marketing apps on China's most popular media platforms.
We break each step down to help app developers and publishers understand how much work goes into each and every successful China mobile marketing strategy.
The report also features case studies detailing how some companies approached China and their specific strategies for success.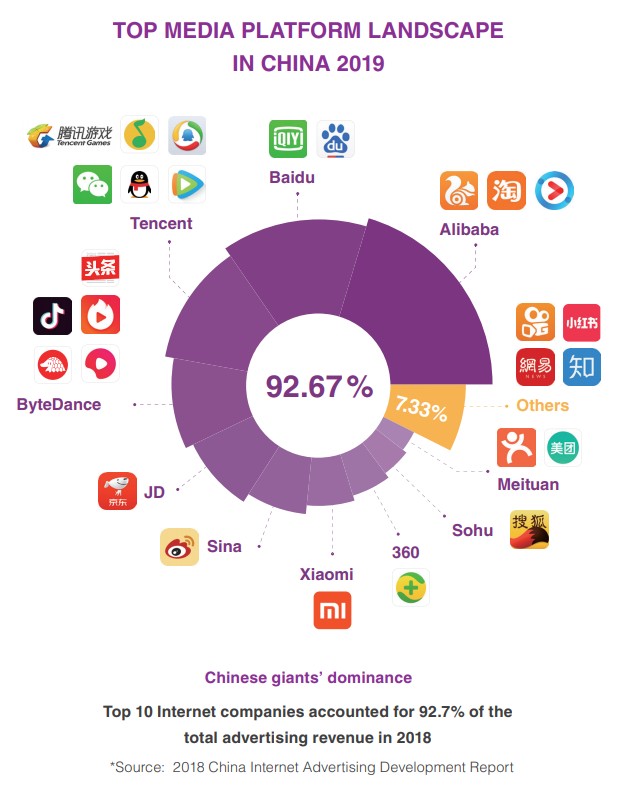 Finally, our report highlights crucial approaches to ad-based monetisation in the Chinese mobile market. The problems you may have in China will likely be similar to the ones you face in the West; how to accurately target users, deliver ads programmatically and at scale.
Thankfully, with the right platform, you can monetise your ads in-app through a number of creative ways. You could do so with a playable 3D ad or an interactive EndCard to better engage with China's mobile-first consumers.
Rewarded video ads can also be integrated into apps and games, giving players a reward in return for watching a video.
Interstitial videos present themselves during natural breaks within an app so users can watch an ad tailored to them in an unobtrusive way, while native in-feed ads also get your proposition in front of mobile users without distracting them from the overall app experience.
There are other ways to monetise your ads, as there are other ways to advertise your app or game across China's various social networks, app stores and mobile platforms.
No one app or strategy will ever be the same, though, and it's critical to have as much information about your market as possible to build an informed mobile marketing strategy that will help you break into the Chinese market.
We hope our How To Market Your App In China helps you to do that. Click here to download your copy for free now:
https://www.mobvista.com/en/ebook/xplore-china-how-to-market-your-apps-in-china-2019-edition/