It's one of the most important times of the year for internet data enthusiasts. Venture capitalist and data guru, Mary Meeker, released the most anticipated report in tech: her annual Internet Trends Report.
Meeker, dubbed by some the "Queen of the internet", presented her 334-page slideshow at Code Conference in Scottsdale, United States. She started crafting these yearly reports in 1995 and has been writing them annually ever since. 
The Bond Capital founder and former Kleiner Perkins general partner uses the report to cover everything from advertising, consumer behaviour, data growth, business models and society. And, unsurprisingly, when Meeker speaks, businesses listen.
But while we know you'll be keen to hear what she said, we also understand 334 slides it is quite a lot of content to grind through. So we've picked out the key highlights from the report to help you make the most of Meeker's insight.
Sizing up the global internet market
Meeker's report opens with a look at the overall size of the internet market and the biggest movers and shakers in it. Unexpectedly, that market is huge.
Over half the world, 3.8 billion people, are online as of last year and the mobile phone is what most people around the globe are using to access the internet. 
The number of gamers around the world has also grown six per cent to encompass 2.4 billion people last year. Meeker credits the rise of gamers to games like Fortnite becoming social platforms for many.
While the number of people online is bigger than ever, it does – naturally – mean that growth is beginning to slow. As so many of us are already online, the global audience only grew by six per cent last year. With smartphone sales also declining too, Meeker's report indicates that we're getting close to reaching the top of the global internet audience.
When it comes to the biggest companies in tech and online, it's clear that the behemoths who have dominated the market will be hard to displace. Seven out of the ten are tech companies. 
Principally, these companies have been from the US. Microsoft takes first place followed by Amazon and Apple. But China's influence is on the up, with Alibaba and Tencent taking seventh and eighth place in the list. This shows that China is probably the only country producing tech companies capable of supplanting the biggest players.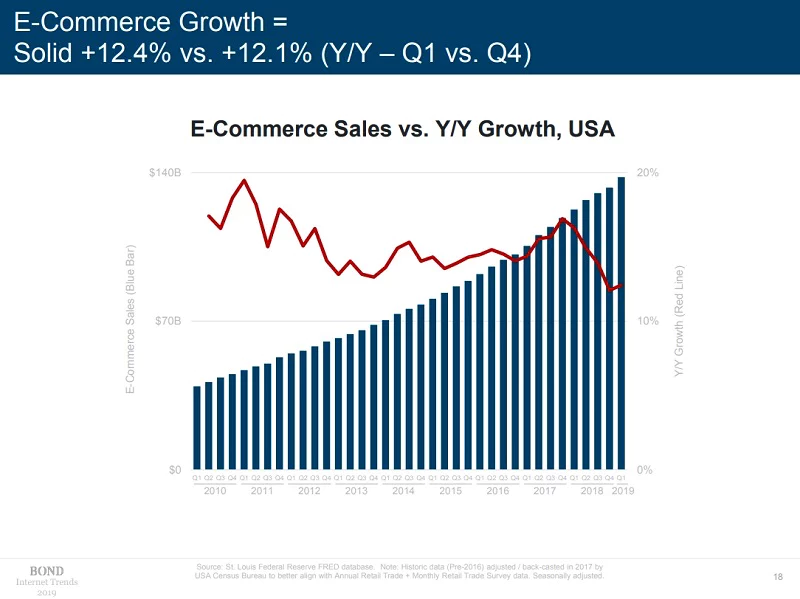 E-commerce – speedy social shopping = the way forward
One of the biggest lessons we've learned from Meeker's report is that rapid growth in e-commerce is being driven in a new way.
Overall, buying online is becoming much more prevalent in the global economy. E-commerce now takes up 15 per cent of retail sales in the US, for example. Crucially, that is fierce compared to physical retail sales.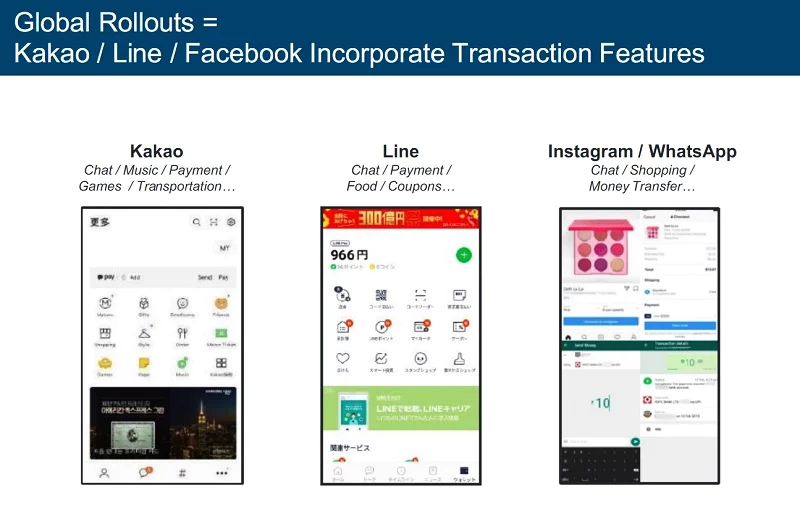 Year on year growth in e-Commerce was 12.4% in Q1 2019, compared to two per cent in physical retail. While the latter is, undoubtedly, growing less because it is well established, it is also reasonable to say that the growth in e-commerce is threatening to physical retail.
Rather interestingly, the growth in e-commerce doesn't come only from offline stores going online. Meeker highlights how social apps are increasingly becoming shoppable which means users, particularly younger users, increasingly find products and complete purchases via their social networks such as WeChat.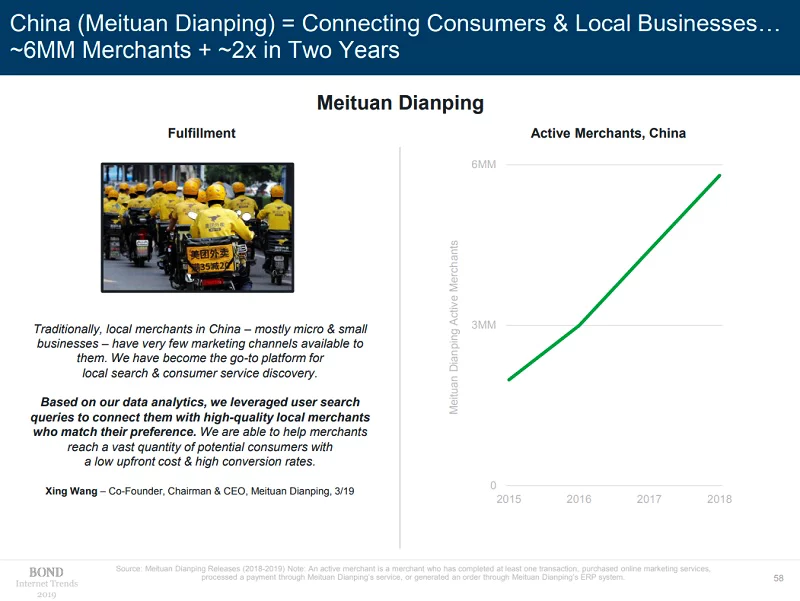 Importantly, the social nature of buying is also tied into Meeker's analysis that consumers want products delivered to them in a quicker, more convenient fashion.
In the West, most will reach for the example of Amazon Prime as an example of hyper quick deliver. But in China, Meeker identifies Meituan Dianping as an example.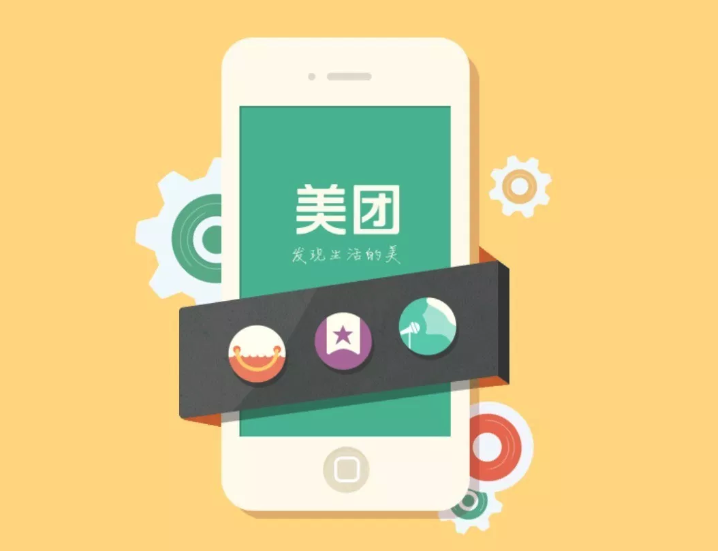 The company matches consumers to local sellers and has become the "go-to platform for local search and consumer service discovery", according to co-founder and CEO, Xing Wang.
By tying together convenience with community, Meituan Dianping brings established e-commerce practices to the social generation – offering a template for other e-commerce operators to consider.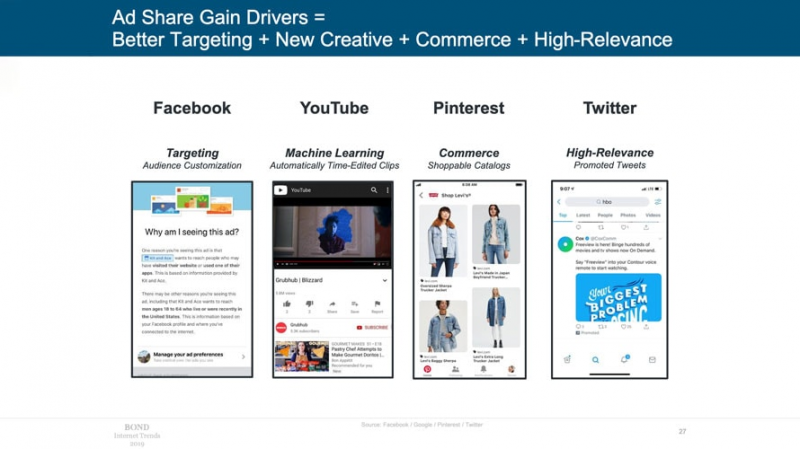 Advertising – programmatic vs privacy?
Internet advertising spending is accelerating in the United States where it hit 22 per cent last year. While most of it still goes to the two giants, Google and Facebook, companies like Amazon and Twitter are growing their hold on the market. Meeker credits these platforms' ad share gain to better targeting, new creative, commerce and high relevance.
Mobile is still king in the digital advertising spend market. Mobile took up 33 per cent of consumers' time in the United States and 33 per cent of marketers' ad spend in 2018. Mobile is now the most popular pass time in the United States, over TV.
About 62 per cent of all digital display advertising buying is for programmatic ads, which will continue to grow. Meeker stated how important it is to leverage artificial intelligence for better personalisation. She references Facebook's audience customisation tools, YouTube's machine learning-powered editing software and in-app shopping on Pinterest and Instagram.
Companies however should be careful about the impact that GDPR and other regulation will have on targeted advertising, especially as hardware and software companies such as Apple and Facebook begin to push for more privacy. Eighty-seven per cent of global web traffic was encrypted in the first quarter of 2019, versus 53 per cent three years ago, signalling that gaining that data is already becoming more difficult.
Customer acquisition is getting increasingly costly. Meeker warns that it's rapidly becoming an unsustainable business as the cost of acquiring customers will become larger than the long-term revenue those customers will bring. Other, cheaper ways to acquire customers would be free trials and unpaid tiers.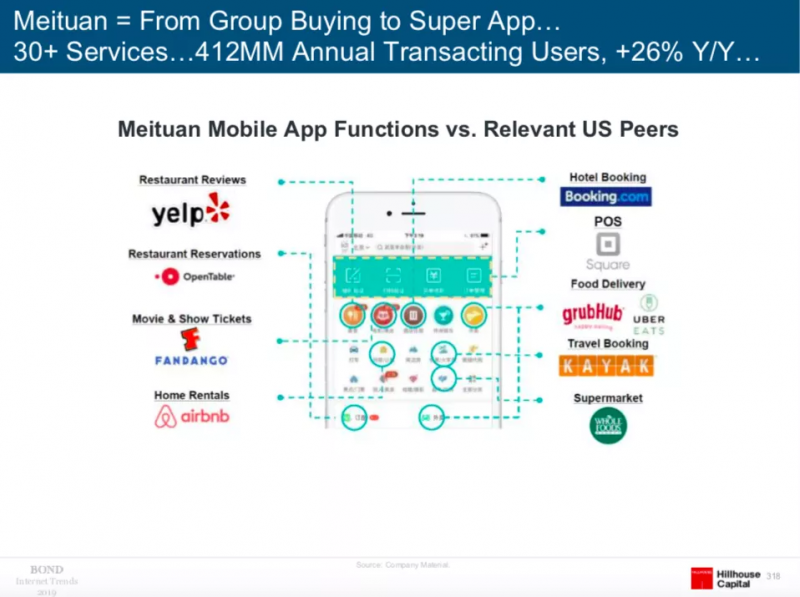 China – Super apps, mini programs and short video
Meeker includes 39 whole pages on China, the only country to get its own chapter in the report. China has the world's largest online population, housing 21 per cent of the world's internet users. It is also the home of incredible innovation and growth. China's internet companies are spurring growth by transforming online business models.
Super apps are taking over the everyday in China. These platforms started as simple, single function platforms which then grew to house other, smaller apps, within them. Meeker shows Meituan as an example which includes over 30 services in a single app such as food delivery, movie tickets, hotel bookings, payments and more.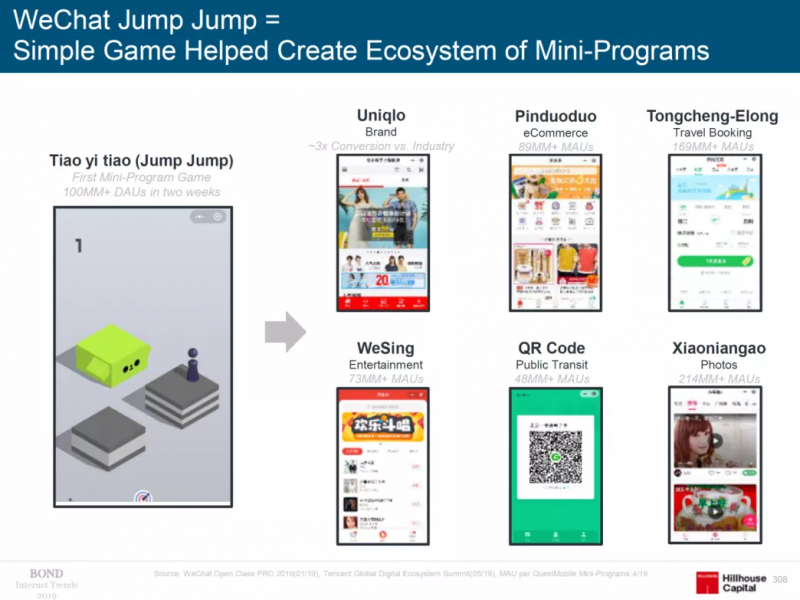 While super apps might draw the attention, the only reason they can often function is through a supplementary trend Meeker has identified: the rise of mini-programs.
We've spoken before about how WeChat's mini-programs are powering an ecosystem, where brands are engaging with users via hyper-casual games. But Meeker demonstrates that the importance of hyper-casual titles has gone deeper than that.
Their success on WeChat has encouraged other developers creating utilities or social products to streamline their services to feature within the super apps. This shows that companies in China are undergoing something of a challenge to ensure their game or service is found where their fans are.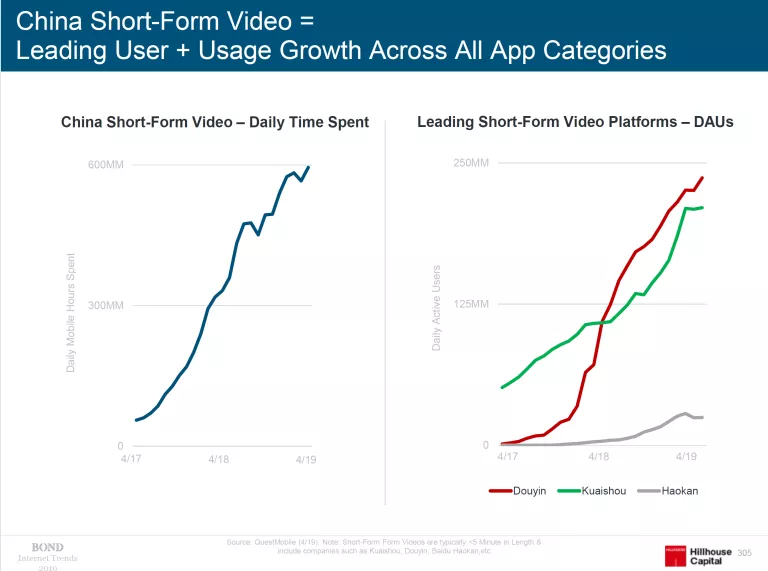 Finally, we can't talk about China without talking about short videos. Douyin, internationally known as TikTok, and the regionally more popular Kuaishou aren't just phenomenally popular social platforms: they're actually driving online activity in China.
In 2018, China's mobile internet data usage grew 189 per cent year-on-year and the total daily time spent on mobile doubled to 600 million hours in April 2019 from the year before. Meeker credits in no small part the rapid boom of short video platforms which are now approaching 250 million daily active users each.
The question for the wider internet economy is whether this is a flash in the pan or a completely new way for users to consume content in the long term. As it increasingly looks to be the latter, businesses are going to have to adapt accordingly to succeed.