Blocking ads was always a desktop problem but now the spectre of consumers turning off adverts is arriving on mobile devices
Mobile marketing holds many advantages for advertisers seeking to engage with targeted audiences. But one of the key attributes of mobile – that it's a deeply personal, always-on device – now seems to be less assured, thanks to the rise of people using mobile ad blockers.
Ad blocking has been a problem on desktop for several years but was almost negligible on smartphones. However, the latest research shows mobile ad blocking is doubling across key markets.
The likely reasons are that mobile adverts are increasingly getting in the way of the content a user wants to consume and the public is becoming aware that ad blocking apps have been extended from desktop to mobile, and the technology now works with mobile browsers.
Low, but still doubling
To put things in to perspective, mobile ad blocking varies from one market to another but is still in the low single-digit range of percentages.
A recent Ad Blocking Audit report for 2017 from publishing trade body, the AOP, suggested that 1.3% of mobile ad impressions in the UK were blocked compared to the near 30% of impressions being blocked on desktop. Despite this low number, it is worth noting it was just 0.6% in 2016. So, in just a year, blocking rates had doubled on mobile.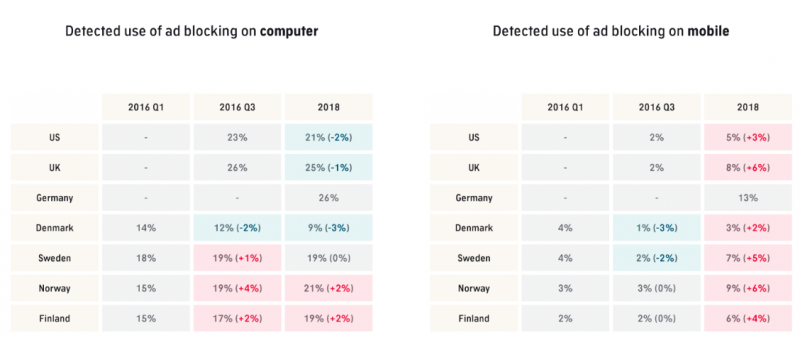 Source: https://www.audienceproject.com/blog/key-insights/insights-attitude-towards-advertising-use-ad-blocking/
This mirrors research findings recently reported in Digiday. In the US, mobile ad blocking rates are currently 5% of visitor sessions, up from just 2% in 2016. In the UK, there has been a quadrupling from 2% in 2018 to 8% today. This still does not rival the 13% figure seen in Germany, a market that has always had a high level of desktop blocking.
Just as they vary from one study to another, mobile blocking rates differ considerably from one publisher to another. The UK's Dennis Publishing saw a rise in line with the average market increase, from 2% in 2016 to 4% today. However, France's Le Monde newspaper is reporting a 20% mobile ad blocking rate which is in line with its desktop experience.
The findings that mobile ad blocking is on the rise comes at a time when digital marketers were starting to be reassured that most markets showed a levelling off in desktop ad blocking, from around a fifth to just under a third of users across Western European markets.
Hence, mobile ad blocking is causing concern by showing the opposite trend at exactly the same time as most markets become mobile first and are starting to need to monetise traffic shifting from the desktop to the smartphone.
Annoyed and available
After not needing to be concerned by ad blocking as much as their desktop counterparts, mobile marketers are now having to weigh up why advertising avoidance is doubling year-on-year in key markets. There appear to be two obvious reasons – growing annoyance at what are believed to be intrusive adverts and greater knowledge of blocking options.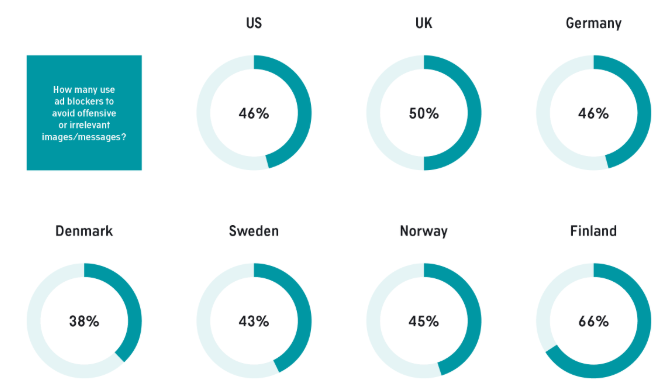 Source: https://www.audienceproject.com/blog/key-insights/insights-attitude-towards-advertising-use-ad-blocking/
When GlobalWebIndex recently surveyed US mobile ad blockers it was very clear that the biggest proportion, accounting for nearly one in two, acted to prevent too many annoying adverts littering their screen and covering up content. Privacy was an issue for just under one in three but issues such as data allowance and battery drainage was only mentioned by around one in twenty.
Not only do people using blockers feel there are too many adverts getting in the way of their experience, they now increasingly know what to do about them. Mobile ad blocking used to require owners to research which apps to download and how to use them. Not any more. Today blocking is beginning to be offered at browser level.
Options are growing
Apple was an early mover when it allowed its Safari browser to work with ad-blocking apps. Incidentally, it also offers an ability to turn off cookies and to prevent tracking at browser level too.
Google's Chrome browser now comes with a blocking service that is more stringent on mobile than the desktop version. Not all ads are blocked. Google has announced it has a policy of first warning sites that persistently use formats which contravene the Coalition for Better Ads standards. If a site ignores requests to reform, its adverts will be blocked on mobile.
The types of unit that will trigger Google to act are large "sticky" ads that remain on the page, any unit that covers more than 30% of the screen, and flashing creatives and autoplay videos can all be automatically blocked.
Although its market share is tiny, it is worth noting that at the end of June, Microsoft signalled its intention to add an ad blocking option to its Edge mobile browser.
After years of not having to worry about consumers avoiding ads, mobile marketers now have to face up to mobile ad blocking rates doubling. The rates are still small, compared to desktop, but it is an emerging trend that users are becoming increasingly aware of as the ability to avoid advertising becomes easier.  
So it seems that the days of mobile marketing campaigns being almost guaranteed to reach the devices they are aimed could be coming to an end. Whether this means that better and more creative ad formats, better targeting and more personalisation can compensate, we can only hope.