It's been an impressive ride. Before 2008, the mobile game industry – as it then was – struggled for credibility and sales. The launch of the iPhone and App Store may have set pulses racing, but didn't really move the dial when it came to revenues until 201c2.
And then the rocket ship launched.
Millions of devices in Japan, North America and Europe, combined with growing consumer understanding about the value of in-app purchases, and suddenly free-to-play games such as Clash of Clans and Puzzle & Dragons were generating millions of dollars a day.
It was a surprise to everyone, including those games' developers.
Puzzle & Dragons started life as a quirky side project from four members of staff at Japanese outfit GungHo Online. Similarly, when it launched Clash of Clans and Hay Day, Finnish dev Supercell expected to be making around $10,000 a day.
In the following years, both games have gone on to generate multiple billions of dollars.
And they've been joined in that 'billionaire club' by many other titles, ranging from Pokemon Go and Candy Crush Saga to Monster Strike, Fates/Grand Order and Honor of Kings (aka Arena of Valor).
Bigger and best
And now, mobile games is reaching another milestone.
According to market intelligence company Newzoo, 2018 will see mobile (and tablet) gaming generating more revenue than all other types of gaming – console, PC etc – combined.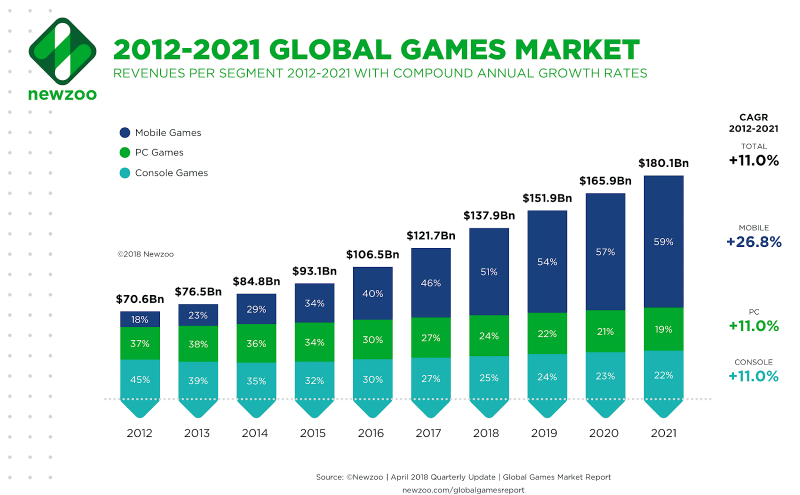 Back in 2012, Newzoo reckoned mobile gaming had an 18 percent share of the total gaming pie.
2018, however, will see it break the 50 percent barrier for the first time, with its share of the market predicted to rise to 59 percent (worth $106 billion) by 2021.
In contrast, console gaming is then predicted to have a 22 percent and PC gaming a 19 percent share.
Always there for everyone
Perhaps this state of affairs is a surprise to you.
After all, console and PC gaming are witnessing a revival, with exciting new titles such as Fortnite, PUBG and Overwatch combining with veteran franchises such as FIFA, Call of Duty, Battlefield and GTA, not forgetting booming hardware sales from Nintendo Switch and PlayStation 4, and emerging trends like esports.
And Newzoo's research reflects this. It predicts both console and PC gaming will continue to grow at a rate of around 4 percent annually. But mobile gaming will continue to grow much faster.
The main reason is the sheer scale of the mobile market – there are billions of mobile gamers – and its accessibility.
Your phone is always with you, and if the stats are to be believed you're spending a couple of hours daily checking social media, messaging, and playing Candy Crush Saga or Words With Friends too.
Lots of people, lots of players
Another driver of mobile growth is the large number of people getting their first smartphones in south east Asia.
Just as the rise of China's mobile population has been largely responsible for the boom in total mobile game revenues over the past couple of years, so the likes of India (1.3 billion people) and Indonesia (260 million) will drive growth in the coming years.
Significantly, for many of these people, their mobile phone will be their first computer – a so-called 'mobile-first generation' – so most of the things we do on desktop or laptops, they will be doing on mobiles, again including all their gaming.
Such demographics are the reason Asia Pacific is already the largest single region in terms of game revenues.
Newzoo reckons it will account for 52 percent of 2018's total market value of $138 billion, with North America ranked second at 23 percent, Europe, the Middle-East and Africa at 21 percent, and Latin America at 4 percent.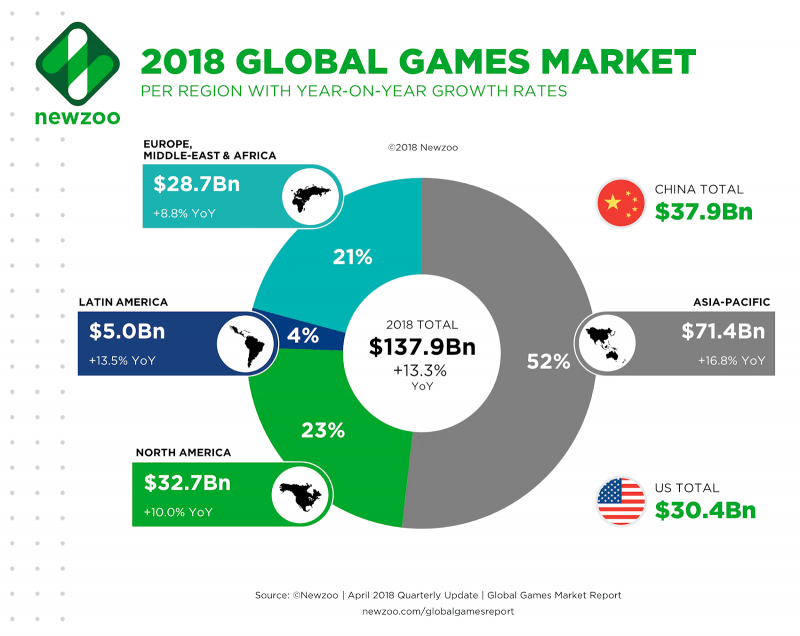 Of course, as we've seen with the rise of China, this growth isn't just about revenues but will also influence the sort of mobile games developers need to create to appeal to these new audiences.
Before its mobile explosion, the Chinese game market was very PC and MMORPG-centric so many of the most popular Chinese mobile games are MMORPGs, some also being mobile versions of PC games, such as NetEase's Fantasy Westward Journey.
Similarly, popular western PC games such as Riot Game's MOBA League of Legends have been reimagined for the Chinese mobile market with Tencent's Honor of Kings now the top grossing mobile game in the world.
And as these games have been released internationally – Arena of Valor is the global version of Honor of Kings – so mobile games culture has shifted, becoming more hardcore-focused.
A new flavour
The same thing is now starting to happen in India too.  
It has its own strong mobile game development community, thanks to presence of US companies such as Zynga and Glu Mobile, big indigenous players like Nazara, Reliance and indies such as Rolocule and 99games.
They are finding their voice in terms of mobile games that Indian mobile gamers want to play.
Cricket and Bollywood are popular themes, of course, but the localization of international game design is also evident in the case of Zynga's match-3 game Rangoli Rekha: Color Match and an Indian version of iPhone classic Jetpack Joyride.
Before too long maybe we'll all be playing RPGs based on Mahabharata and Ramayana. But whatever the theme, there's no doubt mobile gaming will keep on growing.
Roll on the next milestone; $100 billion of annual revenue by 2021.