1. Why so many mistakes? Is it because Facebook is both a player and a referee?
According to a report from Wall Street Journal in September 2016, Facebook disclosed on its "Advertiser Help Center" a problem with its ad metrics system: since 2014, its metric for the average time users spent watching videos didn't include video views of less than three seconds. The method overestimated the average time spent watching videos by between 60% and 80%.
It means advertisers might have overestimated the performance of video ads at Facebook, directly impacting their budgets on Facebook ads. After all, advertisers have many options on ad platforms like Youtube, Google and Twitter.
In its note to clients, ad agency  Publicis Media said, "Two years of reporting inflated performance numbers is unacceptable."
After WSJ reported Facebook's miscalculation, Facebook's stock price dropped $1.78 or 1.3% from $130.08 to $128.30 per share.
And It's not over yet.
In November 2016, Japanese news site Blogos.com reported Facebook bragged about its user data again. Specifically, there is an "Insight" function on enterprise Facebook pages. The enterprise clients recently found that the Organic Reach (the total number of unique users who were shown your post through unpaid distribution) was exaggerated. If this number declines, enterprises' marketing manager will think if ads are required to improve REACH index.
This mistake again causes publishers and advertisers panic over "Walled Garden". Such panic has been around media industry for a long term. Publishers and advertisers believe that tech giants like Facebook and Google created "Walled Gardens". Facebook only allows very limited access to its systems by third parties.
2. Open "Walled Gardens" and Enhance Third Party Verification
About the miscalculation on video ads, Facebook admitted that making clients buy more video ads is the key for the soaring revenue of Facebook since video ads are more expensive than text and image ads. However, the market feels powerless since tech giant like Facebook, Google and Twitter are not so transparent on measuring the performance of video ads. The major reason is that it is hard to judge how many people really watch video ads.
David Fischer, Facebook vice president of business and marketing partnerships, said in a statement: "We know we can't have true partnerships with our clients unless we are upfront and honest with them, including when we make mistakes like this one. Our clients' trust and belief in our metrics is essential to us, and we have to earn that trust."
He added: "That is why we also give marketers choice by offering third-party video verification options with companies like Nielsen and Moat. We want marketers to measure video with us in the way they feel most comfortable."
Meanwhile, Facebook created a new channel to provide advertisers with timely information. This new channel is Metrics FYI blog.
(http://newsroom.fb.com/news/category/metrics-fyi/).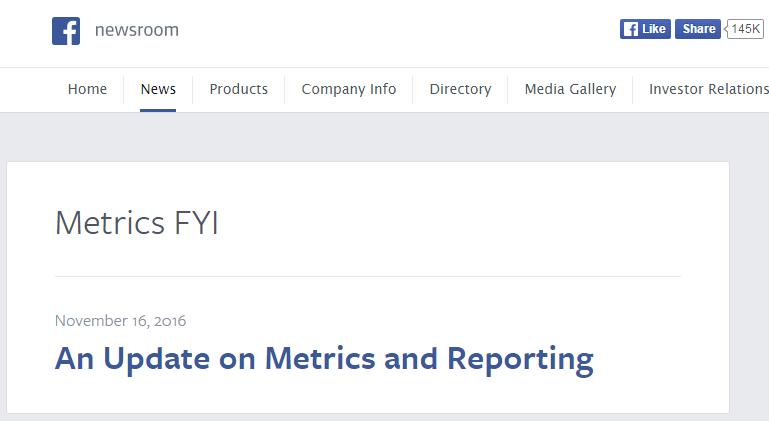 Actually, Facebook's confess on metrics errors is reassuring for advertisers in some extent. As many companies still don't admit fatal errors and recall their products, most people believe Mark Zuckerberg won't mess around.
According to a report from eMarketer in November, Facebook's revenue from mobile internet ads would reach $21.98 billion this year, up 66.6% over last year. Double-digit growth will continue through 2018, when the company will earn $37.98 billion in mobile internet ad revenues.
Although there are problems with Facebook's reported metrics on video ads, its ad services are very popular and effective for marketers.
Q&A on Ad Distribution on Facebook
Ada
Senior FB Ad Distribution Specialist
Leader of Mobvista's Facebook team
Established China's first Facebook Marketing Workshop in 2011
Joined Mobvista in 2014 and Established Facebook team
Q: What's your thoughts on Facebook's miscalculation?
A: The miscalculated criterion is called "average duration of video viewed". Facebook calls it one video view if the duration is no less than three seconds. However, most people in the ad industry believe the criterion should be defined as "duration of video viewed/video length", instead of "duration of video viewed/video views no less than three seconds".
It is really not necessary to over-interpret Facebook's miscalculation. While some consider it a mistake, others consider it a different definition of video view. Youtube defines one view as "30-second duration of video viewed", Vine uses 6 seconds, while Facebook uses 3 seconds. After all, it is just a difference in definition. What's more, it is not the first time that Facebook makes its own definitions. "Conversion by viewing an ad", which is also a unique criterion of Facebook and is supported by Kenshoo with data, has been gradually accepted and recognized by many third parties and advertisers.
Q: Are the data calculation and effectiveness measurement of video ads more difficult than other ad formats? If yes, would you recommend advertisers to make a balance on ad formats?
A: How to measure the performance of video ads and other ads depends on the metrics you care about. If it is APP download, you ultimately care about just CPI. The duration and proportion of video viewed has not much relationship with product operation. These metrics have more reference significance for ad distribution. Therefore, the difficulty of measuring video ads' performance only depends on the metrics you choose to measure the ad performance.
Q: You cannot be both a player and a referee. Facebook already said to further enhance cooperation with third-party data organization like comScore, Moat, Nielsen and IAS. Is it good news for advertisers?
A: Of course, it is good news for advertisers to have more third-parties. everyone would wish data is objective and authentic. Data authenticity will be better guaranteed under third parties' supervision.
Q: What is your advice for distributing ads at Facebook?
A: Facebook calls every post as a story and expects advertisers to create ads (for games or APPs) from the perspective of story. Our suggestion is to tell them a story but not the ending of it.