There are some stories in the press that make you squirm more than others.
One story that often gets repeated and falls into that category is children spending money on in-game purchases without their parents' knowledge.
Recently, a 40-year-old single mother Martine Berriedale-Johnson "went crazy" when she discovered her eight-year-old son, Leon, spent £3,120 on her credit card over the course of three weeks through his Xbox.
Leon had managed to spend £978.81 in a single day on games such as Minecraft and Roblox. Martine had originally used her card to buy a game add-on for £4.99 as a treat.
Martine says, because of Leon's spending, she worries about how she will cope financially and has even considered cancelling Christmas.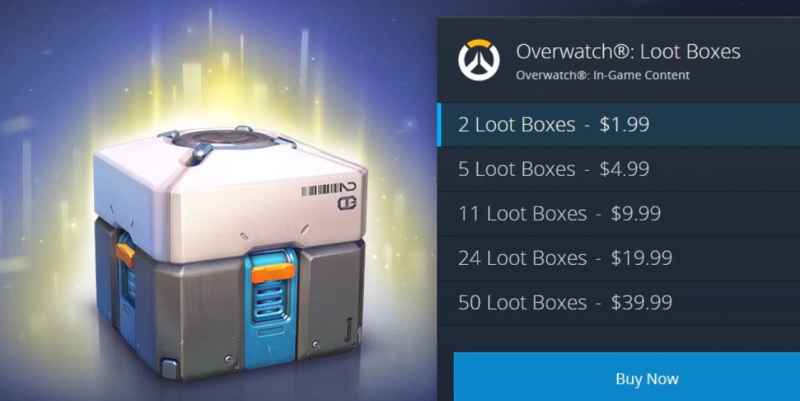 Credit: Overwatch
It's a story that will frighten parents across the world. Not just because of the financial implications, but because anybody at any time could find themselves in Martine's position if they don't keep an eye on their child's online surfing habits.
Martine's story isn't a one-off. It's a tale that happens with alarming regularity. Susie Breare and Susan Taylor told the BBC in July how their children had spent £3,160 and £2,000 on in-game rewards respectively, while a couple told MoneySavingExpert in August how their son had spent more than £1,000 on games such as Call of Duty and Fortnite.
Skimming these stories, it's easy for the sympathies to go straight toward the parents and their pockets. There's a far bigger danger lurking underneath here, though; how games target children and the damaging effects they could have on their mental health.
Too much, too young?
This isn't just a console-only issue. Research from OneFamily suggests that children are given their first smartphone at the age of 11.
In Ireland, the 2018 Annual Report of Cyber Safe Ireland found that over 90 per cent of children between eight and 13 had a smart device. 12 per cent of them were spending more than four hours a day online.
More worryingly, in August The Safer Online Gambling Group (SOGG) found that children between 11 and 18 were spending close to £270 million a year on loot boxes, where rewards are totally random.
That includes spending on mobile-friendly online games, games found on social networks, games discovered through display advertising and many other avenues easily accessible to any child with a mobile device.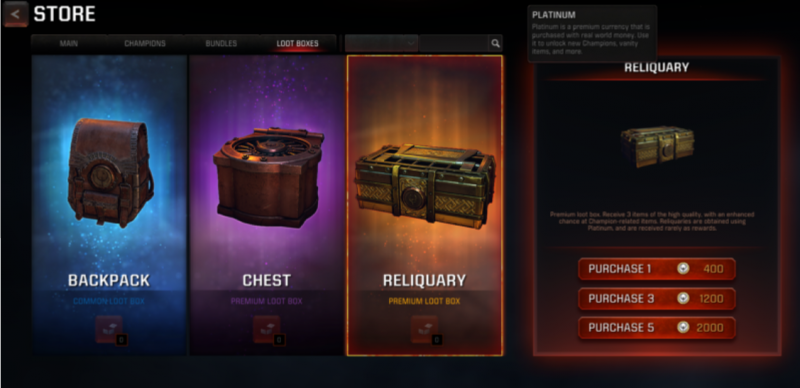 Credit: Quake Champions
Most alarming, at the start of the year, unsealed court documents from 2010-14 showed that Facebook was acting to deliberately allow children to spend money on its platforms without their parents' consent.
The problem is getting so serious in the UK that the Digital, Culture, Media and Sport Committee advised the government to ban the sale of loot boxes to children in September following a nine-month inquiry. 
The inquiry went as far as to suggest representatives from some major social media companies and game publishers weren't being truthful about why their games included loot boxes as a device.
The report said: "We felt that some representatives demonstrated a lack of honesty and transparency in acknowledging what data is collected, how it is used and the psychological underpinning of how products are designed, and this made us question what these companies have to hide.
"It is unacceptable that companies with millions of users, many of them children, should be so ill-equipped to discuss the potential impacts of their products."
Gambling with children's futures
It's no exaggeration to suggest that, faced against conditions such as these, children across the world who haven't even entered their teens are at serious risk of developing gambling addictions, exposure to themes and elements they're too young for, conditions such as internet addiction and other serious mental issues.
The gambling addiction argument is perhaps the most compelling; something eloquently summed up by SOGG's founders Adam and David Bradford, whose own first-hand experiences bring them to the conclusion that 'young gamers are being primed for gambling' with loot boxes.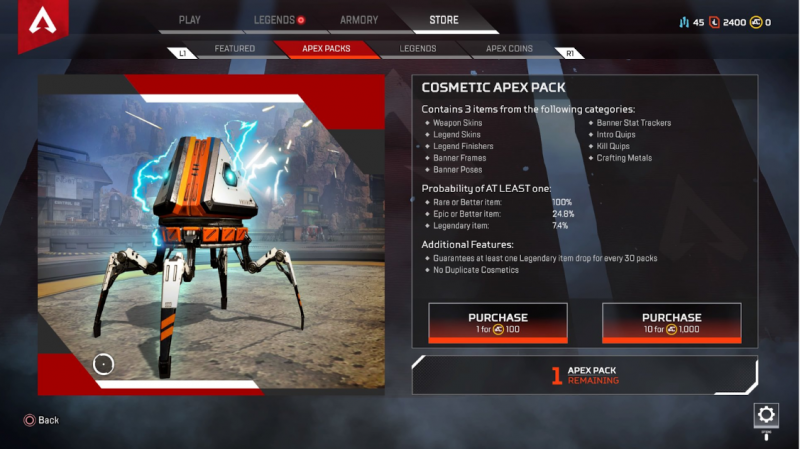 Credit: Apex Legends
They're campaigning for tighter gaming and gambling regulations in the UK. The good news is that countries are listening; Belgium and the Netherlands have outright banned loot boxes, while China is clamping down heavily on them.
Chinese regulators have demanded disclosure of loot box odds since 2017 and drop rates for virtual items. China is also placing daily limits on loot boxes, with reports suggesting a cap of 50 loot boxes per day, per player.
There are also other ways for children and parents to be protected online beyond bans and regulations, too. The kidSAFE Seal Program and Children's Online Privacy Protection Rule (COPPA) are just two programs dedicated to keeping children under the age of 13 safe and secure online, especially around services that offer online gaming services.
Safe surfing
COPPA especially requires that site owners who direct their services at children under 13 must serve notice and obtain permission from parents before collecting personal information. Sites and products that comply are awarded a kidSAFE+ COPPA seal.
Bearing a kidSAFE+ COPPA seal can also be highly advantageous to developers, publishers and advertisers who want to show parents that theirs is a trustworthy brand in a time when children are being served ads and products designed to tempt them to gamble or make unauthorised purchases.

Credit: KidSAFE
Because while there may have been people at larger publishers or social sites willing to muddy the waters in front of a UK inquiry, it would be wrong to tar all developers, publishers and online advertisers with the same brush.
The vast majority of those within the industry would be appalled at such behaviour, don't practice it and would love to see it stamped out as much as parents do.
That's why gaining your own kidSAFE+ COPPA certificate or working alongside accredited third-party partners can be so important in our mobile-first age. To lead by example and show that there are companies out there working not just within the confines of regulations, but are going the extra mile to provide a safer online environment.
With front-facing campaigns such as kidSAFE+ COPPA combined with loot box regulations, government intervention and better education for parents, we can go a long way to creating a better, more secure global environment to protect children online.