Sensor Tower has recently released its Store Intelligence Data Digest (SIDD) for the second quarter of 2019, and it makes for astonishing reading regarding the state of app downloads and mobile gaming across the globe.
SIDD shows, in intricate detail, the incredible growth of the global app market and the major apps and games that mobile users are investing their time in. SIDD's main takeaways for Q2 2019 include:
· Global app downloads seeing an 11.5% year-on-year increase, with 28.7 billion downloaded in the second quarter.
· Downloads on Google Play increased by a massive 14.9% (21. 3 billion) while App Store downloads increased by 2.9% (7.4 billion).
· Facebook-owned apps made up four of the top five apps by global download in Q2, with TikTok breaking the monopoly as the fourth most-downloaded app.
· Snapchat saw year-on-year growth in the United States for the first time since Q1 2017, with nearly 10 million downloads in Q2 2019, making it the No. 2 non-gaming app in the region.
· Garena Free Fire, developed by Vietnam's 111dots Studio and published by Singapore's Garena, was the third most downloaded game in the world in Q2, behind Stack Ball and Run Race 3D respectively.
· PUBG Mobile/Game for Peace saw nearly 100 million App Store installs in China alone between January 2018 and June 2019. Overall, Battle Royale games have performed incredibly well in regional markers.
· Tencent's rebrand in China of PUBG Mobile to 'Game for Peace' in May has allowed the introduction of microtransactions, and saw player spending increase 748% annually to $167 million in July, according to Sensor Tower.
That only scratches the surface of some of SIDD's key findings. Let's break each category down:
What are the top apps worldwide?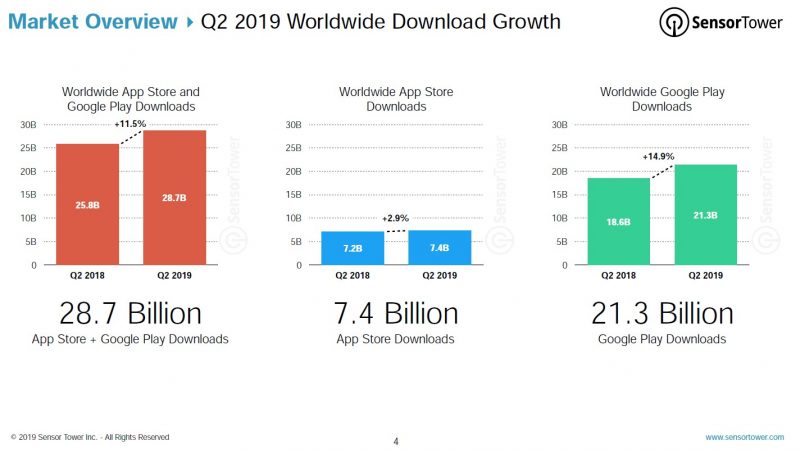 Credit: Sensor Tower
We've mentioned that Facebook-owned apps make up the top five for worldwide downloads, with TikTok sitting in fourth over the course of Q2 2019.
In fact, those have been the top five apps downloaded globally since the first quarter of 2018. The only significant change being that Facebook has risen to third, bumping TikTok down to fourth place over 2019.
Could Snapchat break that cabal up, though? It was last in the top five in Q1 2017, but with 63% growth quarter-over-quarter, it has a better chance than other apps.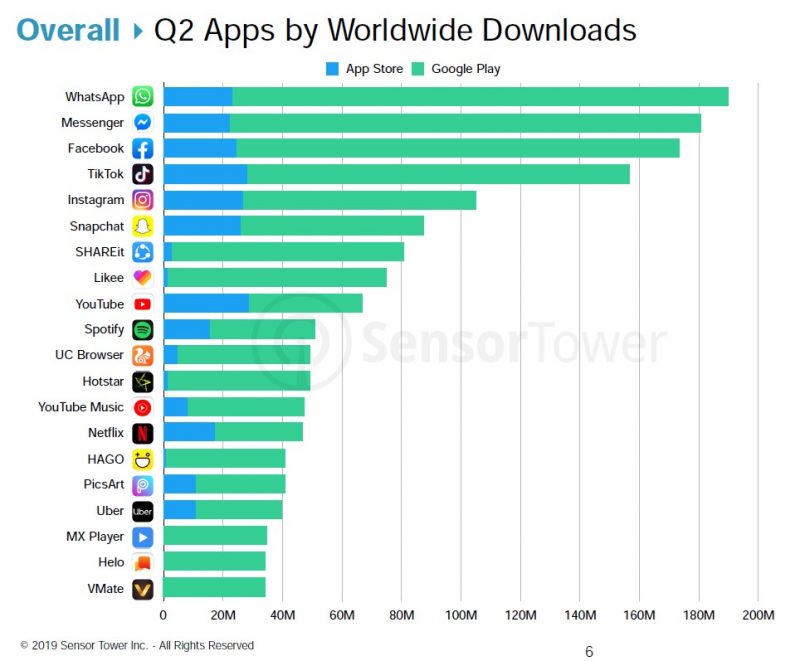 Credit: Sensor Tower
Consider, too, that Snapchat was one of the top growing apps on the global App Store in Q2, while TikTok lost the top spot it's held for five consecutive quarters.
Also worth highlighting is Pinduoduo; in Q1 2019 it was outside the top 30 in the global App Store. Over Q2 it rose to ninth and was the number one app downloaded in China.
Pinduoduo is a Chinese social e-commerce platform and has managed to overshadow Baidu as one of the country's top five most-valuable listed tech firms.
What does mobile gaming look like?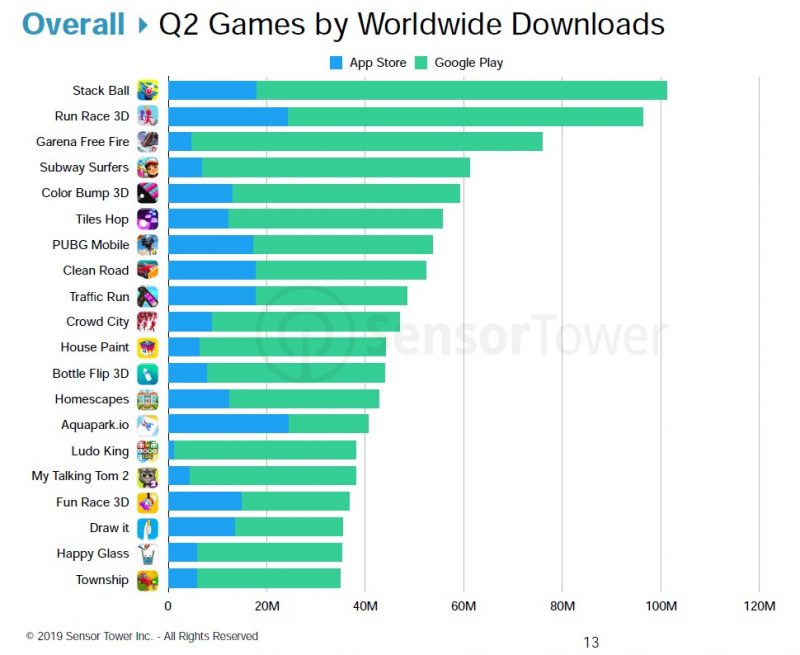 Credit: Sensor Tower
Stack Ball and Run Race 3D, the two most-downloaded games worldwide respectively, are hyper-casual games that are part of a wider global phenomenon; 12 of the top 20 games are hyper-casual entries.
Will the hyper-casual trend hit the battle royale genre which has been doing so well? Possibly; Q2 saw PUBG Mobile drop from the number-two game in the global App Store in Q1 to eighth, with downloads decreasing 42% quarter-over-quarter.
Fortnite fared worse, dropping out the top 20. Over on the global Google Play store, Azur Games' Stack Ball became the first game to hit 80 million installs in a quarter since Helix Jump in Q3 2018.
We mentioned the incredible growth of Garena Free Fire. A large chunk of that growth comes courtesy of Google Play downloads from India, its largest market in Q2 driven by 61% quarter-on-quarter growth.
Who are the top publishers?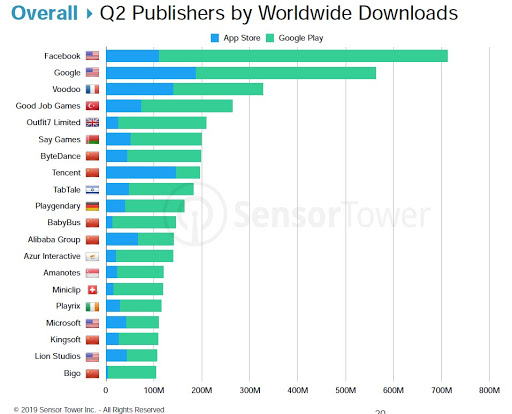 Credit: Sensor Tower
While Facebook is the world's top publisher by worldwide downloads, and with Facebook-owned apps making up four of the top five in Q2, it's interesting to see that Facebook's downloads actually decreased 8.9% quarter-over-quarter to approximately 710 million. Is the social network on the decline?
Google is in second place, with Voodoo in third thanks to the French outfit's consistent publication of hyper-casual games; Voodoo can boast four of the top 20 App Store games in the U.S. in 2019.
Voodoo is also climbing up the global game rankings on Google Play, sitting behind Facebook, Google and Good Job Games. Good Job Games has also been making waves on the global App Store, climbing into fifth and displacing Alibaba Group from the top five.
Sensor Tower's Q2 Store Intelligence Data Digest 2018 showed Chinese publishers Bytedance, Tencent and Alibaba Group joined by Kingsoft, SHAREit and NetEase. Those latter two have dropped out of this year's top publishing rankings though to be replaced by two new Chinese publishes; BabyBus and Bigo.
Both have seen great traction on Google Play. BabyBus specialises in creating preschool educational content, including games, and has developed more than 80 apps since 2010. Bigo, owned by China's premier streaming service YY, provides live-streaming and short video apps and services.
The U.S. and China make up more than half of the top 20 publishers on the global App Store; both countries have six publishers each, with Great Britain the only other country with more than one publisher in the top 20 (Kwalee and Outfit7 Limited).
Interesting to see in Q2 was the quality of publishers falling from Google Plays top 20 by worldwide downloads. Microsoft, Mobirix and Alibaba Group all dropped out.
What categories are seeing growth?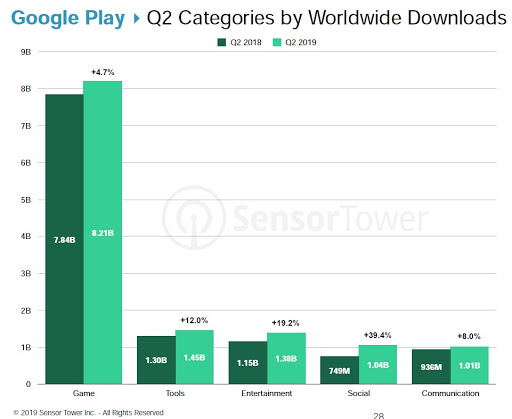 Credit: Sensor Tower
Have hyper-casual games helped to get the gaming category back on its feet on the global App Store? Possibly; after seeing a 9% year-on-year decrease in Q1, Q2 saw a 5.1% year-on-year increase – 2.25 billion worldwide downloads against last year's 2.14 billion.
Most categories on the global app store have risen, too, but not by much. Photo and video saw a 2.5% year-on-year increase; utilities rose 0.7% and social networking by 1.5%. Entertainment saw a hit – a drop of 3.9% from Q2 2018.
Google Play worldwide downloads for most categories have risen across the board in Q2 2019; some quite emphatically. While game downloads increased 4.7% year-on-year (8.21 billion against 7.84 billion), non-game downloads increased by an enormous 22.3 per across the same period of time.
Tools rose by 12% while entertainment grew by 19.2%. Communication grew by 8%; amazingly, the social category boomed by 39.4%, making it the fourth largest category on Google Play.
What countries are driving the most downloads?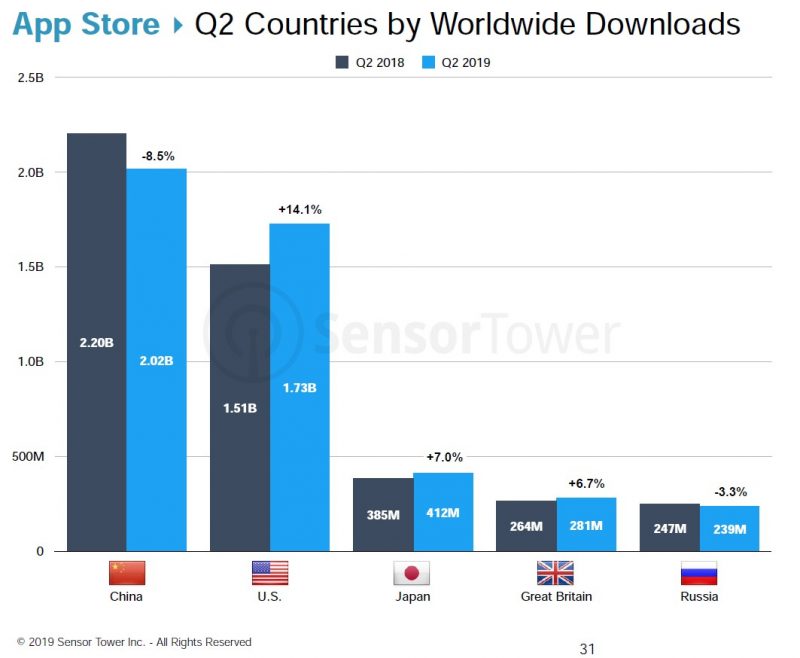 Credit: Sensor Tower
That 22.3% year-on-year growth on Google Play for Q2 2019 was driven by countries including India, Brazil and Indonesia. What makes these statistics more interesting is that there is no Google Play in China, so the impact of developing countries when driving downloads through Google Play is huge.
In fact, the most impressive growth statistics on Google Play in Q2 2019 can be attributed to developing countries. Year-on-year downloads in India increased by 19.8% (5.26 billion against 4.39 billion) while Brazil saw a year-on-year rise of 17.8% (1.89 billion against 1.6 billion).
Indonesia saw a year-on-year rise of 22% (1.49 billion against 1.22 billion); year-on-year Google Play downloads in the U.S. actually decreased for Q2 2019 by 3.2% (1.29 billion against last year's 1.33 billion).
Indonesia's download habits are also on the up; the country was the fifth-largest country in Q1, and has climbed a spot to fourth in Q2, overtaking Russia. South Korea has also fallen out of the top 10, being replaced by Thailand, which saw more than half a billion downloads in Q2.
India's impact on the worldwide download scene has been nothing short of astonishing, in fact. The country passed a new milestone this year, amassing more than 5 billion downloads in Q2 across the App Store and Google Play, up from 4.8 billion downloads in Q1.
While there isn't any Google Play data available for China from Sensor Tower, there is App Store data. While China's App Store downloads are down year-on-year by 8.5% (2.20 billion in 2018 to 2019's 2.02 billion), they still exceed those in the U.S.
The gap is narrowing though. While China downloaded 290 million more apps through the App Store than U.S. consumers, they were ahead by 690 million more downloads the year before.
U.S. app downloads through the App Store are up 14.1% from the previous year; will this trend continue, and will China's mobile users continue to flock to Android markets, or can the App Store recover the ground it lost in China over the year ahead?
Conclusion
While both the App Store and Google Play have seen increases in global downloads over Q2 2019, the pace of the growth seen on Google Play is astonishing compared against the slight jump seen by the App Store.
Could that be because of Apple's problems in China due to the recent trade war? Possibly; there's no doubting though that Google Play's boom has been down to developing nations embracing the Android market. Is it because of the lower price point of Android phones in those regions?
Gaming-wise, it's interesting to see hyper-casual games leading the way, especially when considering PUBG Mobile and Fortnite's performance on the App Store this quarter.
If hyper-casual is indeed set to impact the battle royale genre, then the bulk of the credit must go to French publisher Voodoo, which looks to be holding its weight against the might of various different American and Chinese publishers on its own!
Are you looking to utilise these trends for your digital marketing campaigns and are wondering how best to leverage information like this to attract new demographics in foreign territories? Mobvista is here to help; contact our team today to find out more.