There are lots of different ways to market your game or app. Most of the time a great marketing campaign will rely on a catchy idea, some amazing creative idea, and a smart advertising agency. But for people who want to take a shortcut and who don't care about doing things the right way, there are less honest ways to promote your app. That's where Shuabang comes in.
If you've not heard of it before, Shuabang is the practice of using shady methods to increase the ranking of an app. Typically, companies will offer to boost an app's ranking by using thousands or even millions of fake app store accounts to download the app, thereby generating a spike in installs.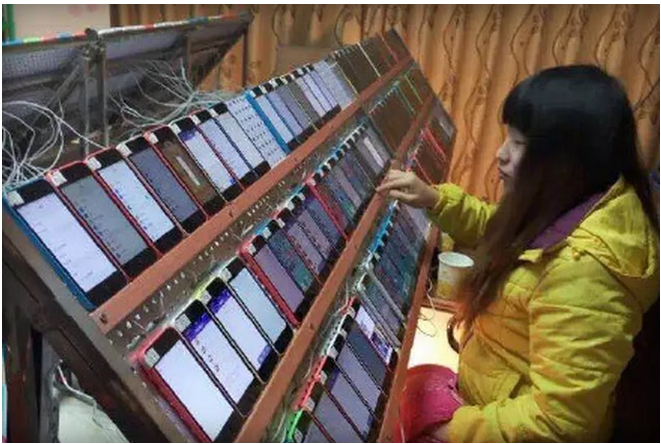 A worker downloading apps onto multiple phones to boost install numbers
(image credit: http://www.theverge.com/2015/2/12/8024861/top-10-app-store-manipulation-photo)
Often, shuabang is as simple as paying a bunch of people to sit and download an app thousands of times onto rows and rows of mobile phones. But there are also far more malicious techniques which use fake and infected apps to hijack mobile phones and turn them into massive networks called botnets that can be controlled by the hackers to seriously cheat the app stores by making it look like legitimate users are downloading apps.
Shuabang mostly affects iOS apps, as the Apple app store is the biggest in China and so the rewards can be huge. The fragmented nature of Android games means there is no reliable ranking to manipulate, and the Android ecosystem is so rife with fake apps that it's a given that app rankings are not to be trusted. Unlike in other markets, in China you don't need a credit card to create an iTunes account, which makes creating thousands or millions of fake accounts that much easier.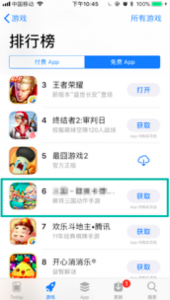 Apps promoted with shuabang techniques will often appear overnight high in the store rankings then disappear just as quickly
It's become an all-too common method of getting apps into the charts, as it can cost a lot less than a conventional advertising and promotion campaign. For example, it can cost as little as $10,000 to get a game into the top 50 or even the top 20 rankings. You can understand the attraction, as once an app reaches the top rankings it can generate thousands of legitimate installs a day.
Whilst it's a known issue in China, there's little so far that has been done to deter companies from offering shuabang services, and plenty of companies continue to use them.
There are some apps which work better with shuabang than others. For example, games which are on-trend or are based around the latest viral meme are likely to get a lot of downloads but be quite short-lived will quickly pay back the investment in shuabang. Also, games that deliver high ARPU work well because the in-app revenues will more than compensate for the shuabang costs once the user base is big enough.
While most companies don't condone shuabang, there is no doubt the practice has gone mainstream. It seems to be a case of "if you can't beat them, join them", with many reputable companies resorting to shuabang to maintain their app rankings.
Sadly, there's no prospect of shuabang being stopped any time soon. We'd never suggest using hacks and black hat ASO to cheat your way to the top of the charts, as we don't think the risks are worth it. And remember what your parents always told you; cheaters never prosper.
To learn more about marketing your mobile games in China, how to effectively localize your games and plenty of other tips and insights, you can download our free report "Looking East: How to launch mobile games in China".
Stay tuned for our next blog post all about the habits, likes and dislikes of Chinese mobile gamers.