The 2020 Singular ROI Index brings together the top ad networks in the world and ranks them according to an extremely important metric: return on investment. Because at the end of the day, a positive ROI means a job well done, doesn't it?
In terms of key stats, Singular looked at $6.3 billion in ad spend, 2.2 billion app installs, and over 500 ad networks, including Mobvista. The ROI Index this year also features an interesting change compared to its previous editions: rather than ranking ad networks 1-10, Singular went with a different approach instead, simply listing all the top contenders alphabetically. Why? Here's what they wrote on their blog:
"We see data from thousands of ad networks. More than 550 were qualified to be included in the data for this ROI Index. And so the gaps between top 10 are generally going to be very tight… in some cases exactly equivalent down to four decimal places. That's why we decided to honor ad networks that made it into our top ranks without numbering them from first to last. If they show up here, they're ones you should definitely consider adding into your mix."
The Singular ROI Index methodology
When they ranked the top ad networks for this year's ROI Index, the folks at Singular looked at the following metrics:
Spend: must be above a specified minimum

Fraud rate: must be below a maximum; will be penalized according to their actual levels

Reach: must be used by a significant number of Singular clients

CTI: must have a low to moderate click-to-install ratio

ROI (return on investment): calculated by in-app spend from acquired users

Retention: percentage of users who remain active 30 days after install
Mobvista's APAC efforts recognized
As we wrote previously, the APAC region is not only massive but also growing at unprecedented levels. Southeast Asia is the land of new e-commerce opportunities and China's massive mobile market provides publishers and advertisers with virtually endless app marketing possibilities.
Our extensive efforts through initiatives like the Xplore China project have not gone unnoticed and we managed to be named one of the top media sources on Singular's ROI Index for the APAC region.
"I am delighted to see us recognized as one of the top ad networks in the APAC market," said Irene Yang, Mobvista's Regional General Manager for Asia & Europe, about our presence on the 2020 ROI Index. "Since starting in the APAC region in 2015, we always focused on constantly improving our services in an ever-evolving market. Being featured on the Singular ROI Index is not only a privilege but also a testament to all the hard work we put in to ensure maximized ROI for our partners in the region."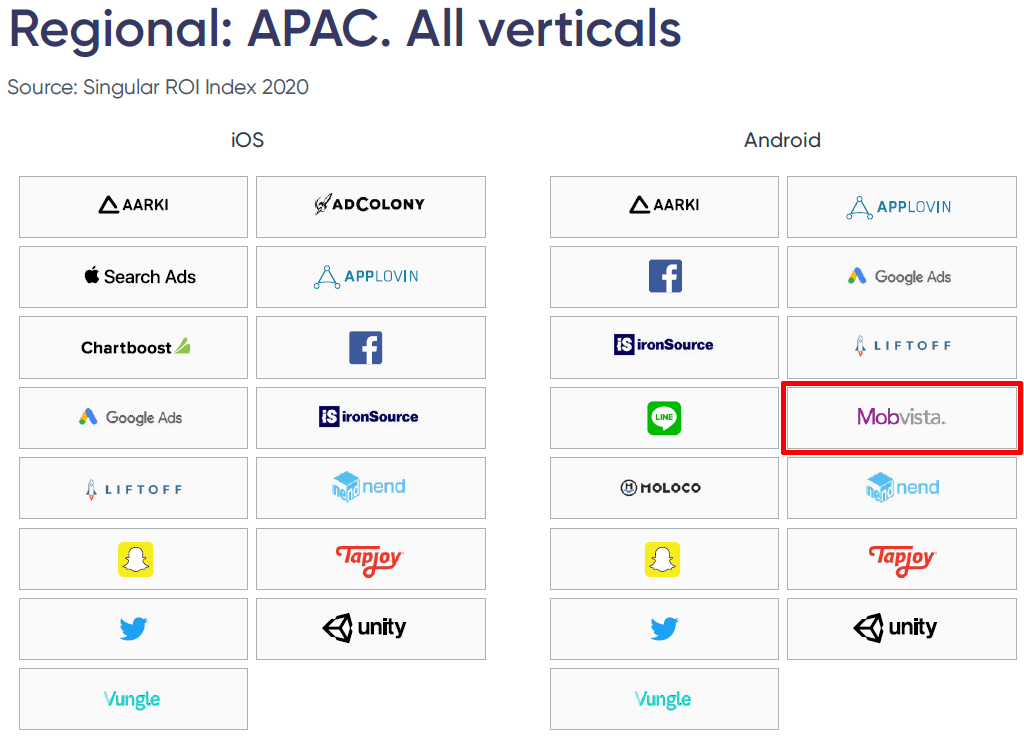 Mobvista is one of APAC's top ad networks.
Image source: Singular ROI Index
Now let's have a look at some other key findings from this year's ROI Index.
TikTok growing stronger than ever
China's short-form video app TikTok (also known as Douyin in China) took the industry by storm in 2019, getting over 600 million users in a single year. That massive user base, combined with early monetization tools, resulted in a 75x growth in ad spend between May and November 2019.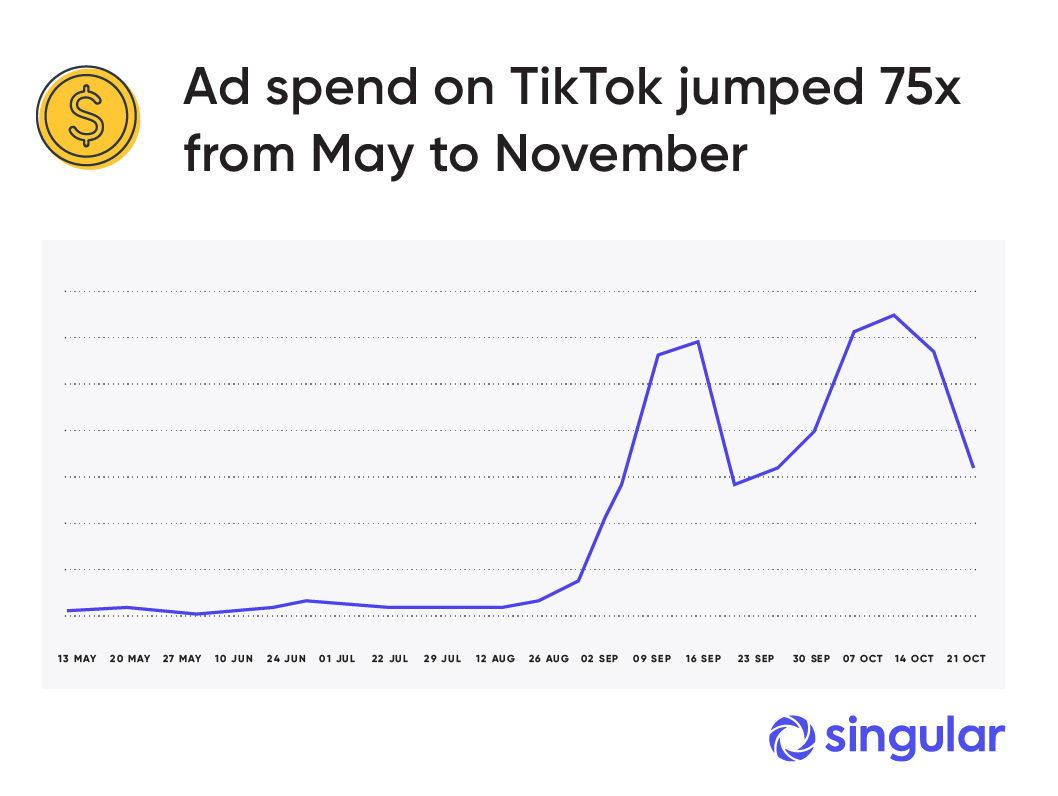 TikTok's massive growth in 2019 resulted in massive ad spend growth.
Image source: Singular
Google and Facebook still dominating
In perhaps less than surprising news, the duopoly that is Facebook & Google is still the industry behemoth, showing no signs of slowing down. Seeing them being featured in virtually every single category means that marketers looking for both scale and quality can simply not afford to disregard the two tech giants.
However, the report highlights an interesting thing: while Google and Facebook dominate the ROI rankings, Singular revealed a multitude of small/midsize ad networks, including Mobvista, have found their niche and are able to compete with the two best companies in the industry.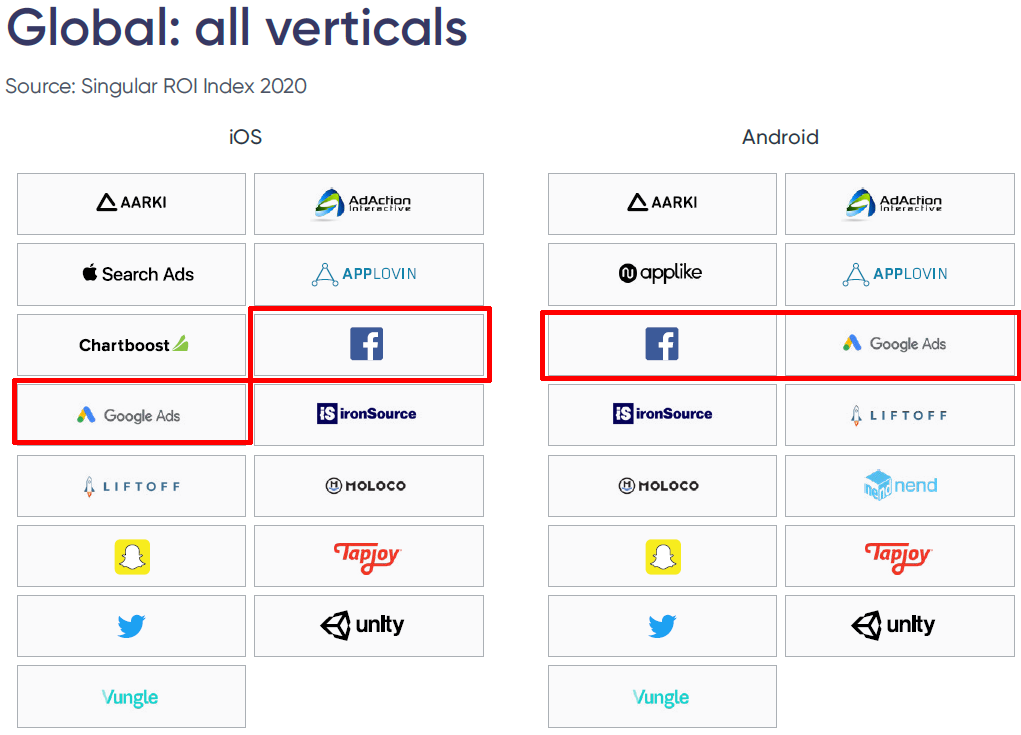 Facebook and Google continue their dominance.
Image source: Singular ROI Index
Apple Search Ads, the big challenger?
The ROI Index revealed that Apple Search Ads has made significant strides in 2019, becoming a major player that could potentially compete with Facebook and Google. By virtue of being featured across every single iOS category, Apple Search Ads has shown its capabilities in driving huge ROIs and looks to be even stronger in 2020.
Since all iOS app installs happen on the App Store, it's easy to see why Apple Ads is becoming a force to be reckoned with. This key part of the puzzle is a major reason why Apple Ads can get great conversion rates and huge increases in ROAS.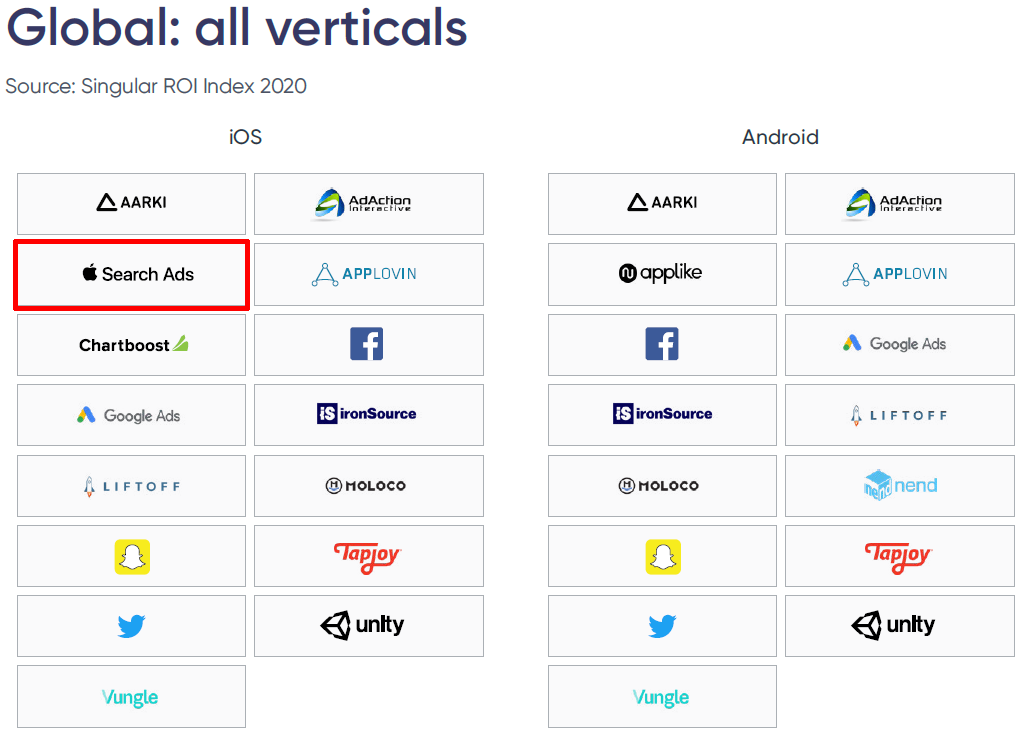 Apple is slowly becoming one of the industry's top players.
Image source: Singular
Conclusion
The 2020 Singular ROI Index showed that even though leaderboard giants like Facebook and Google are still in control, many ad networks were able to carve their own paths and achieve success. At the same time, success stories like TikTok and Apple proved that innovation is still possible in an ecosystem dominated by the Facebook-Google duopoly.
Our work in the ever-evolving APAC market has not gone unnoticed and we ranked as one of the top ad networks in the region. We are proud to be featured on the 2020 Singular ROI Index and we are always looking to improve our services. If you are interested in taking your mobile business to the next level, don't hesitate to contact us!