China is developing a strong reputation as a leading virtual reality (VR) hub. The market is already widely seen as a key territory for VR developers and is likely to grow further in the coming years.
But how big is the Chinese VR market opportunity? What content resonates best with consumers? And where are the biggest opportunities for growth in the sector?
We've slipped on our analyst hat (or should that be headset?) to give you the low down on the growing Chinese VR scene.
How big is the Chinese VR market?
According to Canalys, China is the second biggest VR market in the world. The US market remains the largest, taking up 31% of the market in comparison to China's 28% share.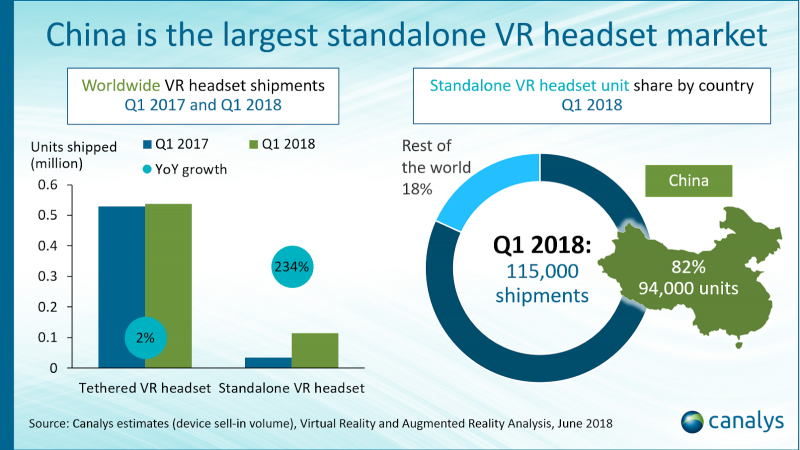 However, China's market is growing rapidly. Canalys's research suggests that VR headset market grew significantly in Q1 2018. 650,000 headsets were shipped in the course of three months, a 200% year on year increase.
VR revenues are on the up too. China Daily reported that VR revenues hit $2.5bn in the territory last year – an increase of 164%.
Which are the most popular VR headsets in China?
China's market is an important stronghold for HTC. The company's Vive Focus took 33.1% of China's standalone VR headset market share, putting it well ahead of its rivals.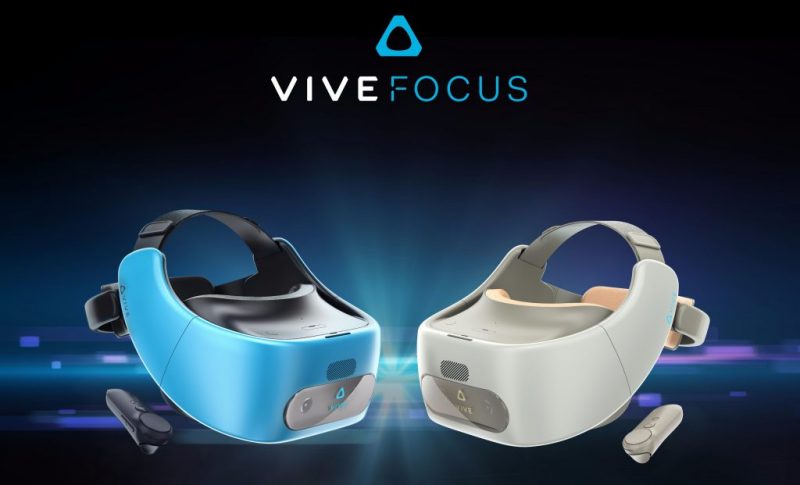 Importantly, China's domestic VR market is undertaking similar characteristics to the mobile device market. In particular, much of China's VR market share is going to domestic hardware manufacturers.
For example, the second and third most popular manufacturers in China are Pico and DPVR with 28.5% and 13.3% of VR market share respectively.
With companies like Oculus having only just launched in China in January 2018 and Sony's PSVR reliant upon an increase in console gaming in the region to become a viable market player, expect domestic manufacturers to rule the roost in China for the foreseeable future.
What is the split between standalone and mobile VR devices in the Chinese market?
It is hard to establish a precise split between the number of standalone and mobile VR devices in China. But it is reasonable to say that mobile VR accounts for the majority of the domestic market for a few reasons.
First, cardboard VR devices remain a big part of the consumer VR mix. A report from iResearch in 2017 suggested that the vast majority of the market consisted of Google Cardboard style devices.
Second, domestic Chinese device makers are focusing on smartphone powered headset. Pico, for example, is entirely focused on releasing mobile VR devices, with companies like Xioami and Huawei releasing devices that are the equivalent of Samsung's Gear VR.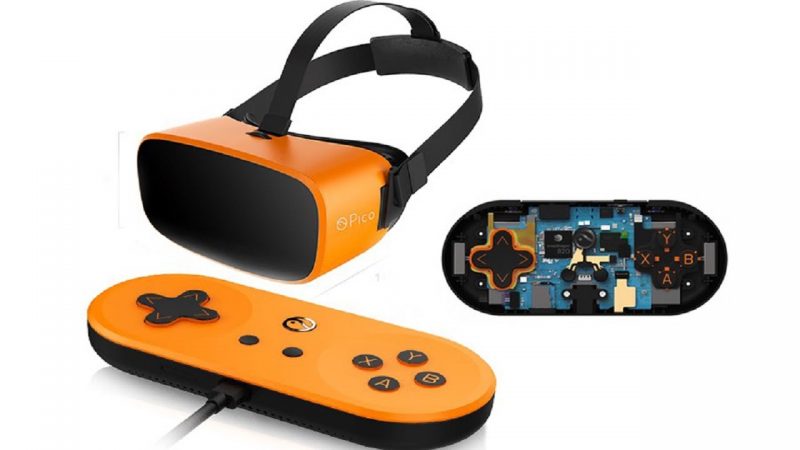 The low cost PicoVR headset
Third and finally, the cost of high end standalone VR devices remains prohibitively high for Chinese consumers.
While manufacturers like ASUS, Lenovo and even Oculus are aiming to bring the cost of VR headsets down, the comparatively high retail cost of these devices – which are in the hundreds of dollars, rather than the tens – has dampened their appeal to the consumer.
What type of content does the Chinese VR market consume?
As with the rest of the world, the Chinese home consumer VR market is being driven by gamers. iResearch's report into the market suggests that VR games will generate $1.45bn in China in 2021, with film and movies narrowly behind that figure at $1.32bn and live streaming further back at just under $700m.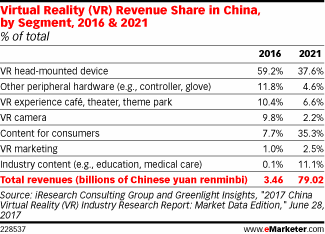 However, China is looking to extend its reach beyond the consumer VR market alone. At a policy level, the Chinese government is looking to support the growth of a Chinese VR ecosystem – within the confines of its strict regulatory environment – that will stretch into enterprise, health and beyond.
This means that companies like Alibaba, Baidu and Tencent are all investing in creating a wide range of content to both meet consumer demand and growing demand from business customers too.
How else is the Chinese VR market growing?
One of the biggest drivers of growth in the Chinese VR market is the emergence of "out of home VR."
By taking the cost of setting up premium VR headsets on board, allying it to a physical location and charging a reasonable amount to use content, Chinese companies are profiting from VR content across the country.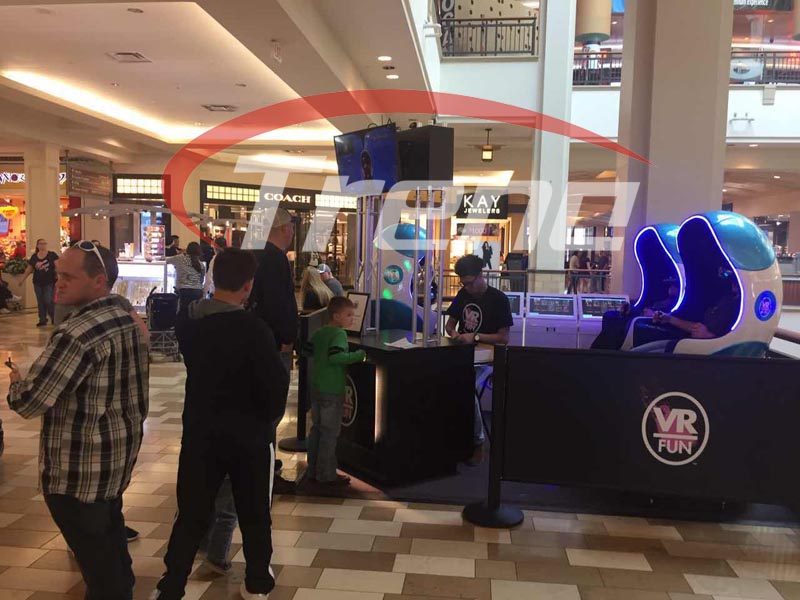 A Chinese VR experience site
Shopping centres are one of the key places where consumers interact with VR. According to UploadVR, 3000 Chinese malls play host to 'VR experience sites' that charge consumers a small amount of money for limited play time. This keeps consumers engaged with high end VR content, even if their own devices tend to be mobile focused.
And this isn't where the Chinese out of home VR market ends. The emergence of "VRcades", VR powered theme parks and even VR powered fitting suites in clothing stores shows China's VR market has reach beyond its mobile roots.
How big will China's VR market get?
China's VR market is expected to grow quickly in the next five years, establishing itself as one of the biggest markets – if not the outright biggest market – in the world by 2022.
According to Digicapital, China is poised to challenge the US market directly and has a chance to overtake it – provided it can overcome its short term disadvantage in terms of the ownership of premium VR headsets.
In practice, the majority of forecasts suggest that the Chinese market will be worth between $8bn-10bn by the early 2020s. Furthermore, there is expected to be over 20m headsets by 2020 with a larger number of dedicated standalone and mobile devices in the market.
Conclusion
The Chinese VR market is serious business. Although it suffers from the same challenges as the rest of the Chinese gaming market – specifically in regards to the uptake of premium devices and state regulation – it is undisputedly one of the biggest markets already.
For companies betting big on VR, getting into China is essential. In the short term, our advice is to focus on creating mobile VR experiences and focusing on entertainment usages such as gaming or film.
Not only will this ensure your business is hitting the needs of Chinese consumers, it will also give your business the best chance of hitting both the in and out of home audiences simultaneously – priming your business for growth.