There are plenty of detailed case studies that highlight the impact mobile game user acquisition best practises can have on an individual title's engagement and monetization.
Sometimes, however, it's also good to take a step back (and up) and consider the broader picture. Luckily that's something we can do in the case of publicly owned companies which release detailed financial data on a quarterly basis.
Hence, in this case study, we're drilling down in the UA performance of three medium-sized (sub-billion dollar market cap) F2P mobile game companies:
Swedish hidden object game specialist G5 Games
Newly revitalized US publisher Glu Mobile
The Finnish developer of the Angry Birds games Rovio
Setting the scene
Considering G5 Games' performance over the past two years, it's clear to see why it was the best performing game stock of 2017. Quarterly sales have risen almost four-fold and this has seen bottom line profitability (here measured in terms of EBIT, or Earning Before Interest and Tax) also rising.
The reason is G5's steady and deliberate investment in UA, which has seen its games Hidden City and The Secret Society both generating over $100 million of lifetime revenue.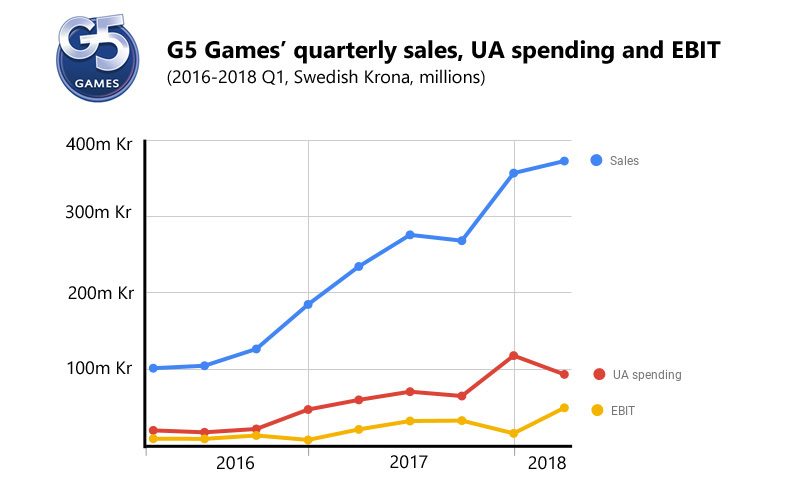 The situation at Glu Mobile is similar. Quarterly sales have risen sharply since the company invested significant sums (+$30m) during 2017 marketing its #1 game Design Home.
This has also fed through into the company's underlying profitability, here measured by Adjusted Earnings Before Interest, Tax, Depreciation and Amortization, although Glu remains loss-making in terms of the US GAAP standard.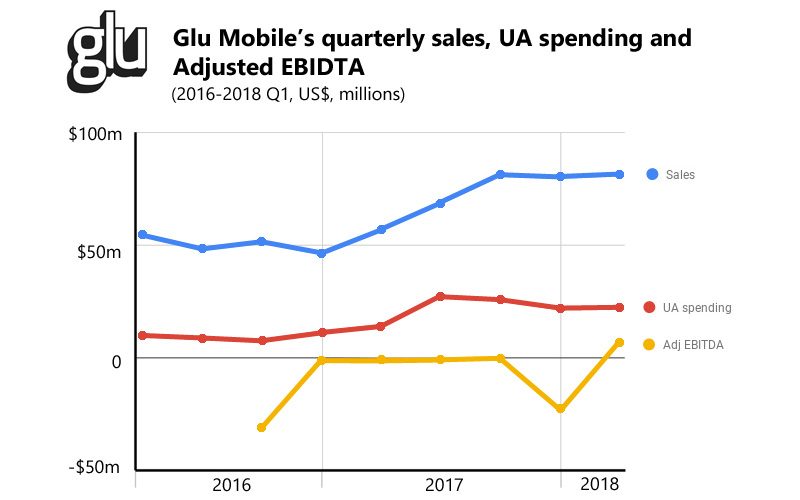 Up to the end of 2017, the trends at Rovio were the same as G5 Games and Glu Mobile.
During 2017, it invested heavily in UA, especially for Angry Birds 2, which drove both sales and EBIT higher. However, for the past six months, it has decreased UA spending, something which combined with other factors has resulted in a marked decline in sales.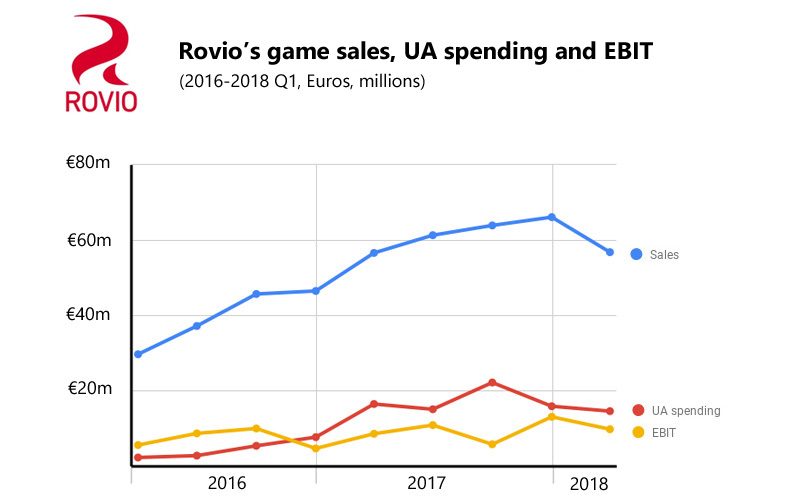 One significant thing to stress is all three of these companies actively invested in UA during 2017. In the cases of G5 Games and Glu Mobile, UA spending as a percentage of quarterly sales rose from under 20 per cent to 25 per cent and more. Indeed, Glu's UA spending in Q2 peaked at 40 percent of quarterly sales. Rovio's transformation over the period is even more marked. Back in 2016, it was spending less than 10 percent of sales on UA.
And even after the 2017 peaks, all three companies now spend over 25 percent of quarterly sales on UA: a big change from two years ago.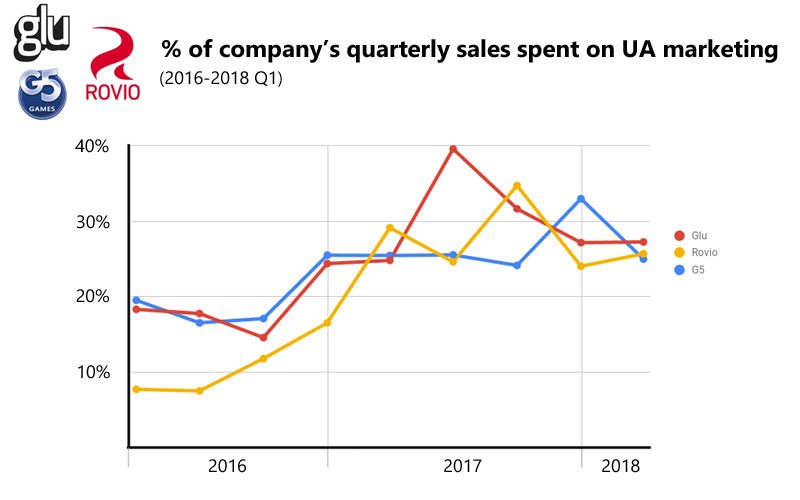 Cause or effect?
Of course, some of you may – rightly – be asking yourselves, does this analysis prove causality? Maybe these companies were already growing sales and profits and so had more cash to spend on UA, rather than higher UA spending driving sales and profits upwards?
This is something we can address by looking, in turn, at how changes in quarterly UA impacted sales and profitability.
Considering G5 Games first, the following graph tracks whether UA spending went up or down compared to the previous quarter. For each quarter, it also shows whether sales and profits rose or fell. All figures are percentage changes quarter-on-quarter.
The correlation between whether UA rises (or falls) and what happens to sales and profits is striking, although not perfect. Certainly, profitability is a more volatile metric, but in general, if UA spending rose compared to the previous quarter, so did sales and profits.
And that's to be expected. Assuming a marketing team knows what they are doing, the more money they spend gaining users, the more sales they should be generating. Clearly, G5 Games' marketeers know what they are doing.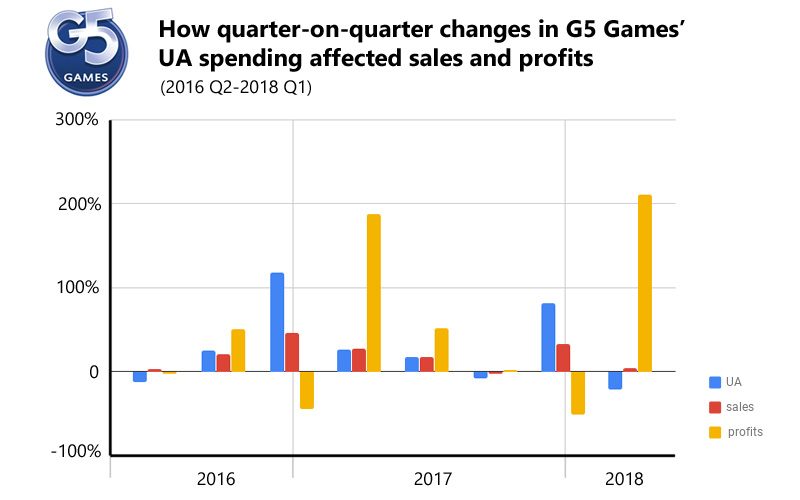 When we look at Glu Mobile the trend is similar; a strong but not perfect correlation. Note, because Glu isn't profitable and has been writing off bad debts, we've not tracked profits.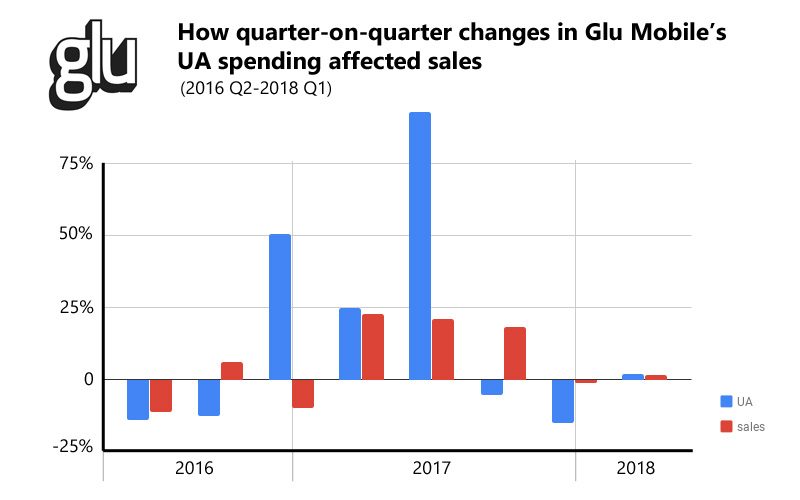 When it comes to Rovio, again, there is a strong correlation between UA spending and sales. When UA spending goes up (or down), so do sales. Profits are less well correlated, again partly due to other issues in the business.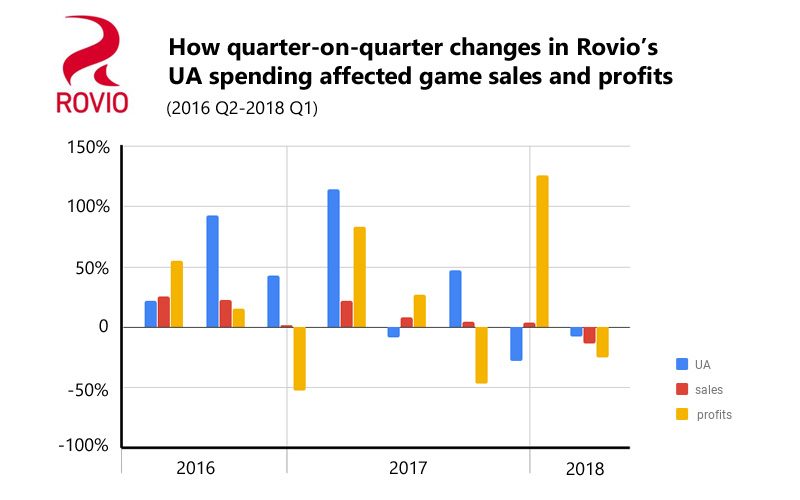 Spending money to make money
In conclusion, across three companies and the eight quarters tracked, in more than two-thirds of those quarters the change in quarterly sales correlated with changes in UA spending. In terms of profits, an increase in profit was linked with an increase in UA spend in half of the quarters we tracked.
We can visually see this on a per company, per quarter basis in the following graph, in which the higher the bar, the stronger the correlation between UA spending and sales. Conversely, the more negative the bar, the less correlated the two are.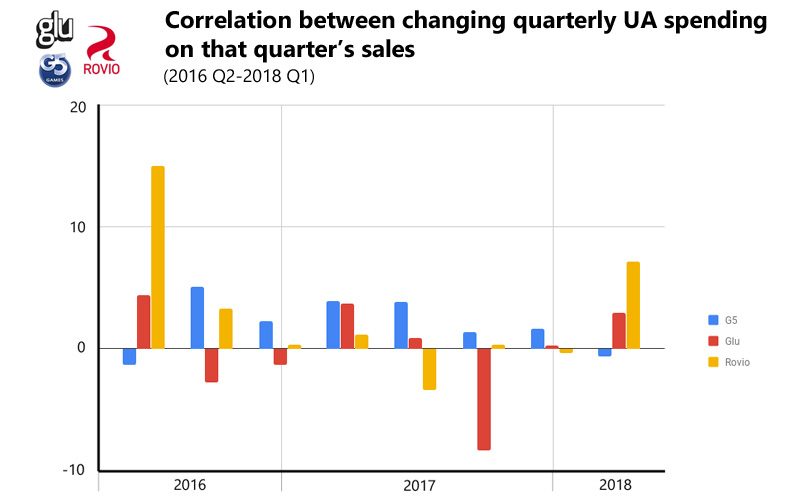 This is interesting as we can see Glu Mobile is the least correlated of the three companies, something particular demonstrated by the large negative bar in Q3 2017. However, this was caused because the company's UA spending declined but sales continued to rise as Glu's UA spend had peaked at 40 per cent of sales during the previous quarter, so it perhaps could be thought of as an indirect correlation.
More generally, the final takeaway is these medium-sized game companies have markedly increased their UA spending in recent months.
Of course, each company has its own dynamic for doing so but all three are now spending at least 25 per cent of quarterly sales on UA. And during this period, all three have also seen their sales rise. So it's clearly a case that in the current market, investment in UA is the most effective route to greater sales and increased profits.