How has the social media landscape changed so far this year? What are the social media giants planning to focus on for the second half of 2019 and beyond? What's the latest in terms of social network advertising? Let's have a look.
Social Media Users Worldwide Stats
According to eMarketer, Facebook leads the way with over 1.75 billion monthly active users. Instagram has seen steady growth and is at around 786 million MAUs, with Twitter (283 million) and Snapchat (281 million) fighting for the 3rd place position in the social media user acquisition race.
In terms of growth, the social media usage landscape is predicted to get close to 3 billion users by the end of this year. It is expected that Facebook alone will pass the 2 billion-user mark by 2023, with Instagram hitting the 1 billion-user milestone in the same timeframe.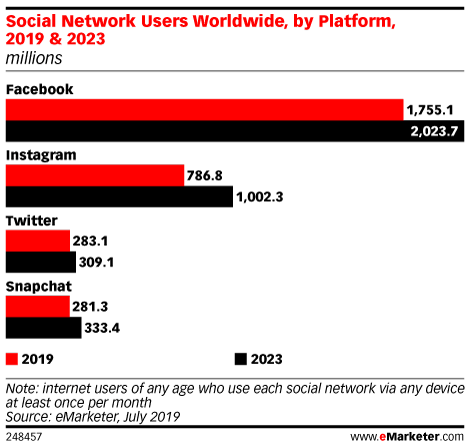 Social Media Advertising Stats
Q1 2019 earnings for social media looked strong across all major players, with Facebook and Instagram looking to make over $67 billion in combined global ad revenues this year. Twitter is looking at close to $3 billion and Snapchat will be looking at revenues of around $1.36 billion.
Looking at Facebook and Instagram, the US still represents a significant source of ad revenue, with almost half of it coming from there. While it's looking like Facebook is slowly turning its attention more to non-US territories as growth looks to be slow at around 1.4% year-on-year, don't expect to see a massive shift for the foreseeable future. Bottom line: expect Facebook to still be a major player in the ad market for at least a few more years.
Facebook's sister-platform Instagram, however, is looking to have the most accelerated user growth of all major social platforms, with predictions hovering around 10-11% year-on-year. This could mean that Facebook's slow user growth could be alleviated by Instagram's strong user numbers, but time will tell just how much of that Instagram would be able to handle.
Twitter's recent user purge in an attempt to clean the platform seems like a step in the right direction and with strong Q1 results, it looks like they will position themselves to remain a major player on the market. 
The company will be moving away from MAUs and will instead on mDAUs (monetizable daily active users), which is users who log in at least once a day on a Twitter-based app capable of showing ads. In its Q1 reports, Twitter showed that while its worldwide MAUs were 2% down year-on-year, its worldwide mDAUs were up 12% for the same period. This should be a more relevant figure for advertisers since they will be interested in users who can actually see their campaigns.
Facebook launching a cryptocurrency and digital wallet
Back in June, Facebook announced it is looking to enter the cryptocurrency market by launching its own version called Libra, as well as a digital wallet called Calibra which is set to follow after the cryptocurrency is live. Libra will be run by a group of businesses including Facebook and the likes of Visa, Paypal, Uber, and Spotify, which means that these companies will generate revenue as interest earned via users trading Libra.
So what does this mean for Facebook's core advertising business? It's too early to tell but this is a signal that Facebook is looking at diversifying its revenue streams, as well as strengthening its ecommerce capabilities. One thing is for sure: advertising will continue to be where the majority of Facebook's revenue comes from, so don't expect them to slow down on that front anytime soon.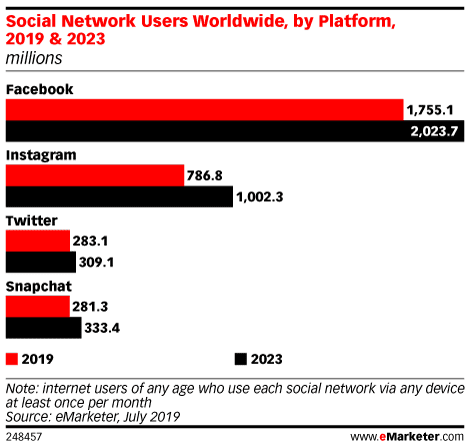 Snapchat's Partner Summit
Snapchat hosted its first partner summit simply called "Snap Partner Summit" back in April, shedding a bit of light into an otherwise opaque company. The company shared some interesting points about its future plans so here are some key points to consider:
Snap Audience Network: this platform, similar to Facebook's Audience Network, will allow advertisers to buy ads that can run across partner apps using the same targeting tools.

Snap Games: a new gaming platform that will allow users to play games within the app. This should be a significant revenue stream if done correctly, so it's going to be interesting to see what this means in terms of engagement for Snapchat's audience.

AR Studio: Snapchat is going back to its roots and AR filters are what made it famous in the first place. Thanks to this studio, developers will be able to create full-body or even pet AR filters, which could improve both UA and engagement numbers.
According to Sensor Tower, first-time installs on Snapchat increased significantly in Q2, which can be attributed to new face filters as well as the Android app relaunch. This could mean the AR Studio announcement is a smart bet and could pay off dividends in the future.
Bytedance expanding into new verticals
The company behind TikTok is looking at diversifying its portfolio. Bytedance is reportedly looking at expanding into new areas with at least two new apps: one focused around work messaging and the other aimed at music streaming.
The yet-to-be-revealed music streaming app looks like a natural expansion for Bytedance, given its success with TikTok is based around music videos. While no ETA is confirmed yet, sources claim the app could be live this fall and would launch in a few territories first. The music streaming app is looking to be a subscription-based service, which means Bytedance is also looking at diversifying its revenue streams.
Bytedance's TikTok is also looking at more ad revenue opportunities and is going to focus on the US market.
In the world of social media, Facebook will continue to dominate but Instagram is looking to becoming an even more important part of the big revenue pie, thanks in particular to its strong user growth. Time will tell if Libra will be a smart bet but Facebook's advertising business is still as solid as ever and marketers will continue to look at them as a major force in the advertising market.
Snapchat is looking to shake things up which is something that could get the platform to reach new users and better engage the existing base and with its focus on AR, we expect to see its advertising revenues stay at decent levels or even go above expectations. 
Twitter's switch to mDAUs seems interesting, mainly because it's a figure that is advertiser-friendly and is showing positive results. Their choice to move away from MAUs seems to be more relevant, but it's also worth noting that this indicator is slowly declining. 
The social media landscape is looking strong as ever, but there is an underlying element to note: diversification. The main players in the market are looking at not only diversifying their revenue stream in the social media vertical but are also looking at expanding into new areas, so 2019 is definitely looking like an interesting time for the social media giants.