With Apple's much-discussed App Tracking Transparency (ATT) now implemented, the job of adjusting to the changes in tracking and attribution have started in earnest. This means that a fresh look at their creative strategies is in order for advertisers and app marketers.
Without the ability to use IDFA as an easy way to target new and existing users, there is more need than ever before for ad creatives to really deliver.
The pressure on ad creatives to deliver results has never been bigger
Well-performing ad creatives have always been the cornerstone of any app marketing campaign. Still, with less scope for precise targeting thanks to Apple's changes to IDFA, there is more pressure than ever before on the ability of ads to deliver installs.
Although it's only been a few weeks since Apple made it mandatory for apps to require users to opt-in to be tracked via their IDFA, the data already shows a considerable drop in users agreeing to be tracked. According to Flurry, only a quarter of consumers shown the new opt-in prompt agree to receive targeted advertising.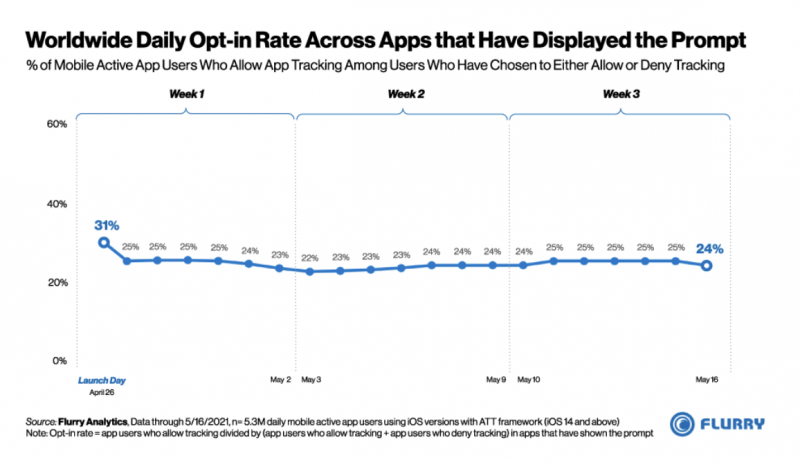 This means that, barring some massive shift in consumers changing their attitudes to ad targeting (unlikely), advertisers and publishers need to find ways to boost their organic installs instead.
This new focus introduces other challenges. According to pre-IDFA research by eMarketer, 24% of app publishers found playable ads to be better at driving organic installs compared to other ad formats. With less ability to target adverts, the effectiveness of playables at driving organic installs can only increase, and we expect many app publishers to significantly increase their use of playables as a result.
But producing creatives at scale – especially interactive creatives – requires specific skills and can be expensive, so any means by which costs can be reduced will be important. That's where automated platforms like Mintegral's Playturbo can offer an effective solution.
How automation is a game-changer for playable ads
Of all the ad formats, playable ads probably require the biggest investment in time and budget. Even the most straightforward playable ads are complex to produce, requiring storyboarding, design, development, A/B testing and refinement. The more effort you can put into the planning and creation of your playable ads, the higher your return on ad spend (ROAS) is likely to be.
That's where automation of your playable ad creation is so valuable, as the huge increase in efficiency you get through automation means increased ROAS. Automation also means it is much, much easier and faster to scale a campaign or to create seasonal versions of your ad creative. Since playable ads are HTML5-based, you don't need to render and export the results every time you want to make a change.
Playturbo is a self-service playable ad platform designed to help advertisers rapidly iterate playable ads and improve campaign performance, built by Mintegral's in-house creative studio Mindworks. It uses the technologycalled 'Dynamic Creative Optimization' which analyses the placement of elements within the playable ad and how users interact with it.
Playturbo automatically combines the best creative elements and where they are positioned to create the best performing version of the ad, taking the guesswork out of the creative process and iterating the ads virtually in real-time. The platform even includes templates for your playable ads to help speed up production, keep down costs and remove any guesswork from the creative process.
In our post-IDFA world, staying on top of your ad creative is one of the best ways to help drive those all-important organic installs.
So many ad creatives, so little time
As app marketing campaigns have become more complex, the time to plan and execute them remains limited – meaning less time on the actual creative part and more on optimisation. Some ad industry estimates suggest that creative teams spend only 30-40% of their time actually coming up with the campaigns. Not only is that not the way to get the best from your agency or creative team, but it means it's much harder to scale your campaigns as you are wasting a lot of the available resource already. Automation tools like Playturbo can create multiple variations of a playable ad in seconds, whereas a human timescale to do the same would be measured in hours or days.
That's why automation is something that the ad industry is excited about. As organisations and advertisers become more comfortable with the idea of automating more mundane parts of the ad campaign process, there should be a bigger emphasis on getting back to the creative process – which is where innovations and great ideas are more likely to happen.
Marry context with ad creative
One of the biggest challenges facing advertisers post-IDFA is the lack of data they can glean about the users they wish to target. This makes it much, much harder to deliver the kind of personalised ad experience the industry had become used to, with the result that advertisers will need to more closely align the context of how and where an ad appears with the ad creative itself.
Data-driven programmatic advertising has made it possible to reach specific consumers on specific platforms at specific times. Unless a consumer opts in for IDFA tracking, that ability to use data to offer a personalised ad experience is significantly reduced. As a result, advertisers will now need to be more aware of how and where an ad is likely to be discovered in order to optimize the ad to increase its chance of converting, creating different versions depending on the context of the placement.
This is another reason why automation is so important; unless you are an advertiser with especially deep pockets, automation of your ad creatives is the only way to scale your campaigns without significantly increasing your costs.
Conclusion
While the long-term repercussions on the mobile ad industry of Apple's changes to IDFA are impossible to predict, the immediate challenge is how to create advertising campaigns that deliver great results regardless of whether someone has opted in or out.
What remains important is the need to create engaging, effective ads that drive consumers to install an app or game. Platforms like Playturbo are the logical next step in mobile advertising, as organic installs become more important than ever. Offering consumers the best advertising experience possible is the simplest and most direct way to improve the performance metrics of your campaigns.