Our Xplore China Seminar took place on the 29th May at the Queen Elizabeth II Centre in London.
Taking place during Casual Connect, our aim was to help developers from the West to get to grips with the Chinese market – the biggest mobile economy in the world.
As part of the session three speakers from Mobvista, GameAnalytics and TikTok took to the stage to share their expertise on China.
But what did we hear at the event? And what can you learn from our leading speakers about the state of play in the country today?
Here are the three biggest lessons we learned from the Xplore China Seminar.
Chinese gamers play (and spend) differently to the rest of the world
The first major lesson learned at the seminar is that developers and publishers must approach the Chinese market differently to the rest of the world to succeed.
GameAnalytics – a service that currently helps developers analyse the behaviours of over 850 million monthly active users over 72,000 games – highlighted some crucial differences between players in China and the rest of the world.
At a taste level, Chinese players prefer to spend more time in action, simulation and adventure games than their Western counterparts. But in the rest of the world, puzzle, arcade and casual titles draw more interest.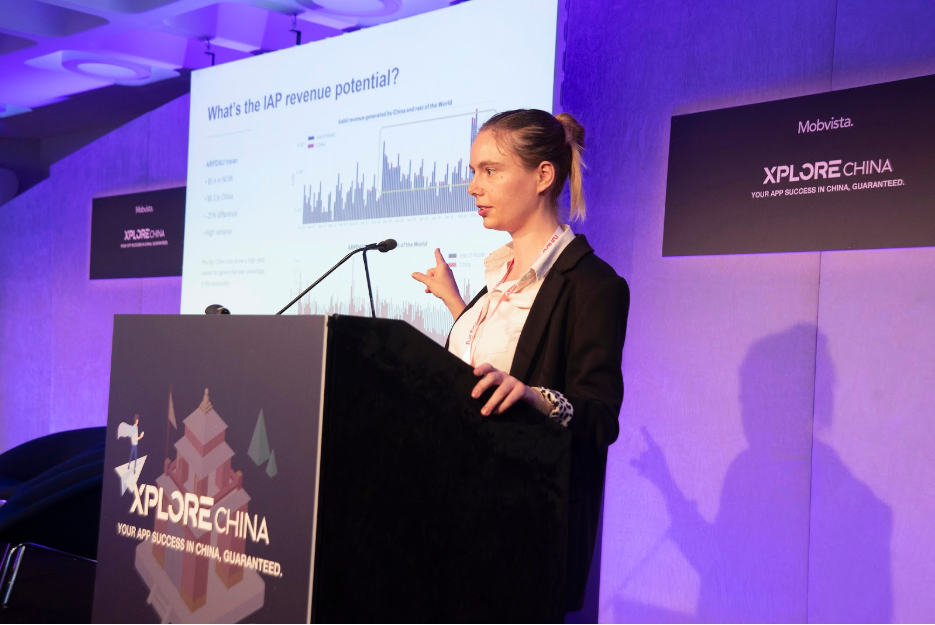 However, it isn't just the case that Chinese players prefer different games; their habits surrounding spending, conversion and retention are rather different.
Within China, players behave differently in some key ways that, on the surface, could look challenging.
The average conversion rate in China is 0.04% versus 0.05% in the rest of the world. The number of sessions per user is 3.6 for Chinese players versus 4.9 sessions elsewhere. Retention on day one and day seven in China is also lower than the rest of the world, with rates of 24.5% and 5.7% comparing unfavourably with respective rates of 28.9% and 9.4% in the rest of the world.
However, these figures are counterbalanced by crucial differences in the market that lend Chinese gamers serious clout.
At a macroeconomic level, the Chinese market has 713.5 million players versus a combined total of 471.1 million in North America and Europe. This means that a mildly lower conversion rate is accounted for by the difference in market size.
Furthermore, Chinese player habits drive value elsewhere. The average max spend per player in the country is $9.8 against $8.8 in the rest of the world. This is driven by the fact that Chinese players make more transactions on average per paying user (1.23 vs 1.18 elsewhere) and that they're able to do so because their average session length is much longer (104 seconds vs 70 seconds).
In short, Chinese players drive value for games businesses in a different way to the rest of the world. Companies wishing to succeed in the territory will have to overcome initial challenges relating to retention and conversion.
But provided they clear this hurdle, GameAnalytics feedback suggests that a game that passes the Day seven challenge can deliver long term returns by providing frequent spending opportunities.
A deeper understanding of  China's tech landscape is the secret to success
There are many challenges when it comes to entering the Chinese market. Issues such as the country's tightly policed regulatory environment and fragmented distribution routes can make it tough to enter the market.
But one of the major challenges that Western businesses have struggled to get their head around is China's unique Internet landscape. Familiar promotional routes such as Facebook and Google have no footprint in the market. This can exacerbate distribution dilemmas, further restricting scope.
Our talk at Xplore China Seminar sought to demystify the landscape. Rather than diving deeply into the platforms on offer, we took a different route and grouped the key services together to provide a shorthand guide for marketers.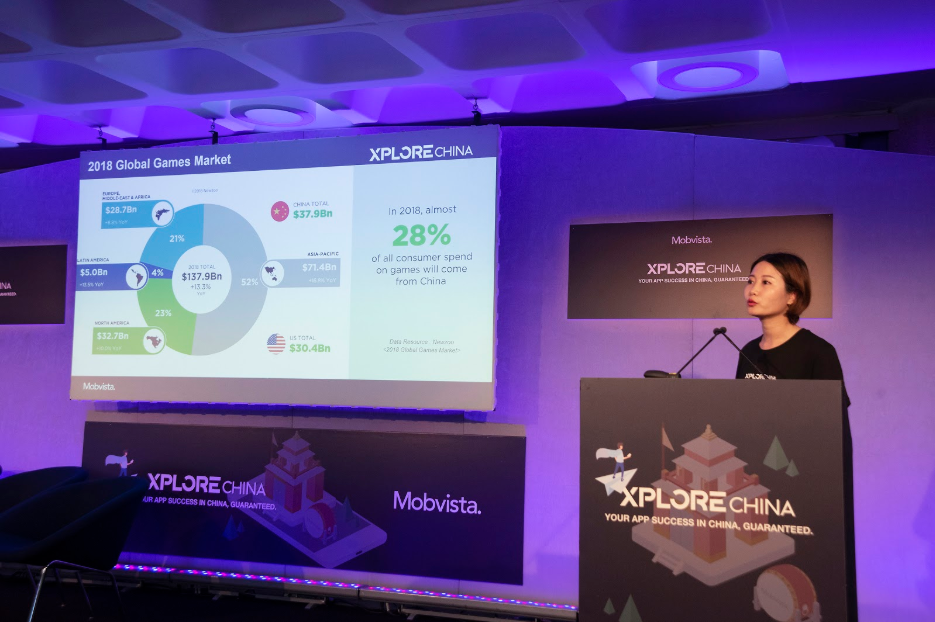 First, we defined Tencent's apps – which account for 55% of user's time – as the social media frontline. While it does offer more than social networking in its portfolio, such as the Tencent App Store, its ownership of WeChat, QQ and Tencent Video makes it a principal outlet for social content.
Second, we took Baidu's offerings and grouped it as China's equivalent of Google. Considering that Baidu drives 80% of the country's search traffic and offers the equivalent of Google Ad Words in the territory, we thought it made sense to christen it China's principal search outlet.
Finally, we also took ByteDance, the emerging power in the territory, as the main source of news. While the company is best known in the West for TikTok (which we will be returning to shortly), the influence of apps such as Toutiao in the news aggregation space makes ByteDance a key player in the distribution of information in China.
By making these groupings, we believe that it's possible to create a shorthand by which marketers can refer to the Chinese market. And while it may not be quite as tidy as it is in the West, we think that these groupings can help businesses to understand the core functions of Chinese social media: helping them to pick their channels more effectively.
TikTok is the place for life in China
Lastly, we heard from Douyin (known as TikTok in the West) about the reasons for the growth in China and beyond. And the answer was a pretty profound one: it's where life happens for its users.
TikTok's growth over the past three years has been extraordinary. From 2017 to the middle of 2018, the app leapt from 10m users to over 150 million. Today, it now boasts 250 million DAUs and 500 million MAUs; an impressive set of figures.
But what's more impressive is the reasoning behind those figures. Partly, TikTok's growth has been driven by a shift in industry market dynamics.
China's smartphone penetration, which has reached 96% of the population, has helped an already big market grow bigger. Meanwhile, the growth in popularity of vertical video space and the rise of user-generated content powered through augmentation (such as stickers and lenses) has proven timely for the platform.
However, TikTok has also proven successful because it's become a meaningful part of day to day life for the users it appeals to.
Its predominantly female user base – 55% to 45% – spends an average of 72 million on the app each day watching content. And the content they're creating speaks intimately of their personal lives. For example, two million posts are tagged with 'falling in love' but two million are also tagged with 'breaking up'. There are also five million posts for 'marriage' and two million for 'graduation.'
This issues an interesting challenge to our perception. While we may focus our attention on TikTok's range of entertaining content and funny stickers – of which the cat sticker has been used 35.06 million times – it's clear that its success is driven by a deep relationship between it and its users' lives.
This means that its range of rapidly emerging native ad formats should prove enticing to marketers.
Want to find out more about the Chinese market? Check out our free to download industry reports here.