It's no secret that WhiteNights is one of the top conferences for the B2B gaming industry, which is why thousands of attendees from top companies including Facebook, Google, Snapchat, Voodoo, TikTok and of course Mobvista, meet up to talk about the latest news, share industry insights and strike deals. 
With over 70 speakers from more than 50 countries and at least 150 booths on display, this year's White Nights conference looks to be one of their biggest events yet. Mobvista will have its own booth and you can find us at booth S28 – check out our event page for more info.
What makes this event different, and special in a way, is that Mobvista will be hosting an exclusive Xplore China seminar. There, industry experts from Ocean Engine, AppsFlyer and Playkot, along with Mobvista's Associate Business Development Director Leon Zhong, will take a look at the Chinese market and provide some useful insights into how global developers can enter the largest mobile market in the world. After these speeches, there's going to be food, drinks and a networking party so you'll have plenty of opportunities to enjoy your time here, have a chat with us or other industry experts and even strike some deals.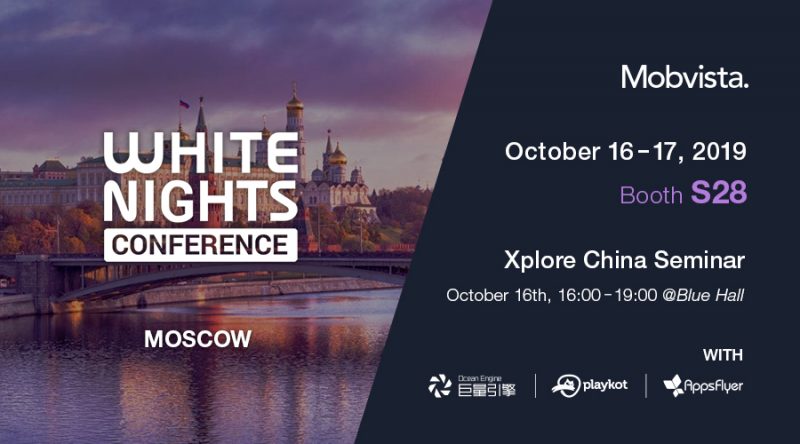 So what can you expect from these sessions? We'll give you a quick overview but if you're thinking of attending the WhiteNights conference, make sure to sign up for our seminar now, as seats are limited!
Grace Zhong, Ocean Engine
China, the country with the largest number of Internet users, is seeing a huge surge in its mobile internet market. How can you run successful UA campaigns in China and get more users to interact with your brand? Ocean Engine, an integrated digital marketing solutions provider, might have the answer. Ocean Engine is one of China's largest marketing platforms and Mobvista is their authorized ad service provider.
Alex Bondarenko, AppsFlyer
The Chinese mobile market is a huge opportunity but it can be a closed-door for many companies. AppsFlyer is ready to open this door and share unique insights around user behavior, market trends as well as best practices to ensure you can reach your goals in China.
Dmitrii Sultanov, Playkot
For Playkot's Age of Magic, China is the strongest region, with over 1 million installs. Playkot will show you how the company was able to deal with different user behavior for their UA campaigns in China compared to the USA and how you can incorporate this into your own campaigns.
Leon Zhong, Mobvista
This session is aimed at developers looking to achieve success in the Chinese mobile gaming market. We will provide you with valuable market insights and tell you about the Chinese players' unique appetite for games compared to other markets. We will also focus on how to use Chinese monetization platforms and social media platforms to acquire users at scale.
About Xplore China
The Xplore China seminar series is part of a campaign launched by Mobvista with the aim to bring together experts with a deep understanding of China's mobile internet market in order to power up developers' and publishers' marketing efforts there. Our next edition will take place on October 16th at White Nights, so if you want to enter the world's largest mobile market, we'll show you how you can do that successfully – sign up now!