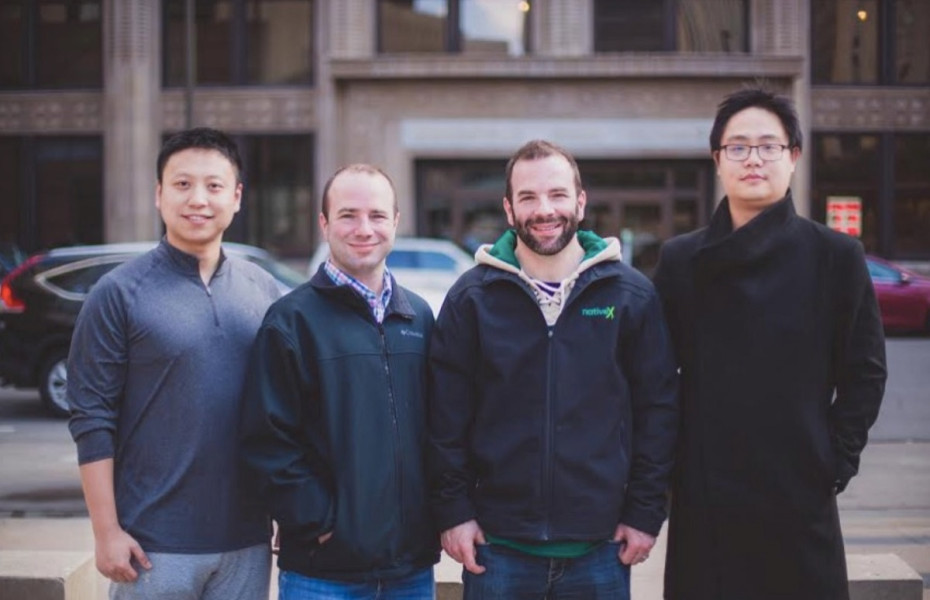 Above: The leaders of Mobvista, left to right: Clement Cao, CFO; Rob Weber, cofounder of NativeX; Ryan Weber, cofounder of NativeX; Robin Duan, Mobvista's cofounder and CEO.
Asian mobile adtech firm Mobvista reports 2016 revenue rose 155 percent to $296 million. That was the strongest year to date, helped by the company's acquisition of U.S.-based mobile adtech company NativeX.
By the end of 2016, over 60 percent of revenues for Guangzhou, China-based Mobvista came from clients based outside of China. Revenues in the United States increased nine-fold, while revenues from South Korea increased five-fold.
In addition to this substantial increase in revenues, Mobvista's total assets also increased in value in 2016 — tripling from $86 million to $254 million. Mobvista is positioning itself as China's most successful mobile adtech business.
"2016 has been a record year for Mobvista, both in terms of financial performance and our growth as a company," said Mobvista founder and CEO Robin Duan, in a statement. "Mobvista has become more than just a user acquisition company. We have expanded our products and services along the value chain to the point that we can help brands on almost every aspect of their campaigns and publishers with traffic monetization."
In September 2016, Mobvista launched Mintegral, a native and video ad mediation platform. Mintegral is a mobile supply-side platform (SSP) that provides publishers with a global monetization solution.
In three months, Mintegral's reach grew from 180 million to 250 million daily active users (DAU), with partnerships across 1,000 apps.
At a time when the growth of new smartphone users is slowing and the cost of user acquisition is on the rise, Mobvista said the credit goes in part to its overseas investments in 2016 — the acquisitions of U.S.-based NativeX and Europe-based GameAnalytics.
The company has a value of nearly $1 billion on China's stock market, and it has more than 500 employees in 13 offices.