The team from Mobvista take a look at how the Chinese app market differs from the rest of the world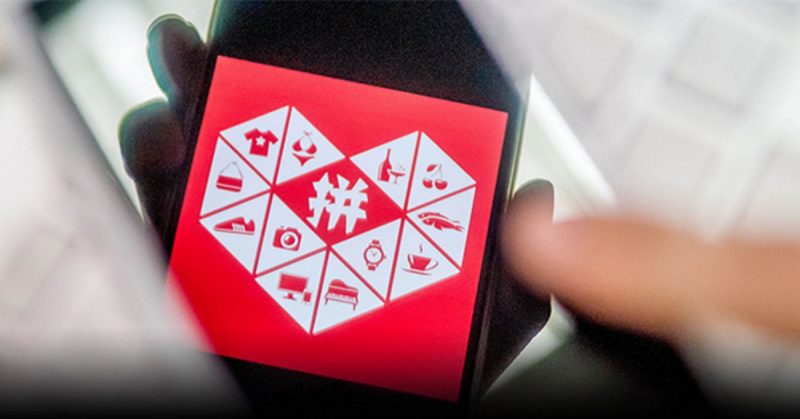 Pinduoduo is an e-commerce app which is quickly rising in popularity
The Chinese app market is massive. It alone accounted for 50 per cent of all mobile downloads in the world and nearly 40 per cent of total consumer spend last year, according to App Annie's State of Mobile Report 2019.
But its mobile market is vastly different from the rest of the world. With tech giants like Google, Amazon and Facebook banned, Chinese cultural norms different and tastes significantly shifted from what is expected in the West, it can be hard to read the Chinese app market from the perspective of an outsider.
Fortunately, we're here to help. We've taken a look at research from Statista to determine the most popular app categories in the country. And we've broken down how widely they're used, the apps that are included within them and how they differ from international markets to give you the lowdown on the Chinese market.
Instant messenger apps
Instant messenger apps are the most popular form of apps in China. A whole 35 per cent of  Chinese user's mobile time is spent on communication apps, according to Business Insider. And there's a specific reason why messenger apps have particular importance in China: they often function more like platforms than just messaging services.
While messaging apps in China remain a place to share news, talk to friends and enjoy memes, they are also the portal to the country's mobile internet infrastructure. Users can open up their messaging apps to book doctor's appointments, play games, order taxis, pay in stores, check the latest news and pretty much anything else they can think of.
WeChat is the queen of not just messenger apps but all apps in China. It has over 730m daily active users and is slowly creeping up on 1bn monthly active users. Meanwhile the second most popular app QQ services over 270m people every day. Both are owned by Tencent, giving the company uniquely powerful reach in the territory.
However, they're not the only ways for users to stay in touch. Alibaba's Taobao – which we'll come back to in more detail – might be an eCommerce platform, but it's consumer to consumer market place wouldn't be able to operate without it's messaging functionality.
Sina Weibo also facilitates messaging too, by allowing users of the micro blogging service considered China's equivalent of Twitter to directly message other users.
Short video apps
Short video apps are shooting for the stars. These wildly popular apps, especially among the younger population, allow users to create short videos and share them around their networks. They're usually humorous, include lip syncing or fascinating stunts.
You might have heard about TikTok, also known as Douyin in China. The platform's reach has travelled a long way from its home and has found success in the west as well. The main selling point of TikTok is its ability to create short videos to music. TikTok has nearly 140m daily active users and rising fast. Monthly active users are almost at 250m.
However, TikTok's global short video appeal is supplemented by a number of 'local' video platforms targeting specific demographic slices in the Chinese market.
Kwai's short video app is a contender at 110m daily active users and over 300m monthly active users. In contrast to TikTok, Kwai is particularly popular in the more rural areas of China.
And with other services such as Huoshan appealing to users in 'tier 2 and tier 3' Chinese cities, the short video revolution in China has also shown that demographic diversity in the country – and the rest of the app economy – is capable of attracting a significant audience and delivering meaningful results.
eCommerce apps
We've already hinted at the importance of this category in our messaging breakdown, but it's fair to say that eCommerce operates in a completely different league in China.
This Singles Day, the equivalent of Chinese Black Friday, Alibaba made a total of $30.8bn worth of sales. By comparison, Amazon only made $7.9bn during Cyber Monday, according to Adobe Analytics. 451 predicts that China will be the first country whose online spending will exceed $1 trillion.
And while there are many reasons for the size of China's enormous eCommerce market – including the size of China's burgeoning consumer class and the country's central role as a global production powerhouse – mobile apps play a significant role in driving the sector.
The most popular eCommerce app is Alibaba's Taobao which holds over 200m daily active users and over 500m monthly active users. Bolstered by big-data analytics, they offer a personalised shopping experience.
Pinduoduo is the new rising star in the e-commerce market. It went public this year and raised $1.6bn through a US IPO, making it one of the largest deals of the year. The new platform claims to have 195m monthly active users and growing.
And for users looking to buy across borders in China, Netease's Koala has them covered. Since it ramped up its operations in 2017, Koala has come to such prominence that Amazon is abandoning its own play on the Chinese market through a strategic merger with the platform.
In short, China's mobile eCommerce economy is extraordinarily well served – making it a must enter market for companies in the West.
Music apps
China doesn't have Spotify and the one missing out is Spotify itself. The western music app has 140m monthly active users around the world. Meanwhile KuGou, the Chinese music streaming app, has hit over 250m monthly active users and nearly 70m daily active users.
KuGou literally means Cool Dog and services a wide range of people across China. The platform functions a bit like a social media platform as users can comment on songs for others to see. QQ Music is the other contender in the music scene, servicing mainly those in urban areas. The platform has hit nearly 250m monthly active users and 47m daily active users. Both KuGou and QQ Music are owned by Tencent.
News apps
While users are turning more towards social media and super apps for their news fix, news apps still hold an important role in China. News apps are central sources of information and the government is taking them seriously. Last year the Chinese government cracked down on four popular news apps due to alleged regulation violations. It's primary concerns were fake news and illegal content.
Jinri Toutiao is the most popular news app. It was made by the creators of TikTok and services nearly 150m daily active users and over 270m monthly active users. Jinritoutiao stands out for its use of artificial intelligence and machine learning to tailor the home page to user preferences.
Games
Games are by far the most popular category in Chinese app stores. China is the largest mobile gaming market in the world and, despite the game freeze, it is flourishing.
A third of the Chinese population plays mobile games. There are over 460m players in the country meaning there are more Chinese people playing games on their mobile phones than the entire population of the United States and Japan combined.
Topping the charts every year is Honor of Kings, a game developed and published by Tencent in 2015. This multiplayer online battle arena game has seen over 50m daily active users and in the Chinese Lunar New Year it hit an impressive record of 92m daily active users.
Another popular genre in China is battle royale. PlayersUnknown's Battleground boasts nearly 15m daily active users in the territory, while Netease's Rules of Survival has a similarly large following.
However, it isn't just battle royales or MOBAs that stand out in the market. China's mobile gaming ecosystem remains tied closely to the country's love for MMORPGs, with titles such as Onmyoji and Crusaders of Light featuring high up the charts.
And crucially, that gaming appetite also stretches further into further spaces too. Hyper-casual games are particularly popular on WeChat due to the prominence of mini programs, while narrative titles aimed at women also perform remarkably well in the Chinese market.
The Chinese mobile landscape is incredibly distinct to the rest of the world making research critical to success. A developer, publisher or marketer must account for the differences if they wish to benefit from the Chinese app market.
Instant messenger apps in China are becoming increasingly key for all other app categories. They are becoming the super apps which house all the other categories like games, news, music and e-commerce.
But while IM might be the central place for users to drive their mobile experience, the wide variety of coexisting eCommerce sites, game types and even short video platforms shows that one size doesn't fit all in China.
Link: https://mobilemarketingmagazine.com/most-popular-app-categories-china-mobvista