Anyone who's travelled to China, worked with a Chinese company or travelled alongside Chinese tourists in recent years doesn't need Mary Meeker to tell them about the rise of mobile payments. The sophistication of mobile-first services in every facet of Chinese life is often a surprise to people who think using Apple Pay on the tube is the height of sophistication.
So whilst the data that was presented may have generated a few headlines, it's really only part of the story. It's not just the volume of transactions or the number of people using mobile payments; it's also about the level of innovation that is happening in China and some unique market conditions that have meant China has leap-frogged the kind of card-based systems that are pervasive in Western markets.
China's m-commerce landscape is dominated by two companies. Alibaba, often described as the Chinese version of Amazon, launched its Alipay platform in 2004. By 2015 it had grown to account for over seventy per cent of mobile transactions, and today accounts for just over half of all mobile transactions. The other is WeChat, created by Tencent. WeChat is perhaps better known outside of China as it is often held up as an example of China's mobile obsession, as it combines messaging, email, banking, payments, e-commerce and more into a single app. Its payment platform, called Tenpay, is actually growing market share faster than Alipay.
Between them, these companies account for more than ninety per cent of all mobile transactions in China.
What is interesting about these apps is how they emerged at a time where mobiles were becoming the primary internet device for may Chinese households. Indeed, for millions of people outside of cities, a mobile was the first internet experience at all. So, many people in China very quickly shifted from using cash to using mobile payments. There were no incumbent companies like Visa or Mastercard who had a vested interest in preventing this shift to mobile.
This is not dissimilar to what is happening in Africa and India, where mobile infrastructure has allowed the growth of mobile payments and services. But clearly, the way it's become a part of daily life in China is of a different magnitude entirely.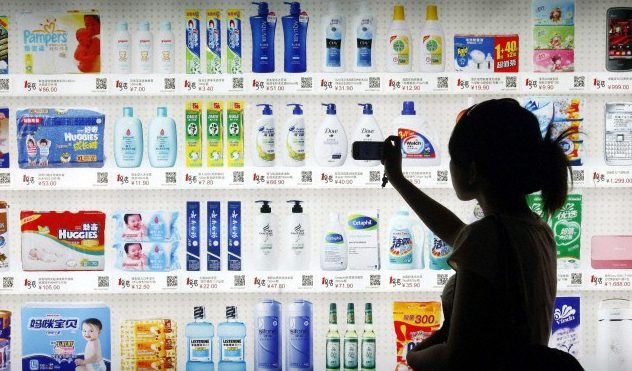 You only need to visit China to see how mobile payments are fuelling rapid innovation in services. As well as using your mobile as your wallet via NFC, many shops offer payment via QR codes – a system that is quite common in Asia, but which has never really taken off in Europe or the US.
Even if a shop doesn't have its own QR code set up it's still possible to pay via mobile. A shopper can actually generate their own QR code for the value of an item, and the shopkeeper can then use that code to trigger a peer-to-peer transfer.
This is incredibly smart move, as it means that even street sellers can accept mobile payments. Plus, these P2P transactions are normally commission-free.
It's also perfectly normal to be able to make purchases from within other services. China has several hugely popular social media platforms, and followers of online influencers can buy items or gift cash with their phones.
Then there is Taobao, one of the world's biggest e-commerce sites, also owned by Alibaba. Businesses and individuals can create their own virtual stores on the platform, using Alipay as their merchant account. Think eBay, Etsy and Amazon Marketplace all rolled into one. At the last count, Taobao had 580 million monthly users.
Possibly because of the unique market conditions within China, consumers have a very high level of trust in these services and platforms. It's perfectly normal to pay credit card bills, manage your bank account, top-up your phone, buy bus or train tickets, order food, book a cab or even pre-pay for a doctor's appointment with your phone. The use of biometric security – it's recently become possible to pay in some stores using facial recognition – has also not been slowed down by cross-border privacy legislation, like the recent GDPR launch.
It's also worth pointing out that Alipay, Tenpay and others have spent years aggressively promoting mobile payments, which is a big factor in the scale of adoption. These payment platforms offer discount coupons and prizes to encourage consumers and businesses to use them and run promotions that make it cheaper to use your mobile to pay for something than using cash or cards.
One particularly clever idea is Singles' Day, which takes place every year on November the 11th. It's like the opposite of Valentines Day, in that young people celebrate the fact they are single. Launched on the Taobao platform as a promotional event, it has quickly grown to become the world's biggest shopping holiday. Last year more than $3.5 billion was spent in a single day – all driven by mobile payments. 
I think if there is any lesson to take from all of this, it's that you can drive adoption of new technologies much faster if you can come up with really compelling services that do more than just replace one payment method with another. Alipay and Tenpay have been successful largely through the ability to bring together different services and platforms under one umbrella, hugely reducing friction and ensuring demand at the same time. Plus, the convenience and low-cost work for both merchants and consumers.
So, in one sense, Mary Meeker was absolutely right to talk about China as leading the way in mobile payments. But I actually think it is something much bigger than that. I think it would have been more accurate to say that China is leading the way towards becoming the first cashless society.
This article is written by Irene Yang, Head of Sales for EMEA and APAC of Mobvista.