Game Connection, Europe's deal-making event for the video gaming industry, is back in Paris between October 29th – 31st and Mobvista has been invited to speak about the world's largest mobile market, China. 
Last year over 2,700 developers, publishers, distributors and service providers from 60 countries and almost 1,500 companies came to Game Connection to discuss market trends and strike new deals. This year looks to be even bigger, with over 50 sessions hosted by industry experts to choose from.
Leticia Ye, Director of Business Development – Europe at Mobvista, will be speaking at Game Connection on October 29th and the topic will be "Growing Your Games Successfully in China". Joining her will be Tenjin's Head of Data Science & Analytics, Carole Wai Hai, who will be talking about "Why China Is the Next Stop for Casual and Hyper-Casual Games". 
We've worked with many gaming and non-gaming publishers to promote their titles in China. Our presentation will help bring you up to speed with the latest market trends in China, as well as the Chinese media landscape. On top of that, we will also show you different approaches to promoting games successfully in China. Tenjin will be joining us to share their opinion on the Chinese market from a third-party tracker perspective and they will talk about why they think China is the next stop for casual and hyper-casual games.
If you're a game developer looking to expand your business in China, you don't want to miss these speeches!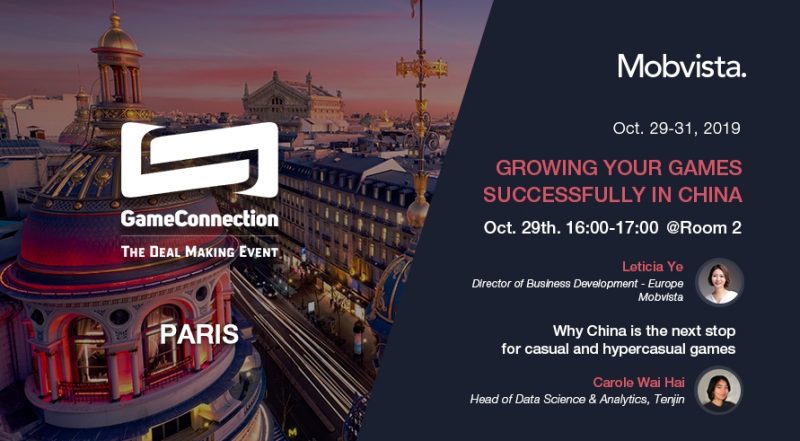 Date & Time: October 29th, 16:00 – 17:00
Venue: Room 2, 1 Place de la Porte de Versailles, 75015 Paris (France)
Speakers: Leticia Ye & Carole Wai Hai
Topics: "Growing Your Games Successfully in China" & "Why China Is the Next Stop for Casual and Hyper-Casual Games"